This Summer – 2019 – I got myself the 60 set Arteza gouache, as I've been hearing only good things about the brand.
I was looking into getting some proper gouache paint, as the ones I had before were just a primary + b&w set and I was getting a bit tired of all the mixing.
It was also starting to get a bit dry and it was getting harder and harder to work with them.
There was also the fact that with the weird primary set I had, mixing some tones was really, really hard.
I wanted something simpler.
Comparing both the 24 & 60 pack and I decided to go for the latter, as it felt like a better investment – price and paint quantity/variety wise.
I did an unboxing and first impressions video right after I got them – you can see it below – but I wanted to have some extra time testing them before writing this post.
In all honesty, my opinions have not changed much since then.
Overall, there're no huge negatives about this paint or this pack in particular. Nor there's also anything extraordinarily positive compared to the other gouache I've tried before.
Except it's quite budget-friendly in comparison with other gouache paint brands.
I'm going to leave examples of the pieces I've done so far with them so you can see a bit more of how they look.
*Reminder that this post contains some affiliate links. This means I might get a small commission when you click and buy something with that link with no additional cost to you. However, my reviews and recommended products are not influenced by this, I'll only recommend what I use and what I believe is good. Click here to read the disclaimer if you want more information*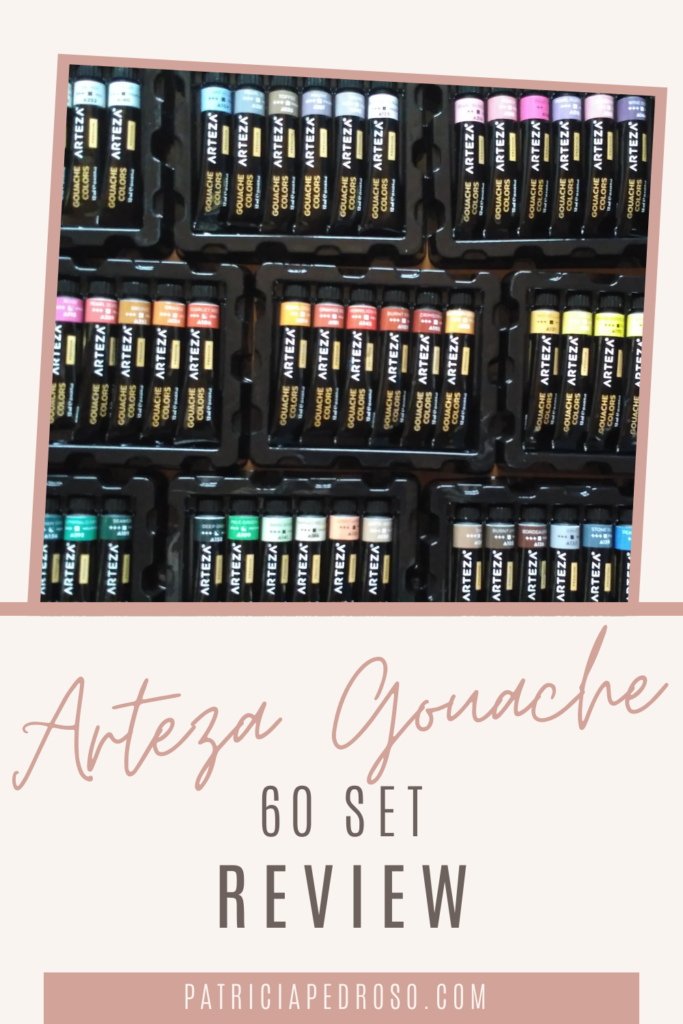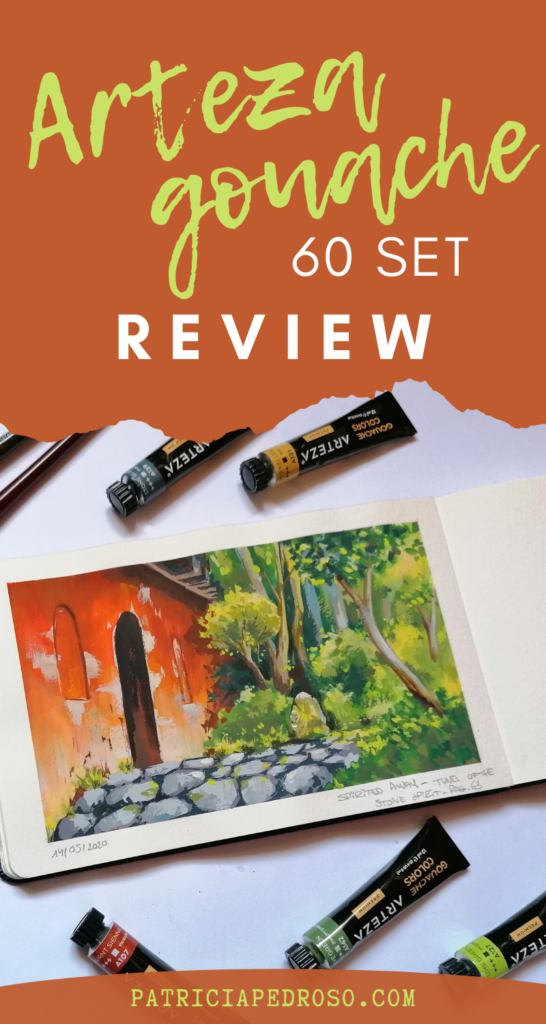 NEGATIVE
One of the things I did not realise until I swatch them is how many pearlescent tones there is.
There're 12 pearlescent tones.
Some of them looked really pretty but I felt that – for me – making them shiny ruined them a bit. I like gouache precisely because of its opacity and I feel like I'm not gonna use those pearl tones much.
Also, commonly most of the pearlescent colours are more transparent than normal gouache – not so much coverage. But I must say, to my surprise, that most of them are quite opaque.
This pearlescent thing, can be good, bad or neutral, depending on your preferences. But for me is negative as I know that those tones won't be used much.
Update: I can confirm that after a year I still have barely touched them.
I've heard a few comments complaining about the transparency of some of the colours. Usually, this happens in every type of paint depending on the pigments & other additives, so there's nothing to be surprised here.
But, I haven't noticed this too much, maybe these people mixed too much water? – this usually is a mistake that some beginners commit.
– If you're starting out and you want to avoid mistakes like these, read this post: 6 tips to start with gouache.
Now, after some use, I have come to notice that some tones have higher coverage than others. But it's nothing too noticeable tough.
I don't consider this is a big negative, the tones are actually graded on its transparency in the box with a symbol.
And this is something pretty common with a medium-quality paint brand.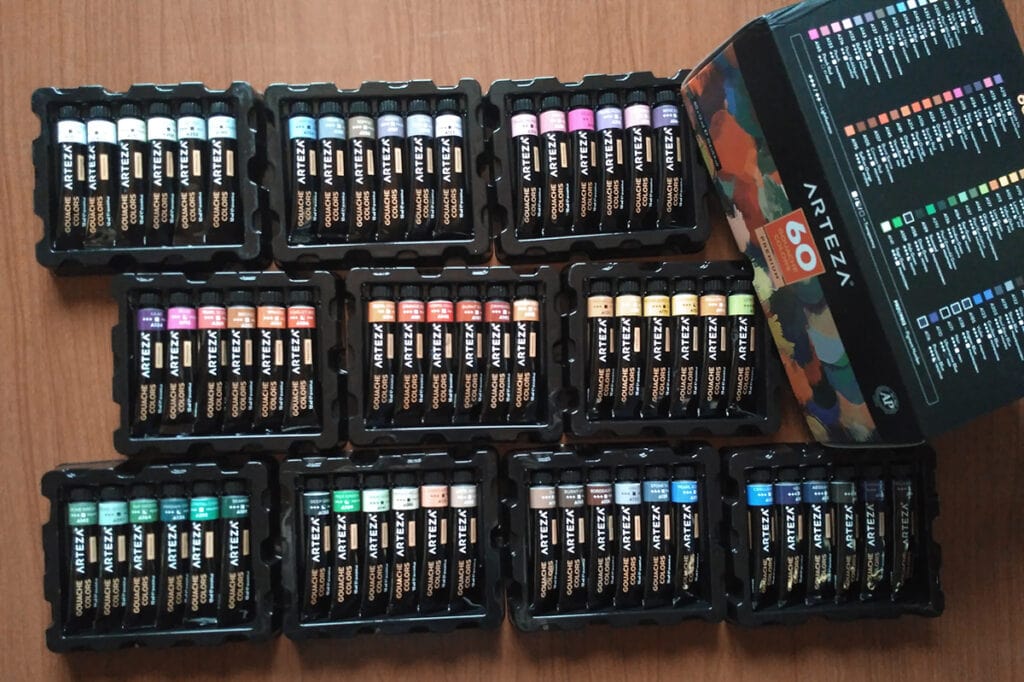 As you can see, most of the negatives are a bit relative, depends on your preferences.
A real negative is that you can't seem to buy – as of now – the tubes individually, which is a problem when you use up all your favourite colours.
But I really can find anything else for now. I will update the post if I find anything else to add.
SOME OBSERVATIONS / RECOMMENDATIONS
I would highly recommend you swatch the tones as most of them don't match the colour samples from the box or the tubes. – this is a common thing with gouache though.
In some of them the colour change is quite noticeable, so don't trust it too much.
Another of my observations that I want to mention – even though is not a huge inconvenient per se – is that sometimes it can get a bit overwhelmed with all the variety of colours.
I mean, it's great to have all that variety, but sometimes you just don't know how to pick or limit yourself when you have 60 different tones in front of you.
I guess it all takes some getting used to.
POSITIVE
There is a huge variety of colours. The tubes are 12 ml which is quite a good size.
And there's a between 2-5 tones of every main colour so you have enough of everything.
There's a lot of pastel colours and they are gorgeous. Also, quite a few really bright-neon colours, I'm not that much of a fan of these, but it's a great touch as it's hard to get them by mixing.
Same happens with other tones, is good to have variety as it would be hard and tedious to get them by only mixing. Especially if you're starting out.
And there's also the fact that it's hard to mix the exact same colour twice –problem solved if you can paint directly from the tubes a lot of the times.
On the light tones, the colour doesn't seem to change too much once dry. The darks still lighten quite a bit, but that's pretty common on gouache.
The consistency of the paint seems really good, just enough to mix very few drops of water and have it paint smoothly on the paper. I notice this especially compared to the ones I have – that are quite tick – but I had them for quite some time and they probably have dried a bit.
The price could also be considered a big positive, as they are really affordable. If you make the calculations each tube amounts to less than – more or less – 0.80 $/€.
If you want to get them, I have an 8% discount code for you if you get yours from the official Arteza shop linked here – just remember to use the code PB8PROMO at checkout.
(the preview shows the 24 set cause on the page you can choose between the 24 or 60 set)
Gouache Premium Artist Paint, 12ml Tubes -…
For Every Level – Artists of all skills can enjoy these paints that are packaged in ind… [More]
FINAL THOUGHTS
I must say, that taking everything into consideration, it's a pretty good deal.
Most of my drawbacks are also based on my personal preferences, that might not be the same for you.
Maybe if you've worked with professional, expensive gouache you'll find more drawbacks to them, but that's not my case. Although you could still use it for studies/sketchbook stuff while saving the expensive, high-quality gouache for gallery/selling stuff.
I believe it's quite a medium-to-good quality paint, budget-friendly – more so the bigger the pack gets – and it gives you a lot of variety and room to experiment/work with not much regret.
Now, are they beginner-friendly?
I should say the Arteza gouache it's quite good for beginners, considering all that I just mentioned. But, there's the fact that it might be better to have a more limited colour palette when starting out.
Why?
Because it helps you learn how the paint and the colour work.
You can get lazy if you don't learn the basics of paint mixing and only use the ones that are provided to you.
Plus, it gets overwhelming to have all that variety if you don't have that much knowledge of colour use.
This would, of course, depends on you, but I believe it usually applies to beginners. That's why teachers usually start with only the primary colours or a limited colour palette.
But of course, to solve this you can simply buy a smaller pack – they also have a 24 set.
That's all for today!
I hope this little review helps you if you were looking to get Arteza gouache. If you have tried it I would love to hear your opinions on it below in the comments!