Let's chat about what is it, my experience with it & how to make the most of the MerMay challenge.
What's this? I'm talking about another art challenge, am I not? Well, I am quite a fan of art challenges as you may know by now.
So, as May approaches I want to introduce the #MerMay art challenge.
This one is a monthly challenge full of mermaids! Isn't it wonderful?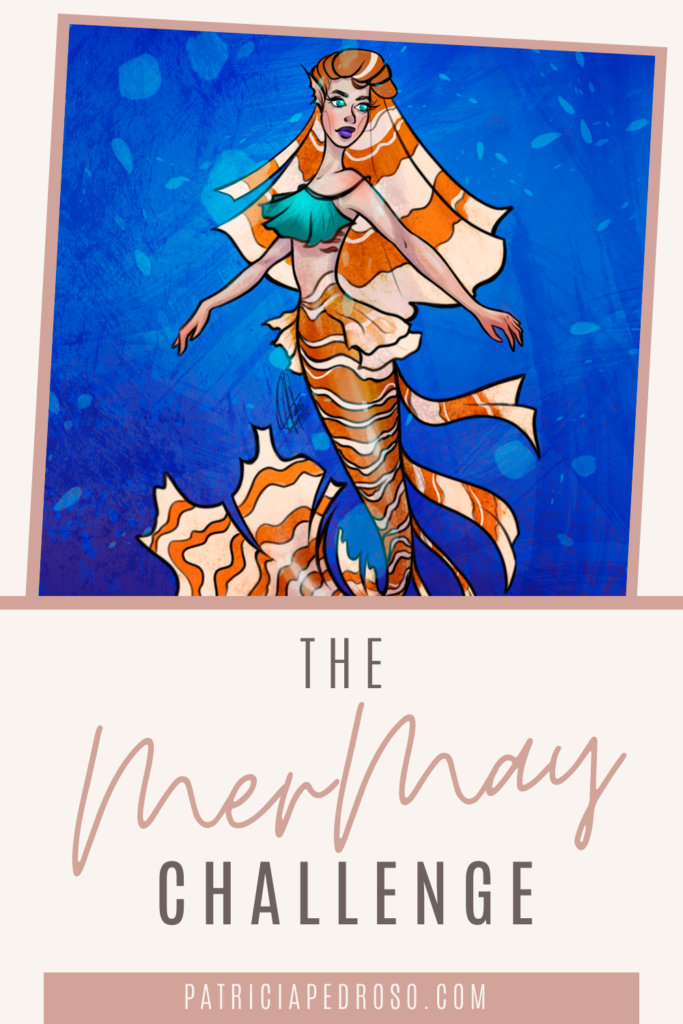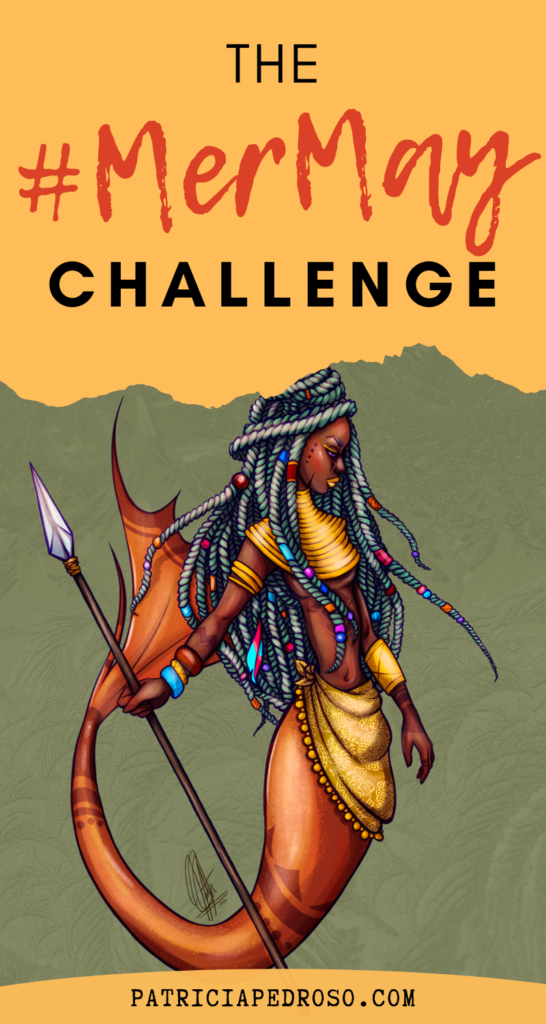 ABOUT THE CHALLENGE
The challenge was created by Tom Bancroft. He was one of the traditional Disney animators responsible for animating Iago on Aladdin, Pocahontas, Mushu on Mulan and much more.
Alongside with his twin brother, Tony Bancroft – who also worked at Disney creating, for example, Pumba – they have a podcast that I highly recommend if you're interested in animation or in the art world in general.
Which you probably are or you wouldn't be reading this, right?
The podcast is called The Bancroft Brothers Animation Podcast – linked in the image and here.
And if you are interested in more podcast recommendations you can check my blog post about it; These Youtubers and Podcasts from professional artists can seriously help you improve.
I believe the challenge was started around 2016 and it's quite similar to the Inktober challenge; one drawing a day for the entire month.
The plan is to have a month full of creativity, community and… You know it – mermaids!
Here I leave you the official web page, and the official prompts, that you can use as inspiration. This is not a must, as you can create your own list or just do it freely.
HOW DO I PARTICIPATE?
Here's the official rules/guidelines from the web page:
Every day in May…
1 – Check the daily "Prompt" for inspiration.
2 – Draw your mermaid for the day!
3 – Hashtag your post #MerMay & #MerMay2021.
4 – Like, Share & Comment on artists' work!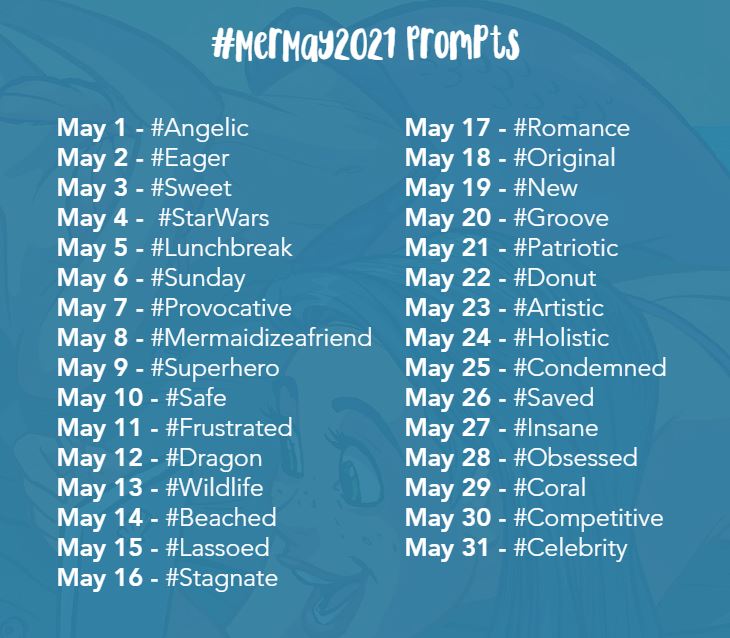 There's also a lot of unoficial prompt lists that are really fun to follow too.
I made my own list!
For 2020, I decided to make my own list with some prompts I found interesting. I wanted to keep it here, even if it was for last year because it might still be interesting to some. Also, I didn't fully finish it, so I might doodle some of these prompts this year!
The list doesn't have 31 days, but that's because I'm not sure I want to make it an "everyday of the month" challenge.
So with 25 I'm leaving some days free to have some breathing time.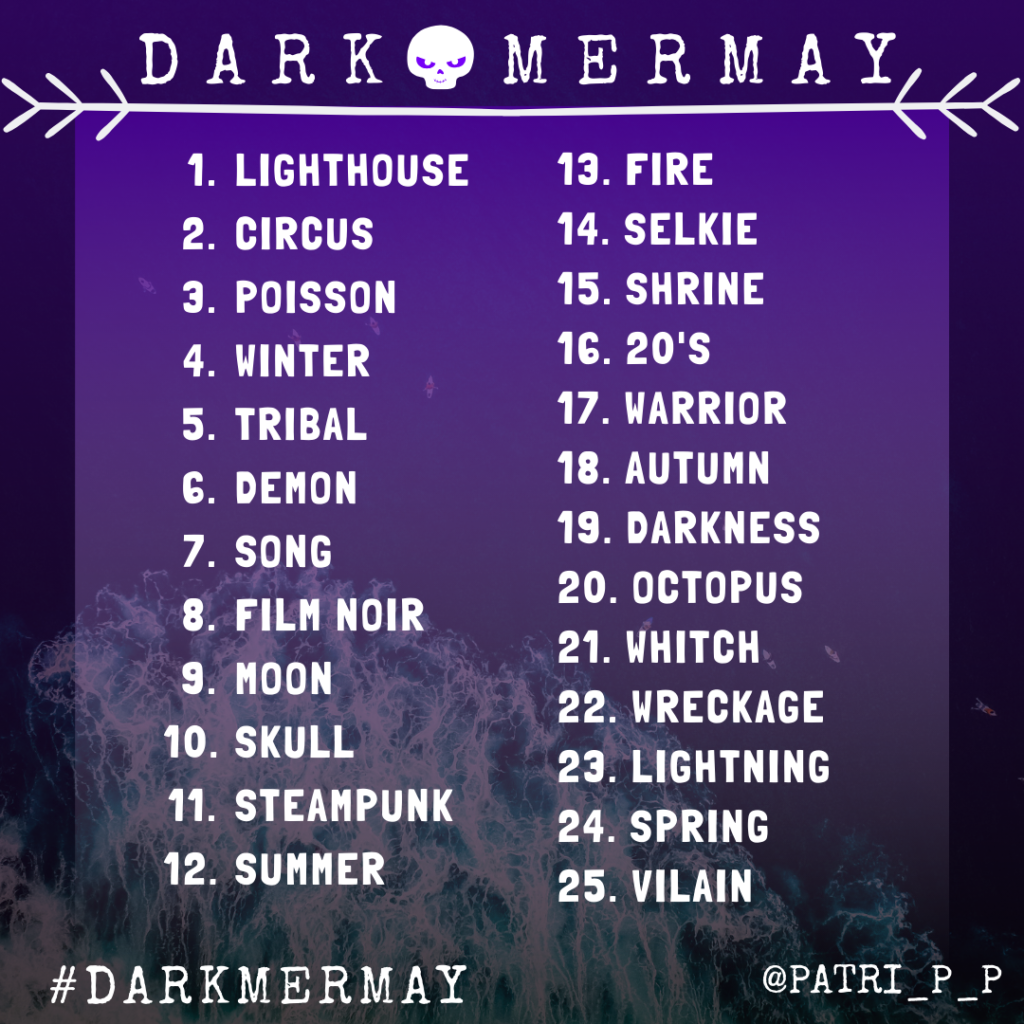 Feel free to use it if you want, just make sure you use the hashtag so I can share you too!
Oh, and if the 25-day thing bothers you then add some extra of your own or use them as a 'free day' where you draw whatever you please.
MY EXPERIENCE WITH THE CHALLENGE
This is the only monthly challenge – apart from Inktober – that I try to follow along and I keep on the lookout for amazing art.
The thing is, I never am able to fully participate on it since is my finals month, here in Spain the classes at university end at the beginning of May and so it starts a couple of crazy weeks full of final assignments and tests.
Although this year (2021) I'm finished with college, I still have a busy schedule, so again, no mermaids for me 😭
I usually have the last week or 10 days completely free, but I'm so exhausted that I never get to do much for the challenge. There have been some years I tried to participate a bit more, not with daily prompts or anything, but I never managed to do more than 10 pieces for it.
But I really love the challenge, so I try to keep it more as a unwind thing and I share the love by showcasing my favourite works during it.
So, with this, here's my little advice for you;
You don't need to put the pressure on yourself of working on a drawing every day if you don't have enough time on your schedule, you can enjoy the challenge anyway by participating on your own terms and that's fine too.
And remember, doodles and quick drawings are fine too, as long as you have fun!
SHARING IS CARING!
I feel like a big chunk of these challenges is about sharing love and discover amazing art and artists.
Engaging and looking at the art everyone's creating is much more useful than doing it all yourself without paying much attention…
Not only that, but challenges like MerMay are created for a community.
Keep engaging and sharing the love anyway, that's the spirit of the challenge!
As I said, I don't usually participate fully on this challenge, but I have been successfully completing Drawlloween/Inktober for about 4 years in a row.
So, I want to tell you some of the things that have worked for me so far to be able to make it.
Oh, and remember to check the challenge hashtags and share some love there too, you never know what amazing pieces and artists you can find there!
SOME ADVICE BEFORE MERMAY
First, it's okay to get burned out, tired and feel like you want to finish already on the middle-end period of the challenge.
You're only human, it happens!
But after that, I want to encourage you to stick to it and fight for completing it if it's a priority & a goal for you.
It's not something impossible.
What has worked for me so far is to prepare early in whatever way you can.
Making/picking your prompt list, – or combining 2 or whatever – take notes of the ideas for each prompt – as this is a big part of the problem by the end of it – and also doing some thumbnails if you can.
Oh, and maybe making a few mood boards or a Pinterest board can help with inspiration, here's mine if you want to check it out.
If you have some ideas and a few thumbnails you've already saved yourself from a lot of stress later.
Knowing what materials, size and techniques you'll be working with can be really useful too, especially if you're trying to keep it really consistent-looking.
Of course, if you plan to mix and match and keep it lose forget what I just said, except maybe the notes/pinterest for inspiration.
BE REALISTIC
Last but not least, you should consider how much time you usually have to draw and plan accordingly. You need to be realistic with your expectations.
Believe me, I've fallen under this a few times.
If you usually have, let's say, one hour a day and a couple on the weekends then avoid doing huge and complicated illustrations. Cause you won't make it in the long run – unless you're unusually fast!
Or you could also do an illustration every few days, that's great as well!
The size and the materials matter a lot for this, and also knowing how long does it take for you to work on each.
But it's important you don't put all your life on hold and stress the hell out of you just to keep posting every day.
Keep in mind your mental health and allow time for resting!
YOU SHOULD PROBABLY KNOW THAT…
I must say I don't always play by the rules.
And neither do most of the artists out there.
If I know that my only time to properly take an Instagram-worthy pic is in the morning, and I can't get any art done till night I know I have to work a day ahead.
Just the same, if I know I need to go somewhere for a couple of days and I can't possibly draw the pieces there, I'll make them ahead too.
Is this cheating?
Well, maybe, but you're putting in the work, right?
But you're being clever about it and adjusting it to your schedule.
Then what's the big deal!
At the end of the day, the important thing is for you to accomplish your goals, not what anyone says about it.
I feel like it's really hard for a lot of people to tackle Art Challenges. I had my own share of problems with them as well but you know what? I've learned to have my own process & enjoy them. Wanna know more? Read my post on "How to Tackle an Art Challenge (without going bat-shit crazy)"
STORYTIME
I'm gonna tell you a quick story of how this applies for me.
For example, my goal for Inktober, 2018 was to have 31 liquid ink pieces, most of them of the same size and with a similar aesthetic.
Because I wanted to make and publish my own little zine through Amazon by the end of it.
The important thing for me was having the illustrations for the book, so I worked ahead of the month and had 1-5 illustrations transferred or in linework stage, – ready to paint – several thumbnails and most of the ideas written down.
I did catch up with myself and ended up a bit late, but that was because each illustration took probably more than 3 hours and I didn't have that time every day.
Imagine what would have happened if I didn't work ahead!
By the end of the first week of November, I did have the illustrations done, so my goal was accomplished!
So, whatever way you're choosing to do it is valid if you're accomplishing the goals you set up for yourself.
Don't let anyone tell you otherwise.
What are you waiting for? Go create some mermaids!
MY MERMAY COLOURING BOOK
Shameless plug here.
In 2020, I was finally able to do a few illustrations for the challenge & put together a small digital colouring book.
Here's a peek!
So if you're into colouring books and some of the illustrations of mine from this page have caught your eye, go download it here!
Or down bellow if that's more comfortable.
It's an inmediate download once you buy it, ready to print & colour!