Reviewing my previous Inktobers, what I learned & my plans for this one
Inktober is right around the corner again, doesn't time seem to fly by sometimes?
If you're anything like me, you might already start planning your Inktober/Drawlloween in August.
Gosh, I do love the Halloween vibes.
But what's the deal with Inktober, you might be wondering? – or not – Well, let me tell you a tiny bit about it!
Inktober was created by Jake Parker in 2009. He created it to develop a positive drawing habit and to improve his inking skills. Since then, a lot of people have joined and it has become one of the most known artist challenges of the year, happening every October.
I would leave a link to the official Inktober website here – where you can find anything else you might need to know – but I will provide more info bellow too.
*Update from 2020. I know there's been some drama around Inktober and Jake Parker but I'm staying out of it till I know more about it, cause I don't like this hate and "cancel culture" we are creating in social media. However, I still want to put out this info about Inktober cause I think people have the right to participate and enjoy it if that's their choice.*
THE RULES
The official rules, as seen on the website are:
1 – Make a drawing in ink (you can do a pencil under-drawing if you want).
2 – Post it.
3 – Hashtag it with #inktober and #inktober2020 (this last one changes with the year, oviously)
*Note: you can do it daily, or go the half-marathon route and post every other day, or just do the 5K and post once a week. Whatever you decide, just be consistent with it. Inktober is about growing and improving and forming positive habits, so the more you're consistent the better.
There's an official prompt list every year since 2016, you can follow it or do your own thing, create your own list, or whatever you want really.
Here's what this year's official prompt list looks like:
As an extra note, I wanted to add something: Inktober is supposed to be about drawing with ink, and Inktober purists might tell you that you must only work with ink.
But even Jake himself admitted that this is a challenge to help you improve, so if you want to improve in watercolours, markers, digital or whatever, then go ahead and work with that.
And I stand with this.
That's probably also why the side challenge #Drawlloween or #Drawtober was created – though for me they're basically the same. This one simply doesn't have the rule of working with ink.
Also, there's a big opening to what ink is… – fine liners, liquid ink, brush pens, ballpoint pens, even markers may be considered ink in a way?
So just do it your way!
This is my new motto when it comes to Art Challenges, I talk about it more here: "How to Tackle an Art Challenge (without going bat-shit crazy)"
WHAT'S SO GOOD ABOUT IT ANYWAY?
A daily drawing challenge is always a good idea to improve your drawing habits, challenge yourself and even to join a community of artists.
It challenges you in so many ways!
To commit to a goal and produce work constantly, all the while holding yourself publicly accountable.
One of the most important things is that it helps you to improve. Maybe at a technique, medium or simply drawing wise.
It pushes your creative limits and gets you out of your comfort zone.
Every time I've participated I got something positive out of it. It can be a different experience for everyone and each time.
Some examples from my experience:
For the first 2 years, I realised how much I loved watercolours and it helped me get more confident about using them. – The first 3 times I participated in Drawlloween, I found out about Inktober later on the third time.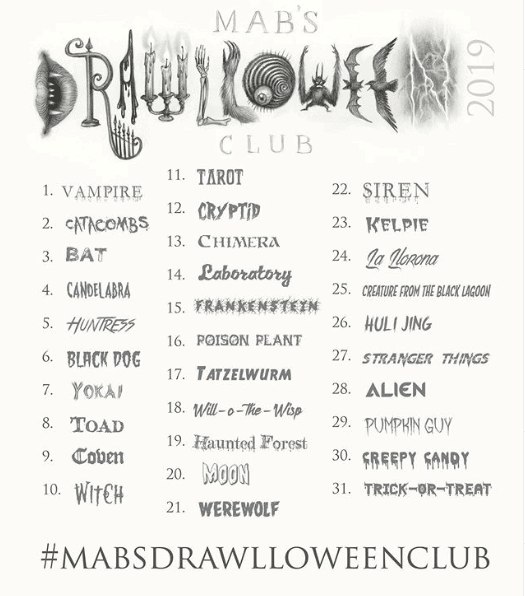 By the third time I got much better at illustrating with markers – my goal that year.
On 2018 I finally participated in Inktober with the official prompts & rules, and here, my particular challenge was to master working with liquid ink while making cohesive drawings to make a zine.
By the end, I learned how to work with InDesign and I put together my own small book, now for sale on Gumroad as a digital download – I'll re-launch the Amazon physical version soon too.
So, I set a challenge for myself every time I participate. I've become more and more demanding with myself, taking the challenges to the next level possible, which has led me to learn a lot in the way.
WHAT I LEARNED
These challenges also – both Inktober and Drawlloween – can help you find a very good community of artists, make some artist friends and even gain some following in the way.
But, cause there's always a but, it can also be a bit stressing and life can get in the way.
Whatever your challenge is, let yourself rest if you need to. I myself have pushed myself a lot trough these, and at the end it's rewarding, but it can also leave you feeling seriously burned out.
I have balanced Inktober with College all these years, with a YouTube channel, social media and all that life can throw in the way – one year it included around 6h of public transportation daily, where I could barely do anything.
There was a lot of stress.
So, I learned that if I need a break and I end up finishing a couple of days later is alright.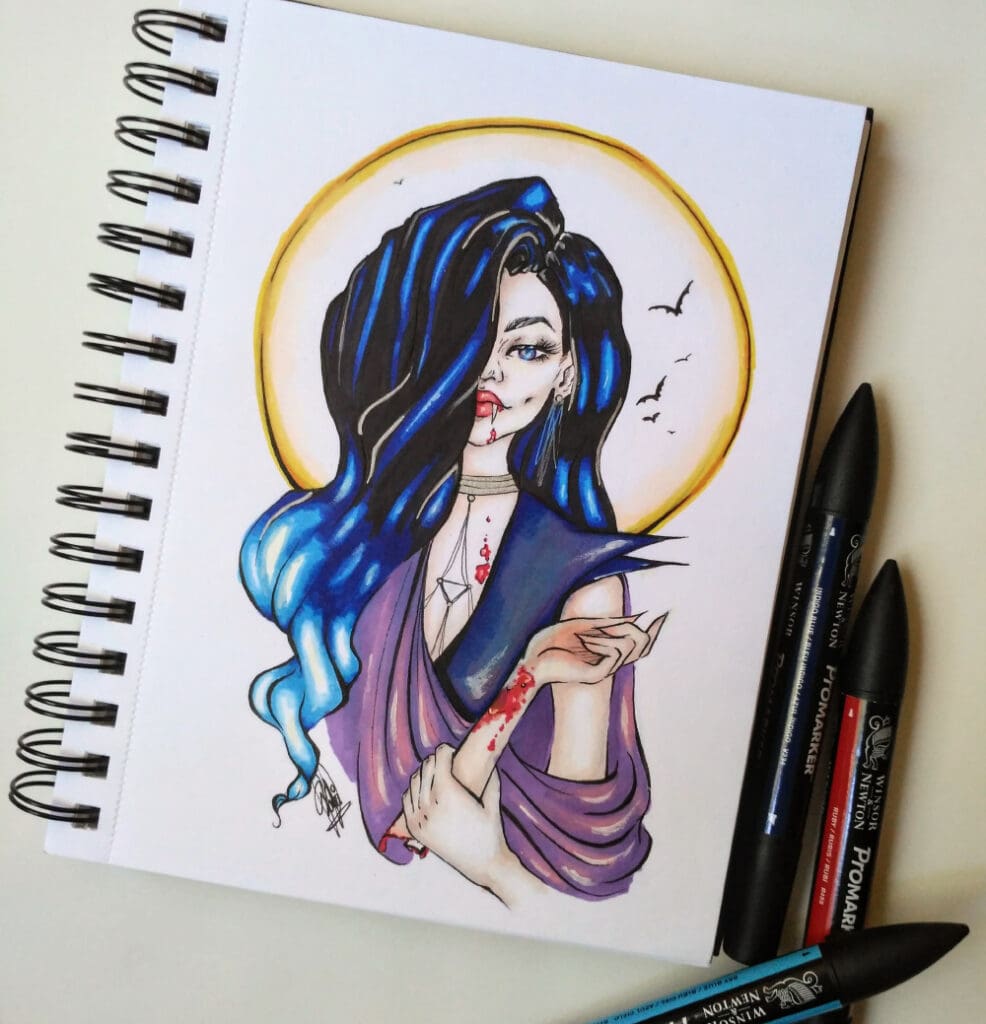 If I decide to do only 20 drawings that month it's alright.
Or if I get some prep work ahead because I know I will barely have time to do it the next day, it's also alright.
More people than you think do these things, and guess what? It's alright!
Now that I finished the pep talk of the day, I just want to add this: of course that it's alright to challenge yourself! But try your best to enjoy it, don't worry too much.
The only person you need to please, it's yourself.
And related to this it's my post 5 things nobody tells you about Inktober that talks a lot about these things.
IN CASE IT GIVES YOU SOME INSPO, LET ME TELL YOU MY PLANS… (2019 edition)
This is going to be my 5th Inktober/Drawlloween participation and, for the first time, I'm gonna take it easy. Or try.
I've gotten quite good at planning my Inktobers to be really cohesive, with a similar aesthetic – thematic sometimes – and overall challenging.
Psst! I have a post that's all about How to keep your Inktober – or drawlloween or whatever – cohesive! Read it here.
This is going to be my last college year, and I'm not really sure of what to expect in regards to workload. I also need to take care of the blog now.
Aww, my blog still was a baby back then…
I feel like I want to take a year to really enjoy Inktober without the pressure I always end up putting on myself.
Even though, I can't help myself but to already start planning in my mind what I want to do.
My idea for this year is to make my own Inktober sketchbook.
From there, I was thinking of sticking to fill the sketchbook by the end of the month. Of course, the sketchbook would have around 31 pages, maybe some more in case I want to sketch and do the finished pieces in the same place, keep it more practical. If I finish it a bit later – or don't – it's alright too.
I'm not sure I will restrict myself medium-wise or aesthetic-wise. Mostly to keep it freer. I got quite inspired by how Loish worked last year, it just seemed quite simple and enjoyable.
As for the prompt list, I think this time I'm gonna mix and match as I feel like it. Go freestyle some days and maybe follow it only if I find a prompt inspiring.
Read how everything went downhill for me after all this nice planning on the 5 things nobody tells you about Inktober here. – It includes a video where I tell you more about my misfortune of 2019 😂
MY PLANS FOR 2020
So, last year I didn't do so great. But to be fair, last year turned out to be quite a complicated one.
I even considered taking 2020 as a break from Inktober/Drawlloween but as always, come August I find myself missing the Halloween vibes and thinking of what to do this year.
Cause this is one of my favourite times of the year…
So, I casually had what I think would be a really fun idea and – keeping the drama aside for now – I'm really excited to try and participate again this year.
I'm still not sure which list I will use yet, cause my idea won't depend on that, but I'll start prepping soon and showing more stuff with you via my Instagram page.
But what is this idea?
Well, it has a bit to do with this guy over here:
I casually found this illustration while re-editing my Inktober 2018 book and I thought it might be fun to make comic-like illustrations of the adventures of this "pumkin ghost" in October.
I already have a bit of an aesthetic in mind and I'm thinking I'll do it digitally.
By the end of it, I'll update the blog with more info about how it went, but if you want to see it first hand I recommend you follow my Instagram or my mailing list!
LASTLY, SOME PIECES FROM MY LAST PARTICIPATIONS:
1st year, 2015 – starting with watercolours and ink pens.
With #Mabsdrawlloweenclub prompt list.
2nd year, 2016 – Ghibli themed Drawlloween. Still in watercolours.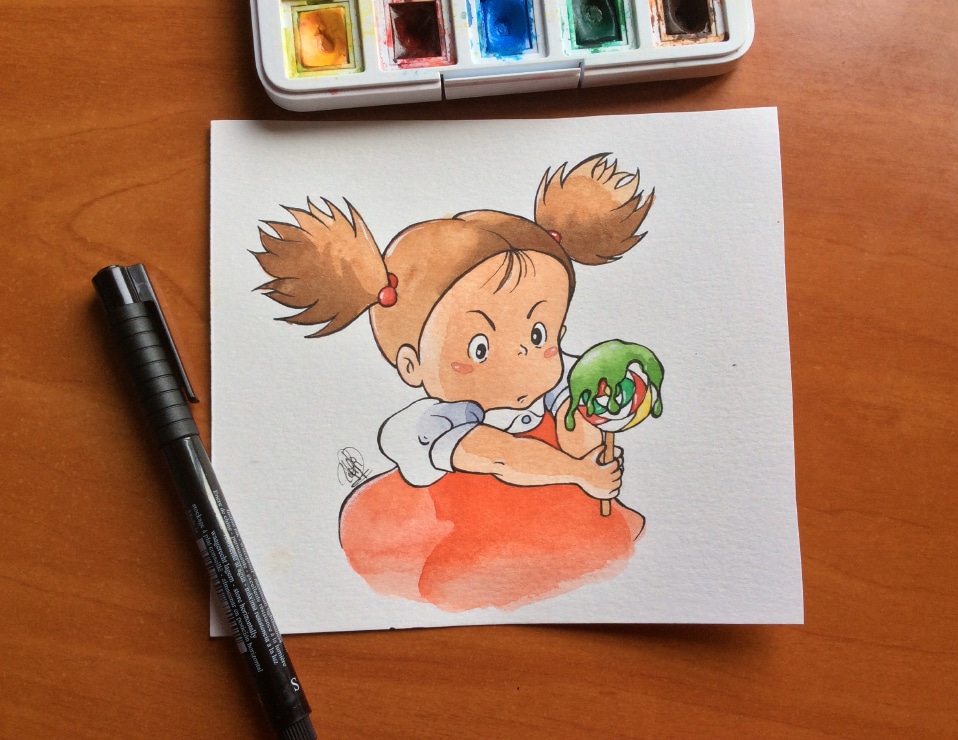 With #Mabsdrawlloweenclub prompt list.
3rd year, 2017 – Creepy girls, illustrations with markers.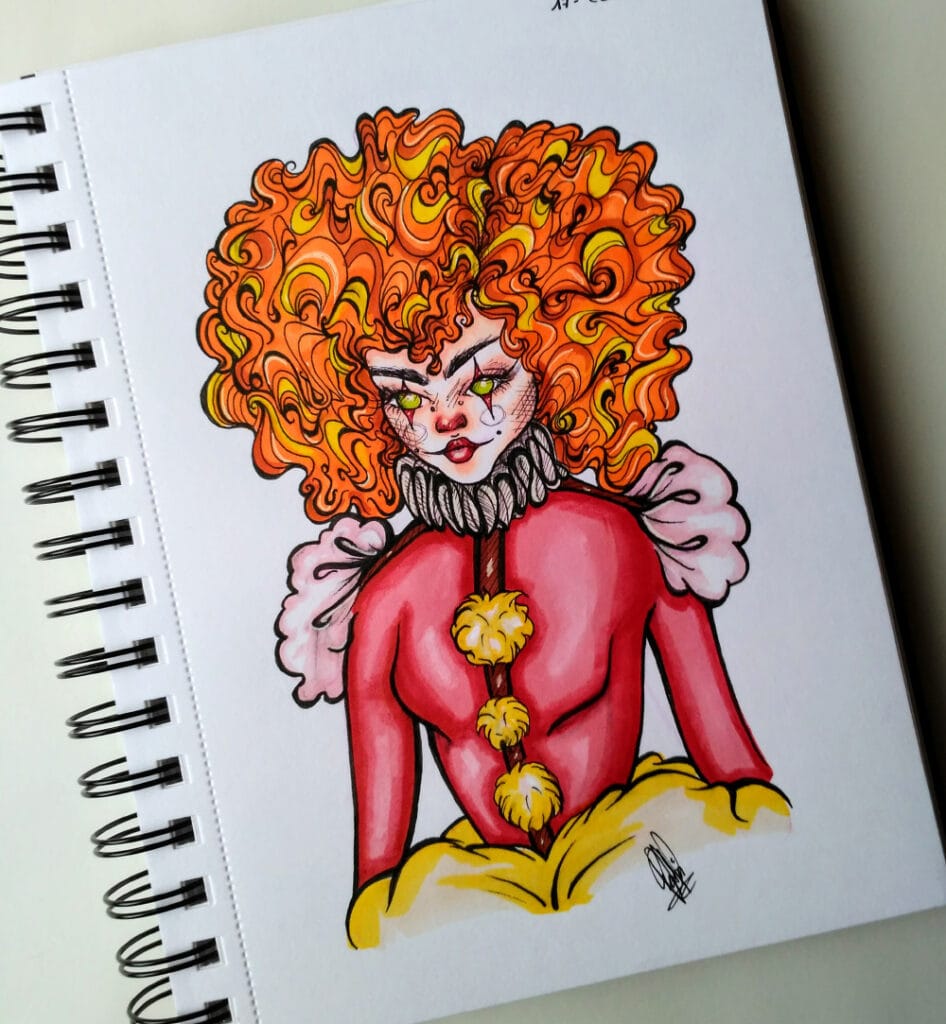 You can get these originals (most of them I have for sale) up on my Etsy shop!
With #Mabsdrawlloweenclub prompt list – combining prompts sometimes.
4th year, 2018 – Liquid ink illustrations, b&w with touches of coloured ink on some. These illustrations and more are contained in my artbook.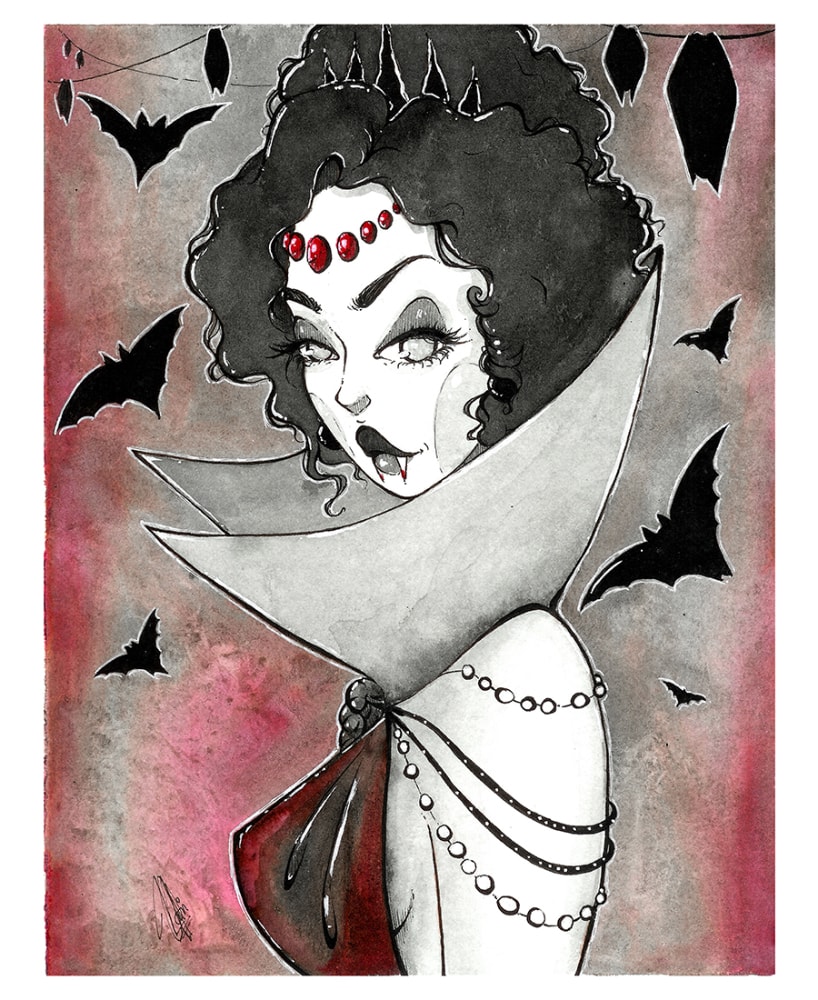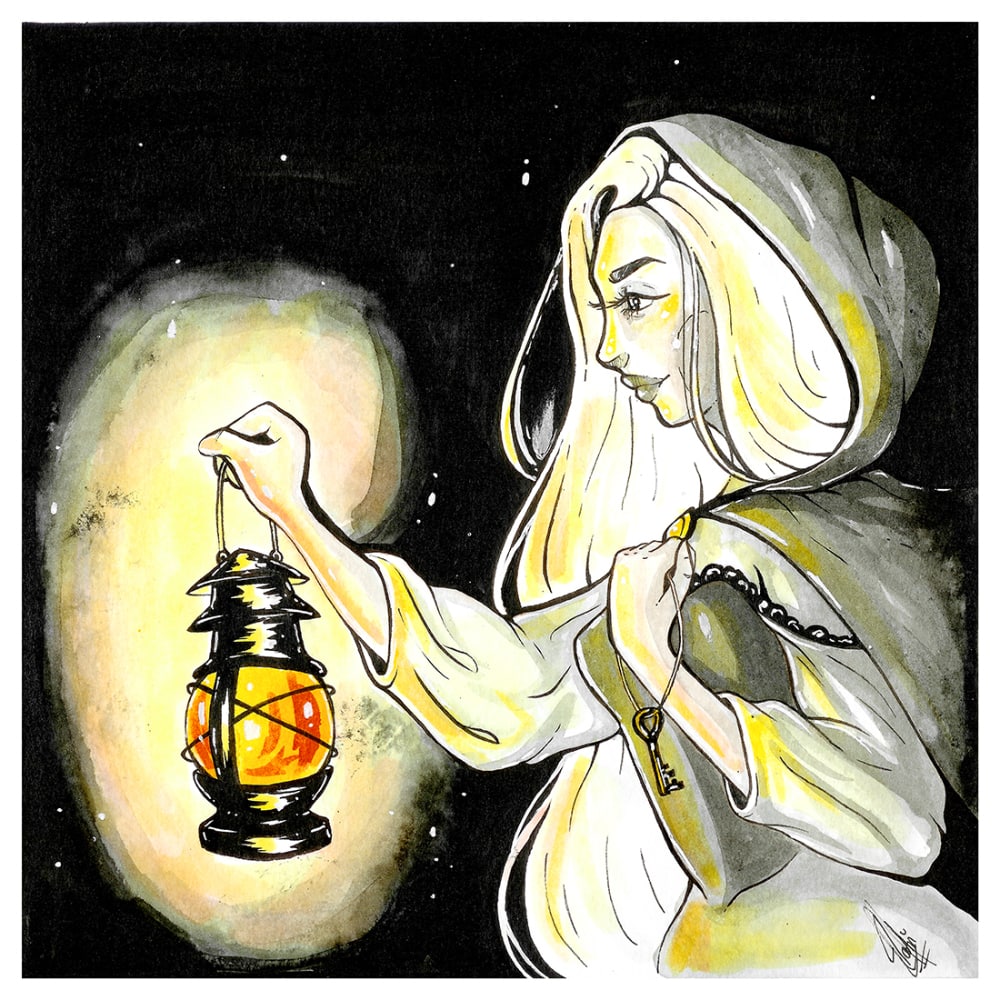 Following the official #Inktober prompt list, combining some days with other prompt lists.
And this got turned into a book that I have available on Gumroad!
What about you, are you participating this year? Any plans yet? I would love to chat about it in the comments!