Is almost that time of the year again…
I know that for some – or most – people Inktober can get pretty stressful at some point.
But first, if you came across this post and you still don't know exactly what Inktober is or why you should do it, read my previous post here, with some insights and personal experiences!
I believe one of the things people struggle with the most is to make all of their Inktober pieces look cohesive together. If you're already an established artist with a very recognisable style, then probably this is not such a big problem, as it would immediately make it look cohesive.
But it's not that easy for a beginner or someone who hasn't developed a personal style yet – a thing that usually takes some time…
This happened to me since the first time I did it 5 years ago, and ever since, I've been experimenting with some ideas that have made my pieces look more harmonious together, despite my current – always changing – style or level.
As you read this, consider that you don't need to follow all of this. Ultimately it's your choice, but usually with one or two of these tips plus your own style – even if you feel you don't have any, it is there – it's enough to make your inktober cohesive.
But also, picking more than one might make it easier. It's your choice!
*Update from 2020: I know there's been some drama around Inktober and Jake Parker but I'm staying out of it till I know more about it, cause I don't like this hate and "cancel culture" we are creating in social media. However, I still want to put out this info about Inktober cause I think people have the right to participate and enjoy it if that's their choice.*
---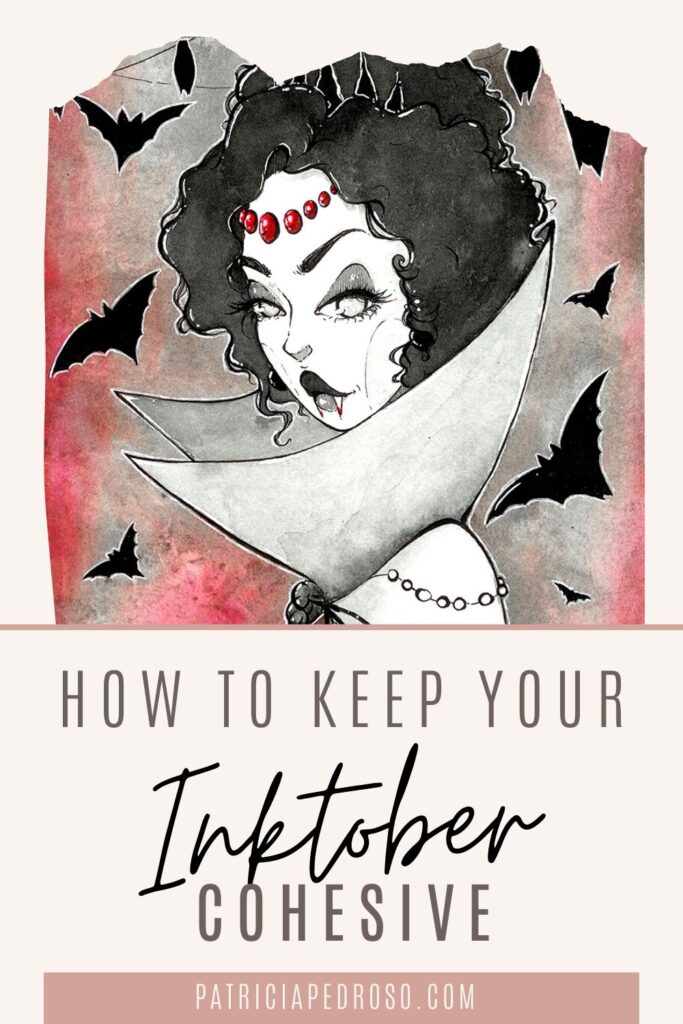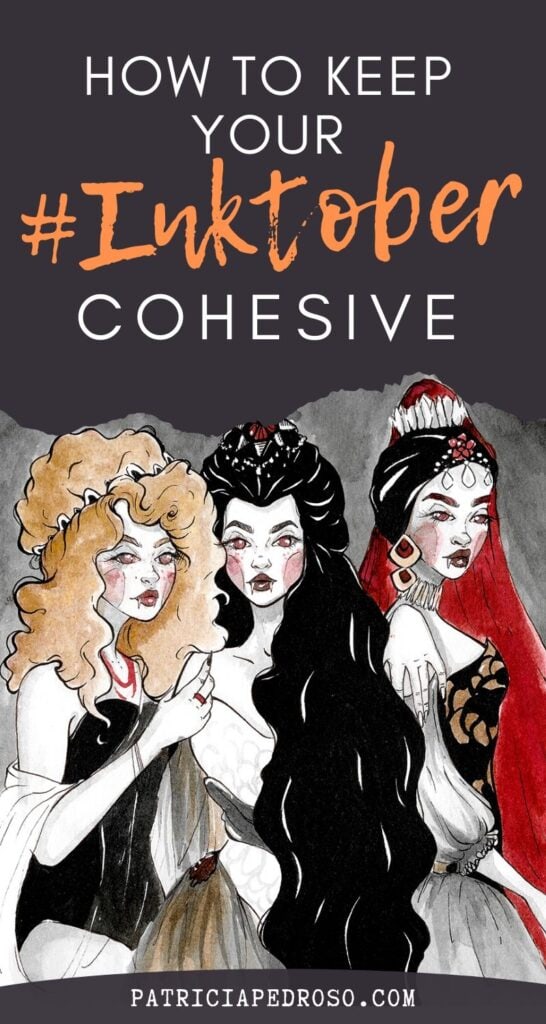 THE IMPORTANCE OF PLANNING AHEAD
I feel that giving yourself some time to plan ahead what you want to do for Inktober and how you'll do it can work wonders to help you have a smoother ride.
Personally, I take some time to consider all of the points I'm gonna mention bellow. I make my decisions on some and choose if I'm gonna apply them or not.
I give myself time to choose what I'm doing, usually, I start to think about it by the end of August/ beginning of September with no pressure on, cause that's when the ideas flow easily.
Sometimes my decisions come really soon or others much later, almost when it's time.
You don't have to do exactly this, but if you give yourself a week or so before Inktober to put these things in order I assure you it would make for a much less stressful one. And it saves you time later!
Also, if you've decided things ahead you can get a head start on somethings that you'll thank later. For example:
Prepping or cutting the papers you'll use or buy the sketchbook you've been looking at for this.
Choose/make your prompt list and write notes on your ideas for it, do some concept sketches or thumbnails.
Or, if you're jumping ahead with materials you haven't used before, train and learn a bit about them, get a feel on them so it's less stressful later.
It's easier to have a cohesive inktober if you plan a bit ahead.
STICK TO ONE MEDIUM & TECHNIQUE
Or the combination of a few.
The whole point of Inktober usually is to work with ink, but even in the ink category, there are tons of routes you can follow.
And if you're not jumping on the ink route, you might consider narrowing it down to one medium – watercolour, digital, markers, … – or otherwise, combine them with some others that compliment them.
Try to stick with that.
This would immediately make it look more cohesive, and honestly, it makes it easier for you.
It would also help you improve with that medium and technique, as you'll be creating a lot with it and experimenting for a month. It's perfect for learning something new or give a boost to your already existing skills!
Oh, and once you're done the picking, make sure you pick a paper suitable for it and have enough on hand for the whole month.
Don't be like me on Inktober, 2019…
FOLLOW A PROMPT LIST OR MAKE YOUR OWN
Or you can also mix and match with some existing prompt lists, your own or improvise.
There are definitely people that don't like following prompt lists, and that's completely alright.
Still, maybe you haven't found the prompt list for you.
For example, I realised last year that the official Inktober prompt list isn't the best for me, I don't know how to explain it, but it's was a bit too general and random. In my case, I think I like better the prompt lists that have a theme behind them.
Check the prompt lists out there first, cause maybe you find a really interesting one that fits your taste! If not, give a try to making your own or combine existing ones, I find this a bit more exciting.
When you follow a prompt list there's usually some cohesiveness to it that immediately makes your work reflect that.
Themed prompt list = more cohesive inktober
But if you don't like prompt lists at all, maybe try writing down ideas ahead to save some time and effort later. Or jump to the next tip!
PICK A THEME
This one could be united with a prompt list or not. Or sometimes you can mix them.
I've done normal prompt lists with a theme of my own – Studio Ghibli themed, for example, you can have a peek at my previous post here.
So, you can follow – let's say – the Inktober official prompt list and add your own theme. Or follow/make a thematic prompt list; Vamptacular & Ghostacular by Missupacey are good examples of this.
Or pick a theme and do your own thing with it; fantastic creatures, mythology, ghosts, witches, movies, astrology, vampires, …
Having a theme can not only make your Inktober more cohesive but also more exciting if it aligns with your taste!
If you have trouble to come up with prompts or ideas, try checking my ultimate drawing prompt list – with now more than 300 prompts to give you a creative boost! You can have access for free to it by subscribing to my newsletter or check a little preview on this blog post.
MAKE A PROJECT/PRODUCT OUT OF IT
This won't necessarily make your work look more cohesive but instead motivate you to make it look better together.
Well, maybe some products/projects will, as they have a theme going on.
You might also want to consider this as a way to get something back from all the hours of work that entails doing Inktober. It's a serious time and work commitment that you'll probably won't dedicate to other things for free.
So think about it.
Examples of projects/products: Colouring book, zine, character design, game design…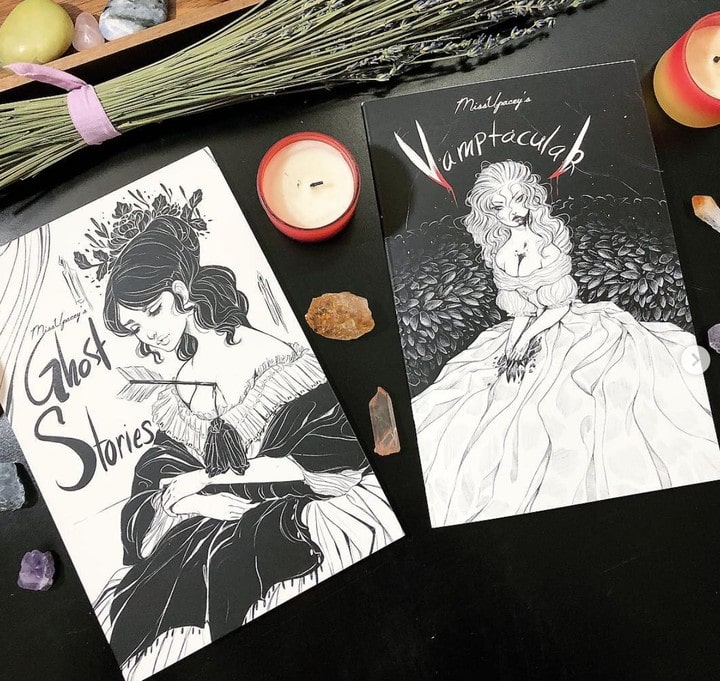 But again, if they don't have a necessary theme, like a zine, you will still be thinking that they need to look good together, have the same size format and such, which immediately helps to restrict you to make cohesive work.
I did my own zine for 2018 and it helped a lot to keep my inktober cohesive all together.
SOME OTHER THINGS THAT MIGHT HELP
There's a little list of "extras" that I think of when it comes to this:
Use the same kind of paper/sketchbook or paper size.
When it comes to taking your pictures for social media, try taking them at the same place or similarly arranged and preferably with good lightning – much better if natural. This helps them look cohesive but also to keep your feed pretty!
Examples: All scanned, all in your white table, same props, just a crop of your sketchbook…
You can use a similar colour palette or colour choices in all the pieces. This doesn't mean you have to limit yourself but give it your own touch.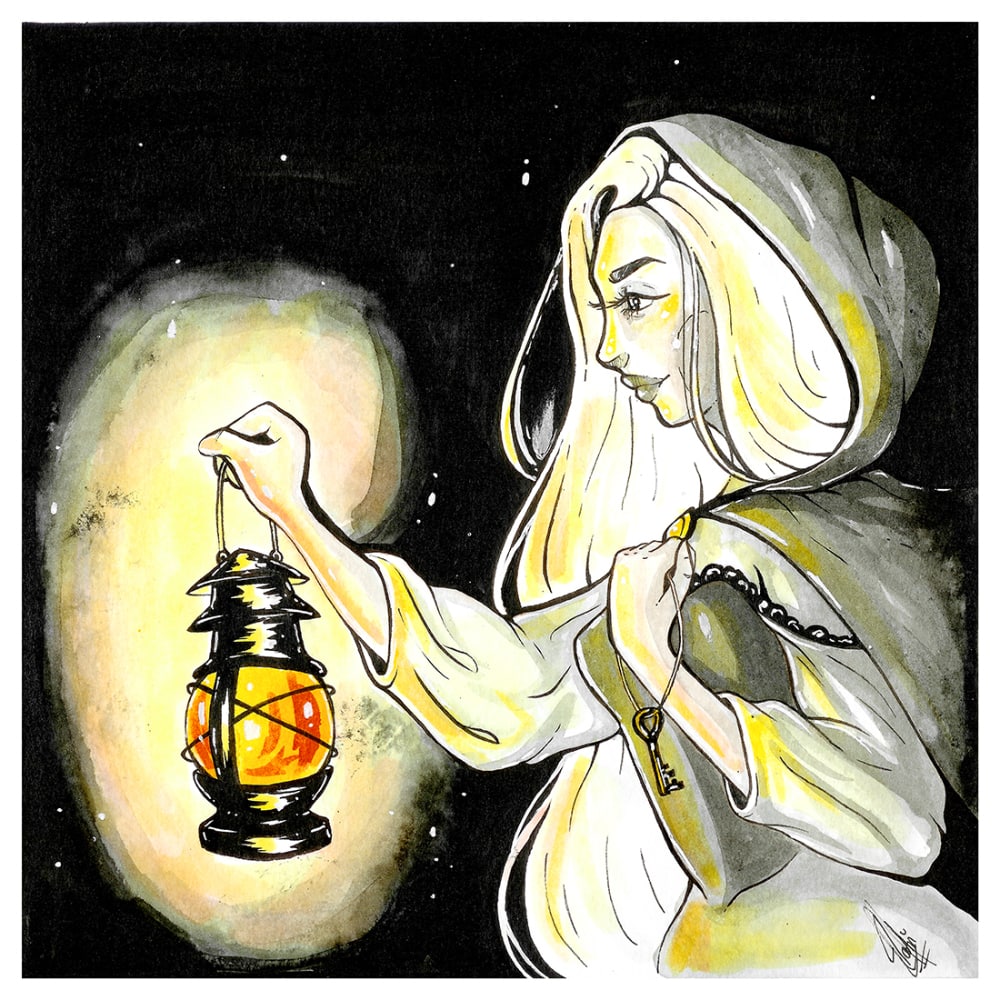 For example, you can use the greyscale of the ink and add a touch of coloured ink – let's say red – in every piece, making it quite personal. Or add a touch of gold/silver to every piece, make a digital "format" that you use for every day like your own comic bubble – I might try this for this year.
The possibilities are endless!
If you want to see more of what I'm doing for this year I keep my Instagram page (stories and such) quite updated on it!
---
When choosing these things, I always try to pick the ones I feel like I would enjoy the most so it makes my Inktober more enjoyable.
Is there anything else you do in preparation for Inktober? I would love to know about it!