Have you heard about this online learning platform?
I guess that by the title of this post you already know that I'll be talking about the Schoolism subscription today.
But in case you stumbled on this post without knowing what Schoolism is, let's have a little introduction about it.
Schoolism is an online learning community for artists, created by artists.
In this case, Bobby Chiu (former worker at Disney, Warner Bros, concept art for Tim Burton's film Alice in Wonderland, and now working on his own studio; Imaginism Studios alongside his wife).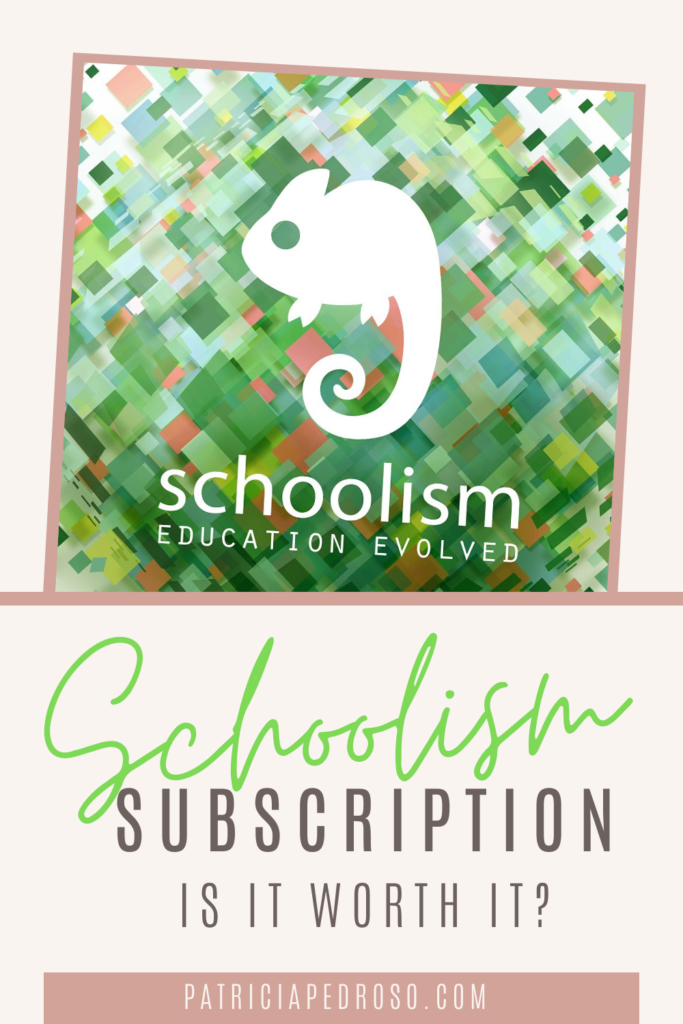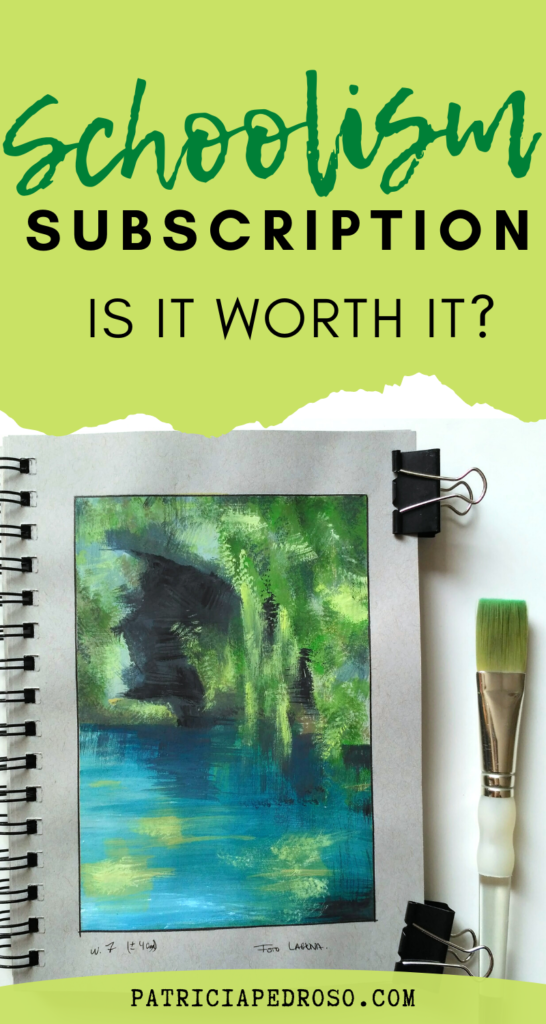 Before anything else, I want to say this post is not sponsored in any way.
I'm writing this because I wanted more information and opinions about it before getting my own subscription.
And even though I follow Bobby's Youtube channel and I know a bit about it already, I couldn't find much except a few comments on forums.
There might be a few affiliate links though, but only to things I recommend, as usual.
A BIT MORE ABOUT SCHOOLISM
The idea behind Schoolism is to make high quality, affordable art education available to anyone and everywhere.
And they have done really well so far!
They have tons of workshops with renowned artists, interviews and – until recently – they had a Schoolism lake house, a 30-day in-house workshop, but that project has been put on hold for now.
And of course, they have the actual learning platform with online courses by artists like:
Terryl Whitlatch: creature designer for Star Wars, amongst many others.
Craig Mullins: considered the father of digital art; Jurassic Park, Interview with the Vampire, Halo, Age of Empires, Assasins Creed: Brotherhood…
Nathan Fowkes: Dreamworks, Disney, Blue Sky Studios.
And many more alongside with the own Bobby Chiu!
They have over 28 courses and they are constantly adding more, I think they have at least 2-3 planned to go up in the course of this year.
Update; they did, now there's 35 + the artist workout series.
You can watch the courses on streaming – without feedback or interaction with the teacher – in a normal Schoolism subscription.
Or you can sign up for the Critiqued Sessions that come up from time to time with limited spots.
ABOUT THE SUBSCRIPTIONS
Of course, the critiqued sessions are much more expensive but also worth it if you're looking for feedback and the guidance of one of these amazing artists – at least that's what I've read on opinions around the web.
The Schoolism subscription is relatively cheap, especially if you compare them with any other art education.
It gives you access to all of the videos of the courses and also to critique sessions – which are really useful too – and there's an assignment for every lesson.
Also, the lessons are usually on specific things that most times you don't even learn in art school – that's what most artists affirm!
The monthly subscription is about 30$ – let's not bother with the actual 29,95$ – and, of course, the yearly it's cheaper, 300$, but paid upfront.
There're also 2 sales every year: Spring Sale and Winter Sale and both get about 100$ cheaper on the 1-year subscription, leaving it in 198,00$.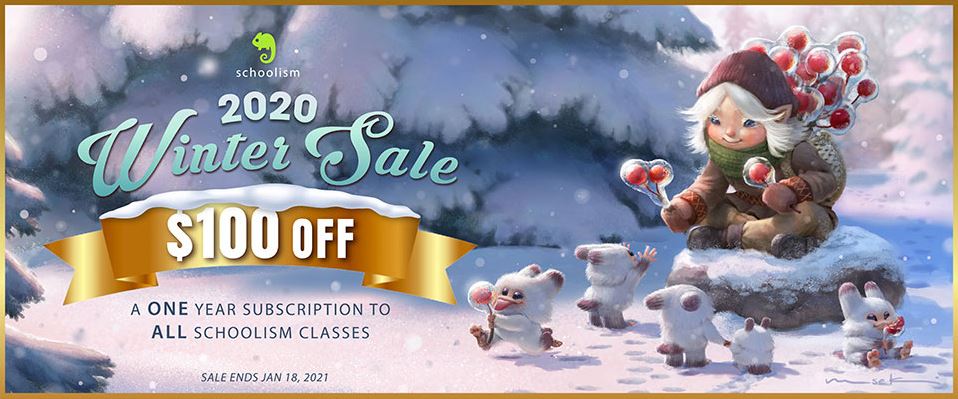 The Winter Sale is going on now, till January, 18th! Click here to get to it.
And that's precisely the reason I got it! (Spring Sale of 2019 for me)
So, again, if you compare them with other art education it's quite affordable. And it lets you work from anywhere, at any time, at your own pace!
Of course, you have to have some discipline and be willing to put in the work.
MY WORKING PLAN
I got my 1-year subscription at the beginning of May 2019.
I am interested in most of the courses that Schoolism has up right now, so I plan to take as much as I can during this year – and especially during summer, as it's the time of the year I have the majority of my free time to work on my art.
And I want to take you trough it so you can evaluate if it works for you or not.
The first step is to set out some goals and a scheduled time for art.
I am not planning a specific timetable, but I know I want to dedicate at least an hour a day – at least every weekday – to studying.
This means at the least 5 hours a week, I'm expecting a lot more actually – this is just in case something get's in the way or unexpected last-minute plans.
This is my plan for the Summer, over the school year I'll have to adapt it to my schedule.
Also, I've read Schoolism's advice on its newsletter and it has some recommendations on how to approach the subscription courses that for now, I'm going to apply until I get to test it.
---
SCHOOLISM TIPS:
First, they recommend you to sign on their Facebook groups so you can share your work, give and get feedback on your assignments. This is the only advice I know I won't follow, it is a good idea and getting feedback is always good for you, but I don't really use Facebook and I know I will end up forgetting about it.
Then there's scheduling days and time for learning. This, of course, I am gonna try to apply in my own way, cause I think it's really important to get into the habit.
Lastly, there's the process: they recommend you to watch the lectures first without doing the assignments, then watch the feedback videos and lastly do the assignment – this would ensure you don't commit the mistakes the teacher is correcting on the feedback videos. They also suggest you might want to re-watch the lesson while doing the assignment to refresh and make sure you don't miss anything.
This advice resonates with me as the right way to learn from the course, but I have yet to put these in practice and see if it isn't too tedious. – I talk about how this worked later in the post.
SO, IS IT WORTH IT?
Well, the idea behind this post is to leave it "open" or unfinished as I go through the courses. This way I can have a solid opinion and advice about the Schoolism subscription, so I can give you insights and edit the post as I go.
Also, if anyone wants to participate in the comments and give their opinion is more than welcome!
For now, I think the normal yearly subscription is more than worth it if you can afford it.
But I want to give you a further review with each of the courses I take.
As they're from different teachers, there might be something to say about each of them.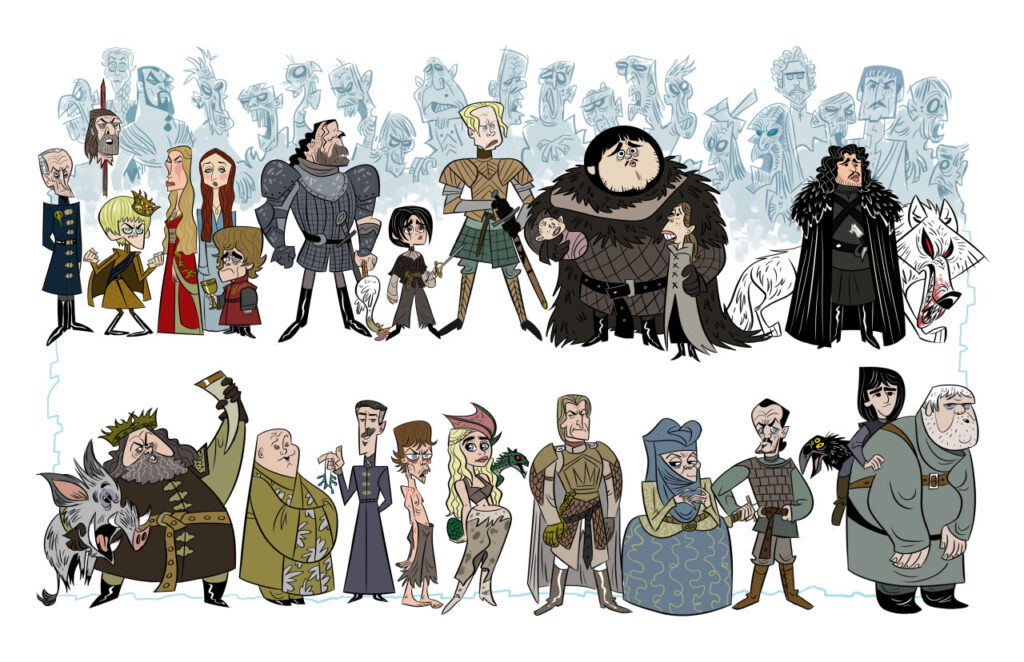 First, I started the course Fundamentals of Character Design with Stephen Silver – Kim Possible, The Fairly OddParents…
Some thoughts down below!
Check the post from time to time if you're looking forward to it or subscribe to the mail list to get updates about it!
---
FIRST UPDATE – 6 WEEKS INTO IT
It's the start of July now and I've done around 6 weeks of studying with the Schoolism subscription.
I planned to do this little update once I was done with Stephen Silver's class, but I feel like I've already got some habits and things I could point out and maybe later I would simply add a final comment with my thoughts on the course.
Up until now, I've been dedicating at least those 5 hours a week I set my goal into.
As I already expected, there have been weeks where I worked more than 8h while others achieving those 5 hours was already a challenge.
I'm at the start of lesson 6 of 9 from Fundamentals of Character Design with Stephen Silver. And so far it has been good!
In the beginning, I started working as I described up there on the Schoolism subscription tips.
And it was fine until you get used to it and have your own routine, so now I've made a few changes – more like I've adapted it – so it works better for me.
THEN vs NOW
Updated on March 2020.
1 | I started out watching the lessons while taking quick notes on a piece of paper.
Now, I still do that, but after 2 lessons or so, I started cleaning up those notes on a Word document so I can have it all together and accessible for future reference.
2 | Then I watched all the feedback on the assignments from that lesson.
3 | Lastly, I did the assignment while rewatching the lesson.
Now, I've combined these 2 last steps; I do the assignments while watching the critiques.
Not so much in the first 2 lessons, but when I reached lesson 3 there was probably more than 2 hours of critiques on every lesson.
And most of them said really similar things.
I'm not gonna stop watching the critiqued sessions because I find them very useful.
You see the most common mistakes you might commit, but also sometimes you see the amount of work you're supposed to do or what exactly you need and needn't do – as you might be unsure when you simply read the assignment.
If my assignment is done, I would skip the rest of the videos, as I probably already caught the most common mistakes anyway.
And, I also realised that re-watching the lessons while doing the assignments wasn't really that necessary, as I already was taking notes and then reviewing the lesson as I made a clean copy of it on my Word document.
This is simply what has been working for me, you might need to adapt it too.
THOUGHTS ON THE CLASS
Stephen Silver's class has been really fun so far, you can see how passionate he is about character design and his many years of experience on the subject.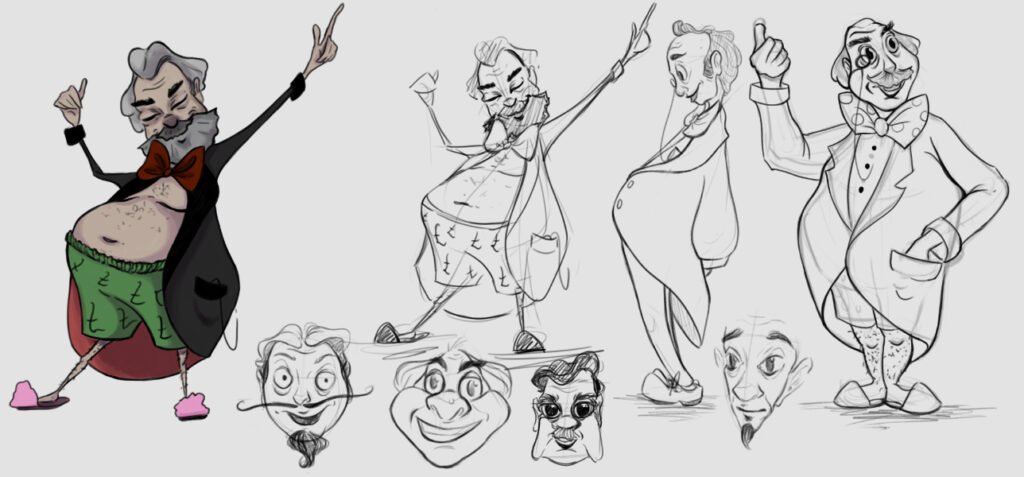 Now, the class is called Fundamentals of Character Design so, of course, there's bound to be at least some part dedicated to things like anatomy, different body parts and explaining how the human body works.
For me personally, it has served as a review of sorts, as most of those things I've studied already.
If you haven't studied or worked on those things then you'll have to do quite a bit more work.
He explains some basics, gives you a few exercises and some tips.
But you gotta do the work if you want to know enough!
Of course, the assignments and classes have been teaching me a lot of things I didn't know, too.
It's been really great to see more of Stephen's art, hear about his influences, – I've saved a good amount of talented artists I want to look up better in the future – see his work/thought process and his experience in the field.
It's not only the things he says but you always learn so much from observing how professional artists work.
Something I highly recommend.
LAST ADDITIONS
Before any future updates, I also wanted to add a few thoughts.
I've realised so far that – I don't know why – I had in mind that I could go through the lessons much faster.
I don't feel like I have a bad pace now, so I'm not complaining.
I'm just realising I might have underestimated how much work and time it entails. I've seen now that the lessons are planned to last around 9 weeks.
And with my pace of working between 5-8 hours a week, they actually have been taking 9-10 weeks.
I guess this also depends on the course too & how much work you want to put on each course.
Oh, and I do all of the mandatory assignments for each class – sometimes extras too if I'm really into it.
I definitely believe that not doing the assignments is a loss of valuable knowledge.
---
10 WEEKS INTO IT – FINISHING THE FIRST COURSE AND NEXT STEPS.
At the beginning of the 10th week, I finished Stephen Silver's course.
(9 weeks plus 1 day actually.)
It took me around 50 hours to do it all: watch lessons, assignments, etc…
I wanted to post the last assignment – it was about redoing the first assignment, posted up there – to show my progress.
But I'm honestly not that happy with how it turned out, as I'm going through a bit of an artblock phase.
Anyway, I still know I learned a lot and I will for sure take the second course Stephen has on Character Design in the future.
What's next for me? Well…
I'm taking one of Nathan Fowkes courses!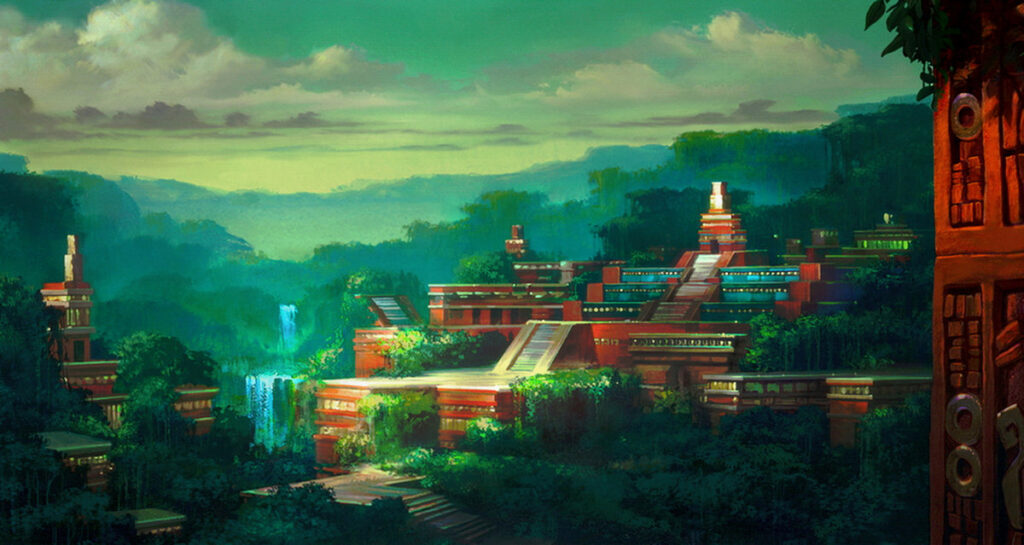 I've decided on Landscape Sketching in Watercolor and Gouache because it felt like a good starting point as I'm really bad at environments/landscapes.
And because I love working with watercolours and gouache, not gonna lie!
I've already worked almost 7h into the course, I'm like 1/3 into the first assignment – which is a bit long – but I'm already having so much fun!
Nathan is really good at teaching about environments and you can also tell he loves it and knows a lot about it.
He particularly seems to enjoy giving this course, as he said it's one of his favourites he teaches. It's always more enjoyable when you know the teacher loves what he is teaching us!
I'm really, really excited about this course and all the potential learning it can provide!
I'm writing a full post review for this course, as it took me quite a bit to go through and I think it might be useful for anyone taking the course.
9 MONTHS INTO IT…
Wow, it's been a bit. You might be wondering where am I now…
Well, I've finished Nathan's Landscape course but it took me longer than expected.
Life got in the way and the 5 hours a week weren't possible anymore. (Uni, work, lot's of family emergencies,…)
Counted in hours it took me about 70 hours to go through the course, which is not too bad. I started on July 23th and finished it on February 27th.
I've learned a lot with this course.
If you would have seen me painting a landscape a year ago you will probably think I'm a different person now. It took me FOREVER to get a landscape done and I captured EVERY SINGLE EXCRUCIATING DETAIL
–Yes, it seems like I like torturing myself…
But now, I can get a basic landscape done in an hour or less and I actually like the results!
Don't get me wrong, I still need a ton of work before getting really good, but I'm really happy with all the progress I made with this course.
So far, I think this is probably my favourite – sorry Stephen – and the one I felt most improvement with. Of course, I've only taken 2 full courses so that can easily change!
Anyway, I'm writing a more in-depth review for this course that you'll be able to read here:
WHAT'S NEXT?
Well, I've only just started but I'm already enjoying Story-Driven Illustrations with Djamila Knopf so much!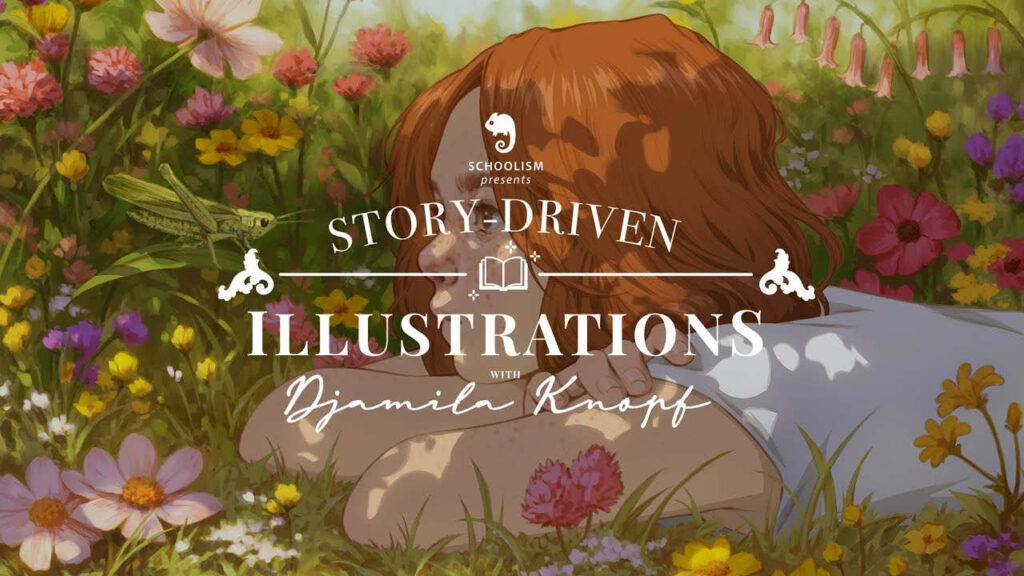 I've been following Djamila Knopf on social media for a while and I always loved her illustrations.
The storytelling and feeling they convey it's just incredible!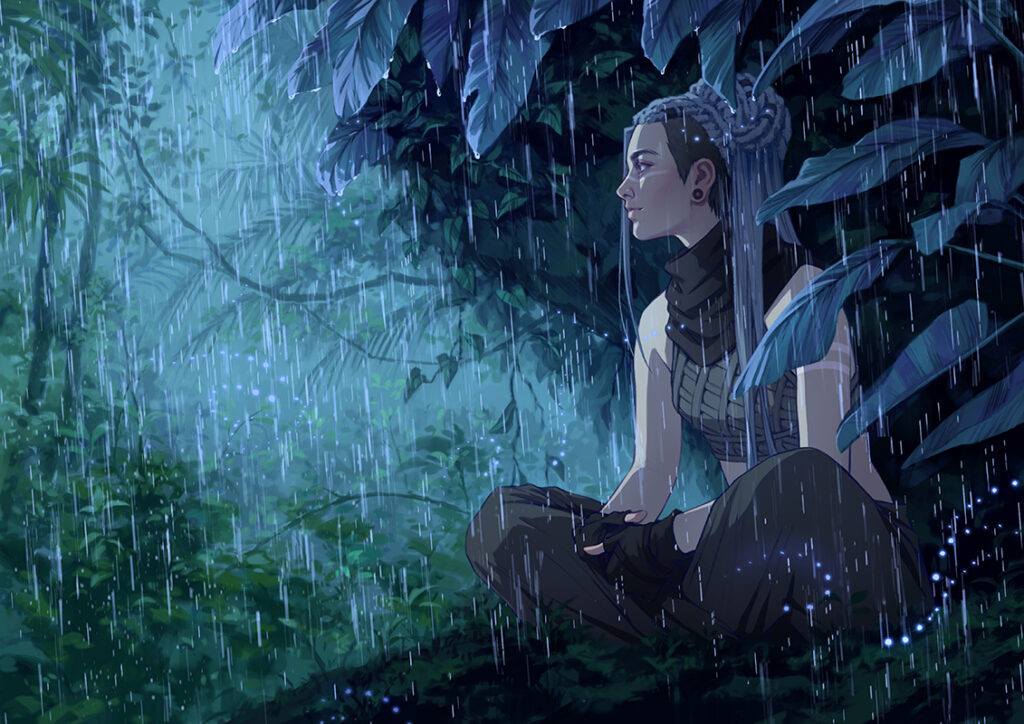 And I realised that storytelling might be a key element that my work is lacking, so, of course, I jumped right into it!
I only have 3 months of subscription left and I don't know if I will be able to finish this course – as I don't know if I can afford the yearly subscription again this year – so I'll try to let you know my progress as I go!
UPDATE, JULY 2020
My subscription expired and right now I can't renew it for different reasons.
Djamila's course was really great so far but I didn't get to finish it. I still have a few pending assignments though!
I'll get the subscription again in the future and keep updating this post, but I have to stop for now.
Anyway, before finishing I did take the course Gonzalo Cárcamo has on Watercolour Fundamentals. It's really short with only 5 lessons and quite quick to go through.
I didn't do most of the assignments because I basically wanted an overview on watercolours but I took notes and I plan on doing them in my free time.
MY OPINION SO FAR…
For now, I would definitely recommend taking a Schoolism Subscription, even if it's just for a couple of months to give it a try.
It has been a really good experience for me and I feel myself soaking everything and slowly starting applying it to my work.
You get to do it your way, from anywhere, and take any course that might suit you – it's simply amazing.
I'm an introvert, so it's marvellous for me to be able to do it alone from the comfort of my home. And there are so many courses to choose from – and they keep adding more! – so there's something from everyone!
It's really difficult to choose though, I want to take them all…
But you still have to put in the work – a lot of it actually if you want to get the best results – you gotta remember that!
And now that the finishing date of my subscription is closing on me I can feel myself feeling sad cause I won't be able to keep taking other courses I want to take!
So that must mean I love it, right?
I definitely do.
I'm most definitely purchasing it again in the future.