Overview and review of the class, some of my work for it and how I approached it.
First of all, I want to say that I'm writing about the landscape class as a complementary post for the Schoolism review I have going on since I bought an annual subscription in May, 2019.
So, if you want to know more about Schoolism, the types of subscription, prices and more details, you can read it here.
As for this post, I'll keep it exclusive for Nathan's Landscape class, cause I already have plenty of information on the rest over there.
Like I mentioned in the subheading of this post I'm gonna cover a few points;
Including telling you a bit about Nathan and the course, how I approached it, – cause yes, I took a bit of my own approach with it – tell you what I think I did wrong or could have done better and I'll tell you my own opinion/review of it by the end of the post.
Oh, and showing you some of my work for it on the process!
Let's get into it!
*Reminder that this post contains some affiliate links. This means I might get a small commission when you click and buy something with that link at no additional cost to you. However, my reviews and recommended products are not influenced by this, I'll only recommend what I use and what I believe is good. Click here to read the disclaimer if you want more information*
A LITTLE ABOUT NATHAN FOWKES
Nathan is currently a freelance artist that works mostly as a concept artist for animated movies & entertainment projects.
He has worked with Blue Sky Studios, DreamWorks, Disney and others, in movies such as The Road to El Dorado, Prince of Egypt, Spirit, Rio 2 & more!
But he also teaches online – mostly on Schoolism – and offline and has a few books out.
If you want to check out more of his portfolio click on the image or see it here.
But one of Nathan's passions is landscape sketching live and that's exactly what this course is about!
You'll easily notice how much he enjoys landscape painting or "sketching" as he calls it and I feel that he transmits a lot of his passion for it on this class, and that makes it all the more enjoyable!
Also, he has a few more classes on Schoolism, so you might want to check those out in comparison to this one – especially after you read more about it – in case one of the others might suit you best.
Now, let's talk more about this landscape class!
SMALL INTRO
I started the course at the end of July 2019 and finished it only recently (beginning of 2020).
This was basically my fault, as the class is intended to last about 9 weeks, and structured that way.
All classes on Schoolism are structured on a weekly based schedule, I believe.
And actually, by the end of September, I was almost done – on week 7, as I was dedicating it between 5-10h a week – but life got in the way after that.
I'm just telling you this because that's why it took me so long, I wanted to do it right, all the assignments and everything.
So I waited and slowly worked on it these past months.
But I felt I lost some practice with it too: just when I started noticing that I was improving I stopped doing it so regularly and I lost some practice in the way.
This is intended and a way to say: "Here's what I could have done better, just in case it might help you avoid it."
MY MISTAKES – OR WHAT I COULD HAVE DONE BETTER
Apart from that, another thing I did that I know wasn't the best way to approach the landscape class was mostly working from photos.
As a side note, they were majorly my own photos, where I had been in those places, which usually works best to capture the place.
But still, this class was intended for drawing from life.
And you'll probably get more benefits from doing so too.
In my case, I knew from the begging I wouldn't be able to make it much more than with the view from my window.
(Summer in Madrid, Spain is literally hell to go outside)
And doing it from references was also my choice and plan all along.
Though in the future I want to try more plein air painting, cause I was really encouraged to do so with Nathan's enthusiasm.
THINGS TO KNOW BEFORE TAKING THE COURSE
So, a few previous things you might want to consider before deciding to take this course: It's intended for watercolour painting with white gouache for an opaque technique.
And as I just said, plein-air painting in a small sketchbook that's easy to carry.
So you might want to go ahead and get a palette that's easy to carry, a spray bottle – can be recycled – and a nice sketchbook to carry around. There's a downloadable list of materials you'll need at the bottom of the description of the course.
---
---
The paints are supposed to be tubes, cause pans won't work as well with the techniques he teaches.
In my case, I did it all with my Arteza gouache paints.
He says you might approach the way you feel more comfortable, but I don't think you take as much out of the course if you do it, let's say, in digital.
In my case, gouache did the trick, as it worked well with his techniques as gouache is very similar to watercolours.
It's intended as a "landscape sketch" course cause he focuses on teaching you to get your basic painting fast, like in around an hour.
Because outside conditions change really fast. But you can always take a picture to add the final touches later.
So if you're looking for something more focused on the composition of an image and such, this is not exactly for it.
And although it touches some general aspects of it, Nathan has a different class intended for that.
HOW I APPROACH THE COURSES
In my case, I'm taking these courses as seriously as I can.
For me, they are not just a way to have fun learning a new skill or perfecting my habilities – though I do have a lot of fun with them.
But I want to make the most of it with the time I spend studying, to make myself a better artist and soak up all the knowledge I can.
My workflow looks something like this: (Though if you want to see it in more detail you can check the Schoolism post.)
I watch the classes while I take notes of what I feel it's important or I want to remember. Sometimes it might be quotes that I find inspiring too, just anything I want to remember later!
And later I clean them out on a document on my computer, for future reference and to sink in the lessons learned.
Second, I start with the assignments.
Depending on the type of assignments – if it requires a lot of concentration or not – I'll watch the correction of other people's assignments while I work on it or just check a couple to see which are the most common mistakes.
Most of the times I watch the corrections as I work, though not all of them, just until I finish the assignments.
I take notes on the time I dedicate to the courses, dates, progress and stuff on my bullet journal too.
THE CONTENTS OF THIS CLASS
This landscape class has the ultimate goal of making you capable to capture a scene quite quickly – with a well thought and composed painting – that captures the simple statement of the place.
A feeling, a mood or simply the moment.
Finding the "simple statement" is key to landscape painting and it's something we all struggle with when we start learning it.
You'll learn this as well as a base of some of the fundamentals by the end of the landscape class.
And as for the assignments, you'll start in a black and white monochromatic palette to do a few studies from classic painting references and latter from life.
While the course progresses, you'll start with a small limited palette of colour that will grow as you go through the assignments till the full palette.
I don't want to spoil the class much, so I think this will do to give you a peek into the landscape class.
Oh, and in case you're interested, Nathan just got out a book about landscape sketching too.
I guess it touches a lot of the things from the lesson, so I thought I'll mention it in case you'd be interested!
Interested in learning about Gouache or Watercolours? Check out my posts about it:
SOME OF MY WORK FOR IT & MY IMPROVEMENT
You have already seen some of my work for the class over this post, but, I want to show you a few more pieces.
But I also want to show them to you slightly in order, so you can see my progression & the progression of the course.
These are a few selected ones from week 1 and 2 – both with a monochromatic palette.
Week 3 – top row – and week 4 – bottom row – assignments. Limited colour palette.
Most of them were done on my Strathmore toned Grey (A5 size) though a tan one could have worked better.
Here was the point where I stopped working for a bit, then I was only doing a couple of pieces every few weeks.
I noticed a decrease in the improvement rate, do you notice a drop on quality too in the next few?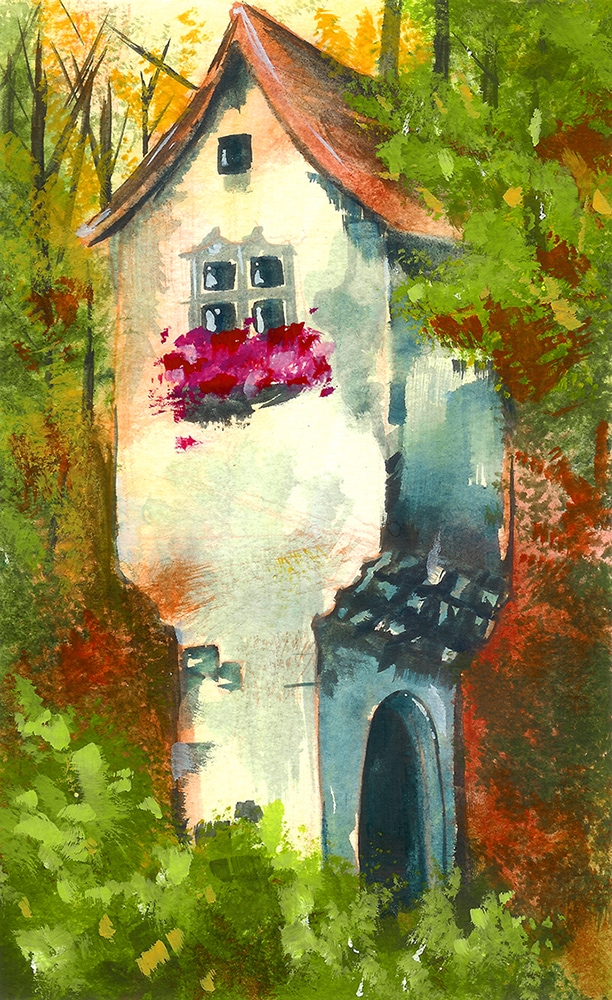 Maybe that just me though…
Anyway!
MY THOUGHTS ON THE COURSE – IS IT WORTH IT?
I'm really happy with the results of this course, I can assure you, landscapes were definitely a challenge for me back when I started this course.
Sometimes, when you saw them you might think: "it's not that bad" but it really is.
For example, take this piece I recreated for one of the assignments – you can find the new one in the previous section, in case you don't remember it.
Well, at first glance there's a difference between them but maybe you're thinking that it's not such a big deal.
But it is!
You see, the one up there took me around 45m and I was much more confident while making it.
I knew what I was doing.
While on this one, I felt all over the place and it took me forever to get it done – more than 2 hours.
And not only that, but I also dreaded drawing/painting landscapes. It seemed like such a drag rendering all those details. Not now! I feel more confident now when I start painting a landscape or environment, cause I know where to start and how to interpret it.
And that's an amazing feeling!
I know I still need a lot of practice if I want to be great, but this has been an amazing introduction to it and gave me the tools to be able to do it.
Nathan as a teacher has been really great, he made it really nice and entertaining, so I definitely will be taking more courses from him!
That's all for now, folks! Are you convinced now to take this course or is it not for you?
If you have any doubts about things I might not have mentioned let me know!