A few days ago, I was watching a video on YouTube by Minnie Small where she was challenging herself to try and fill every sketchbook she has unfinished before the end of the year 2019.
Funnily, the thing that came to my mind is how different everyone is when it comes to choosing a sketchbook, and also, how different is one artist's way to approach their sketchbook compared to another.
It's completely unrelated, but here's her video if you're curious.
So, I ended up thinking about creating a guide to choosing a sketchbook, where I'm collecting as much info as I can while also lending you the experience I've acquired so far with it.
I must say that I still think choosing a sketchbook is a very personal process. Some of the things I mention might be relevant to you and some others won't.
If you're still relatively new to sketching do not think too much about it, just keep experimenting.
Also, you get better at this with time, so don't get discouraged if you never seem to find the perfect sketchbook.
*Reminder that this post contains some affiliate links. This means I might get a small commission when you click and buy something with that link with no additional cost to you. However, my reviews and recommended products are not influenced by this, I'll only recommend what I use and what I believe is good. Click here to read the disclaimer if you want more information*
USE
One of the things I want to mention beforehand that I don't see many people mention is the use of a sketchbook.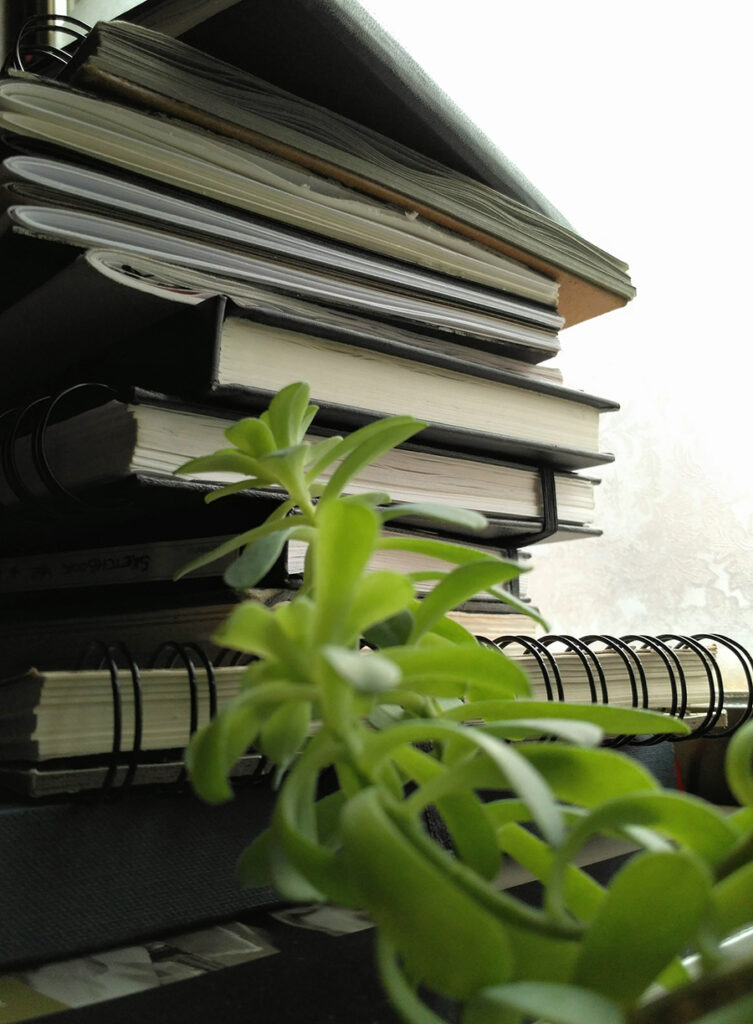 And I don't mean strictly what medium do you pretend to use in it and such – that's important too, but I'll talk about it later.
I want you to realise that you don't have to use a sketchbook in a 'traditional way' – having one sketchbook that you fill completely with practices, paintings or whatever.
You can have a sketchbook you rip the pages off for doing separated pieces.
For example, for me, these are the wire-bound or perforated – sometimes cheaper – sketchbooks.
You can have several sketchbooks going on at once.
Maybe you reserve some for 'more serious' watercolour paintings while others for just doodles, etc…
Sketchbooks are for fun and practice and everyone has their tastes with it, so don't feel pressured to do one thing just because that's what you see someone is doing.
Find what works for you.
Also, I feel it's good to keep trying new sketchbooks and experimenting, helps you grow, adapt and pushes you creatively.
1. SIZE
Now, for the normal parameters.
One of the first to consider when choosing a sketchbook is the size.
For this you will have to think how big you like to work and also what do you want to use if for.
The first you can to adapt to, while the later it's harder.
If you plan to carry it around, a smaller sketchbook will be much more practical.
A good default option to go for if you're still unsure is an A5 sketchbook, it's big enough to draw and they fit easily in most bags. If you feel that it's still too small, then you know the next one needs to be bigger.
2. TYPE OF PAPER & COLOR
Here comes an important one, what do you plan on using on your sketchbook?
If you want to use watercolours or any other liquid medium (gouache, acrylics, liquid ink,…) you need a watercolour sketchbook with at least 200gsm or more. This applies for markers too.
Paper also has several treatments that give it a different finish.
For watercolour paper hot-pressed means it has a smooth texture, cold-pressed has a moderated texture/some grain and then there's the rough paper with a lot of texture.
But if you need to know more about paper for watercolours, check out my full post here.
The more texture the paper has the more it tends to eat away the nibs of your fineliners and pencils, making it a little annoying to work in.
For just sketching or the occasional use of fineliners and such, a drawing sketchbook with about 100/110gsm would be the normal weight.
Another extra to consider is that not all sketchbooks have to be white, there is coloured paper out there and it can be really fun to use.
There's also recycled paper with toned tones, black, grey and coloured.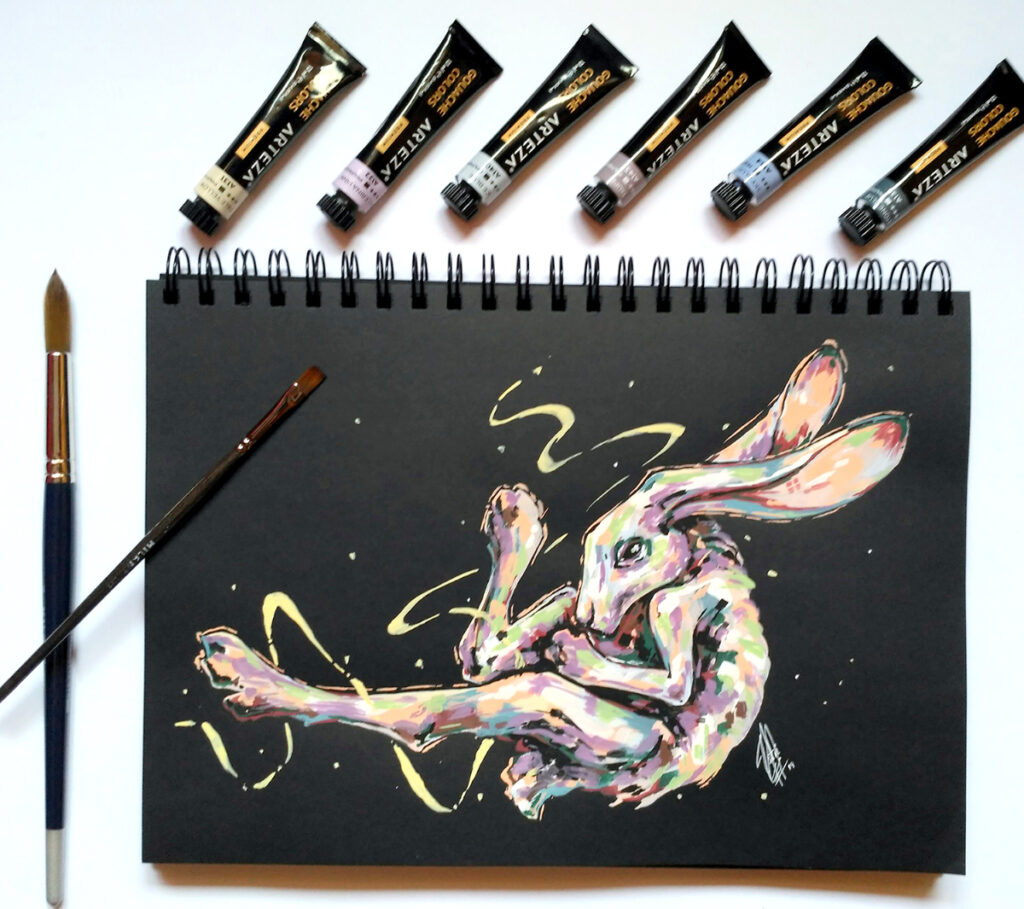 Gouache, charcoal, pastels & pencil/colour pencils are really fun to use with these papers!
3. ORIENTATION
Might seem a bit unimportant at first but it affects the way you draw, so it's important to think about when choosing a sketchbook.
There are landscape sketchbooks (horizontal) – usually long and skinny – and portrait sketchbooks (vertical). These are the most common, but now there are also square ones.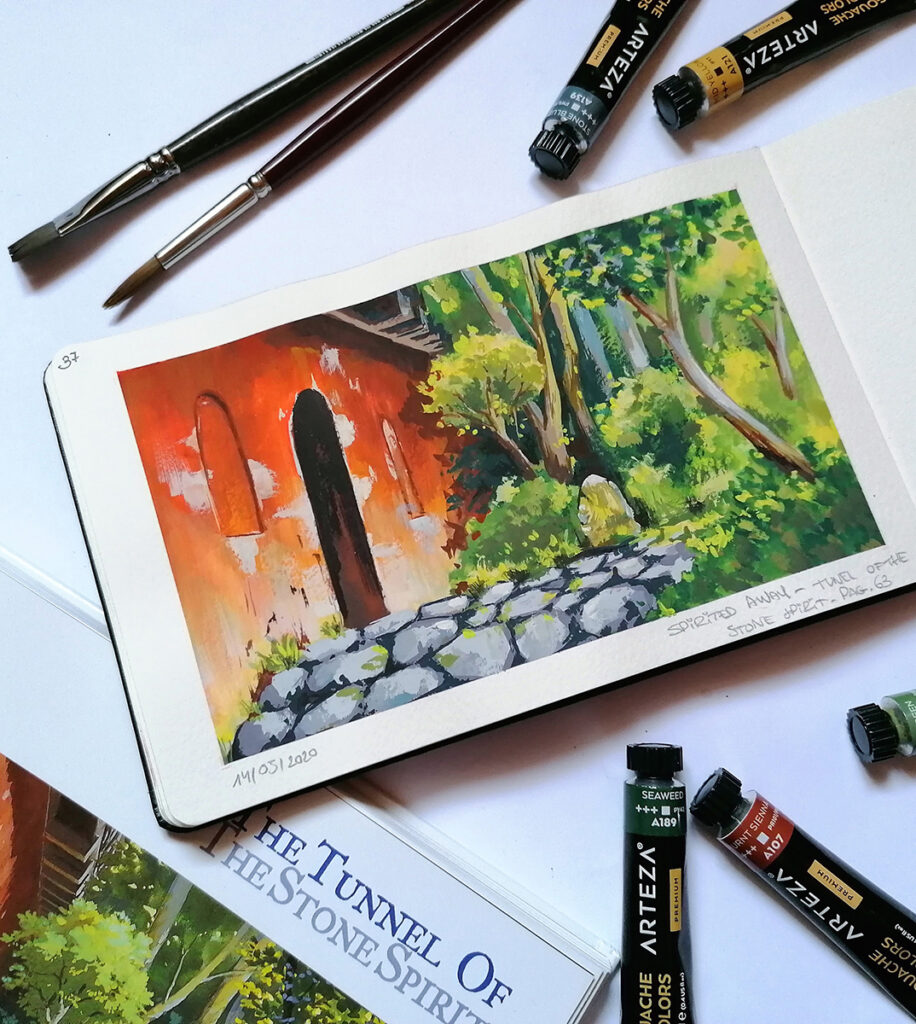 This will mostly affect you with the binding because it can get in your way when drawing, you can – of course – turn the sketchbook around, but the binding will still be there.
If you draw over it or you plan to, the most common to choose it's a portrait one.
For landscapes, the horizontal is the default but, in any case, this is ultimately your preference.
4. BINDING & COVER
One of the fastest things to figure out when choosing a sketchbook, it's the binding you prefer.
Usually, once you've used one you'll know if you like it or not.
It can be a spiral sketchbook, sewn or glue-bound.
There's also a few weird uncommon ones, but I'm gonna skip them here.
Spiral sketchbooks have the problem that the pages can get ripped out partially or completely even if you're careful, but some people like them cause the pages seem more individual.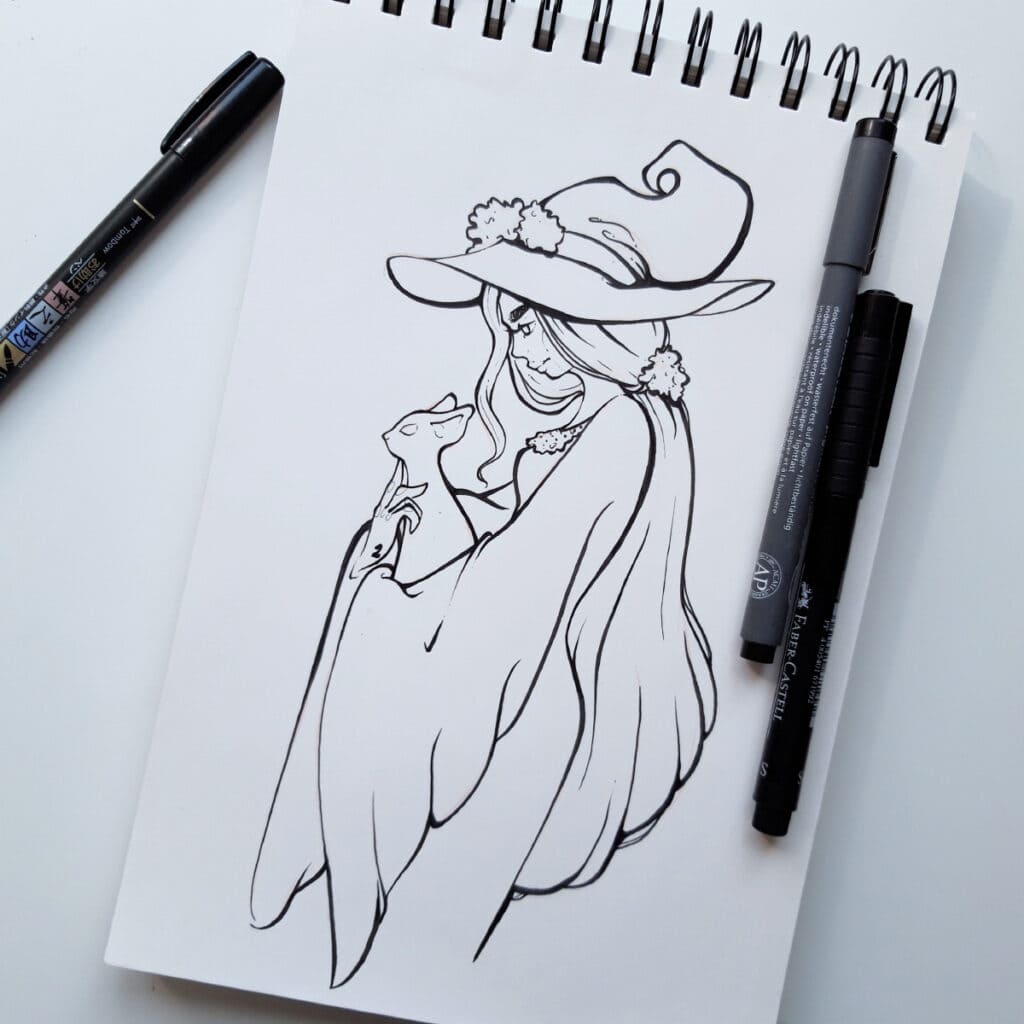 For me, I use the spiral ones to separate the pages and work on them individually, as sometimes they're cheaper. I've used them in school before and I don't enjoy them too much.
The book-bind ones feel sleeker and more professional to me, and they usually stay flat better for you to draw.
When it comes to the cover I think the best to think of is its resistance.
Hardcover sketchbooks will stand more the carry around and stay in better shape, while the soft covers get damaged or if they're spiral bound you can even lose the covers sometimes, but they're cheaper.
5. PERFORATED OR NOT
Some sketchbooks come with perforated pages and you'll have to check it.
For me, perforated sketchbooks are a big no if I plan to keep my sketchbook full – don't want to rip pages out – cause at least some of the pages will most likely get ripped at some point.
And you won't be able to draw across the gutter in them.
But if you want to rip them apart to use out of it or you don't mind this then it's completely alright.
6. NUMBER OF PAGES
This is a quick one actually.
Do you get tired easily of the sketchbooks and want to finish it faster?
Pick a sketchbook with fewer pages.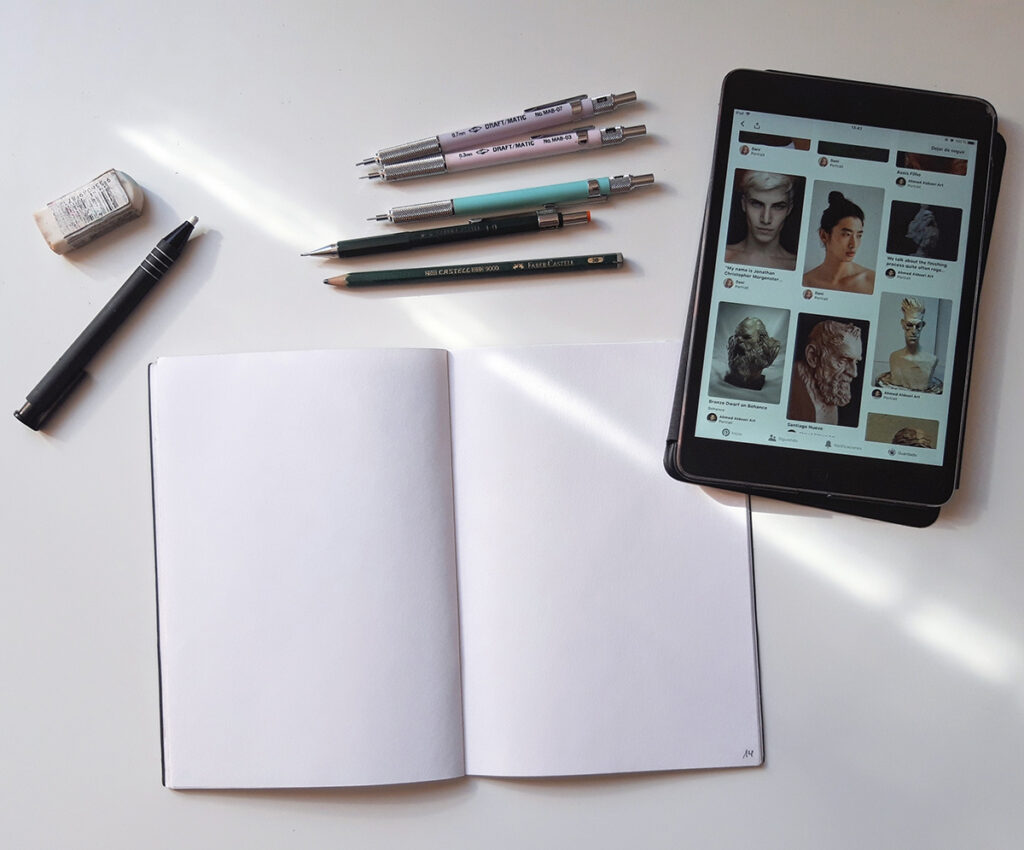 Works too if you plan on setting some sort of challenge like "finish a sketchbook in a month" or something like that.
Do you want your sketchbook to last longer?
Get a thick sketchbook!
This is also something you might to keep changing or experimenting with.
Sketchbooks with thicker pages tend to have fewer pages and thinner ones usually have more.
7. PRICE
The price range it's always one thing we look at.
Most sketchbooks are quite expensive and you'll have to consider that. This will depend on the brand but also on the quality of the sketchbook.
A cheaper sketchbook doesn't have to be bad quality, but it can be.
Good paper usually costs money, so consider that.
I wouldn't get too caught up with this as the most important thing is for you to be comfortable with your sketchbook.
8. SOME OTHER THINGS TO CONSIDER
Not all sketchbooks have to have the same kind of use.
And not all artist use sketchbooks the same way.
Just thought I'll throw that there for you to consider when choosing a sketchbook.
On another note, you might also want to consider making your own sketchbook for any reason that it might be.
I tried it this past Summer and it was surprisingly easy and fun and you get to control every one of these factors I just mentioned.
You can check out the blog post I have about it here to see if this is something that might work for you!
9. SOME SKETCHBOOKS I'VE TRIED & RECOMMEND
Here are some of the sketchbooks I've tried so far and later some I want to try next & a bit about them.
I usually stay on the A5 size unless I use them to take off the pages separately but most of this sketchbooks also have larger versions.
From left to right.
1. Moleskine watercolour sketchbook – landscape oriented. Mixed-media or liquid.
This one I still have to finish: looks & feels quite fancy (which can be good and bad) and the watercolours and gouache paintings look beautiful in it. I'm not a big landscape sketchbooks fan but I do love this one.
2. Canson ONE Art Book – portrait-oriented. Drawing/sketching only.
If you're looking for a cheap, drawing sketchbook this is it. Fineliners work on it too but the paper is thin as it is mainly for pencil drawing so avoid any wet media on it.
3. Derwent Sketchbook spiral hardcover – portrait-oriented. Drawing/sketching.
This sketchbook's paper is slightly thicker than other sketchbooks, so it holds some water and markers (they bleed a bit on the other side though).
Is one of the few wire-bounds I've liked so far.
Next round:
4. Leuchtturm1917 sketchbook – portrait-oriented.
This one was a disappointment at first but I ended up getting used to it, I thought it would hold wet media but it doesn't. The paper rips with it so don't even try it.
Anyway, it has a very smooth finish and it works great for pencils and other dry media.
5. Moleskine small drawing sketchbooks pack of three – drawing paper, portrait-oriented.
I haven't tried exactly this ones but ones that are really similar. I like them as they are quite small and easy to finish, the paper is mostly for drawing but sometimes it holds a bit of water.
There quite budget-friendly and easy to carry around with you.
6. Canson XL mix-media – Mixed media paper, A3 size (there's smaller).
I had this one for class several times and I like it. In class, I used it as a sketchbook and it's not my cup of tea.
But at home, I usually rip the pages and use them separately or cut them down to different sizes. It's a cheap student sketchbook with quite a good quality for the price and works well with most media.
These two are the Strathmore Toned Tan & Toned Gray. I only have the later, but they're really similar.
These sketchbooks come in several sizes (and colours) and the paper is really good quality.
Even if the paper is thinner and thought for drawing I've done a few really nice paintings on it with gouache, so it does hold a certain level of water.
Pencil drawings both coloured and graphite look beautiful on it too.
So yes, I do love this sketchbook.
A FEW I'M LOOKING INTO TRYING
Hardbound Drawing Book, 100 Sheets, 8.5×11…
Durable Hardcover – Embossed faux-leather cover makes it sturdy enough to write on with… [More]
Watercolor Pad, 32 Sheets, 9×12″ – Pack of 2
More for Less – Enjoy twice the number of sheets in one convenient and affordable packa… [More]
Mixed Media Pad, 180 Sheets, 5.5×8.5″ – Pa…
Wet & Dry Media – No need to worry about bleed-through, liquids pooling, or the paper p… [More]
There are a few of the Arteza sketchbooks I'm looking forward to trying as they are quite budget-friendly and I've only heard good things about them. They have a wide range of coloured & black paper sketchbooks too.
Also, I have a discount code for you for 8% off if you want to try them – just make sure you use the code PB8PROMO when purchasing with this link here.
The other one I'm looking forward to trying is the Strathmore 400 Series Watercolour Journal in a bigger format of what I'm used to (A4) to get out of my comfort zone.
10. FINAL WORDS
Need an extra boost of inspiration for your sketchbook after all these data?
Check this post where I collect 10 of the most inspiring sketchbook tours to keep your inspiration flowing.
Or if you're still a bit rusty on this sketching thing these tips on how to improve your sketchbook practices might be of help!
I hope this helps make the process of choosing a sketchbook somehow easier for you.
If you need any more information on this don't hesitate to ask in the comments!