Whew… It's been a bit since the last time I wrote a blog post.
I hope you've all been doing okay, or the best you can considering the situation the whole world is in.
In today's post, I'm gonna catch you up a bit as I reflect back on my 2021 and tell you all about what my goals & resolutions are for this year.
About 2021…
First of all, I'm gonna start by telling you what happened in 2021, as I was mostly absent from the blog and youtube. I kept up with social media so if you follow me on Instagram you might be more or less up to date.
It was nothing bad, so don't you worry! On the contrary, I actually got busy with a couple of projects that were a huge step in my art/illustration career.
First of all, in April, I was hired to illustrate my very first children's book!
It was so much fun to approach a project like this and I learned a lot. However, what initially was gonna be just a few months of work ended up extending as we negotiated some extra work, so I was busy with the book till December.
Also, silly old me decided to sign up for her first and second Convention just one week apart from each other. Don't get me wrong, conventions are something I've been really wanting to try for a long time but it was a lot of work.
I had 2 months to prepare a whole range of products to get to the (both) Japan Weekend in September.
Not to mention all the work that it is going to a convention for the first time.
And obviously, it lined up with the months of the bulk of the work for the children's book. So eventually I had to take things off my chest to keep my sanity.
Goals & Resolutions of 2021:
As I always say, goals aren't set in stone, they're just a way to keep you motivated and to organise your head. I particularly like to do it because it helps me a lot to reflect on what I've been doing, what I want to achieve and if I'm doing enough of what I need to do to get there.
Obviously, from May on, my goals shifted a lot from what they initially were. Youtube or the blog weren't a priority anymore, but getting work done for the most urgent projects I had going on was.
(And honestly, I just didn't have the strength to keep up with everything in the 40ºC+ Spanish Summer, my brain was melting enough as it was…)
But anyway, let's review what I had planned & see what I did and didn't accomplish. (little spoiler, didn't accomplish much)
If you're interested, you can see most of these goals in more depth in my post from last year here, Goals & Resolutions for 2021.
Drawing Goals
I wanted to draw 5 to 10h a week. ❌
And do 100 drawings in 2021. ❌
Improve my sketchbooking habit. ❌
One of my goals was to draw more, as I've been feeling that I spend much less time drawing lately than I used to.
Now, I didn't accomplish any of those, at least not fully.
I probably did an average of 2-3h a week of drawing, depending on the week, obviously. Some I might not have drawn at all!
And on the 100 drawings, I got 54. So halfway through, not too bad anyway!
Not so great either on my sketchbooking habit, but I'm learning that this is just gonna keep happening. Sometimes you're always using your sketchbook and others you just don't. It's just what it is.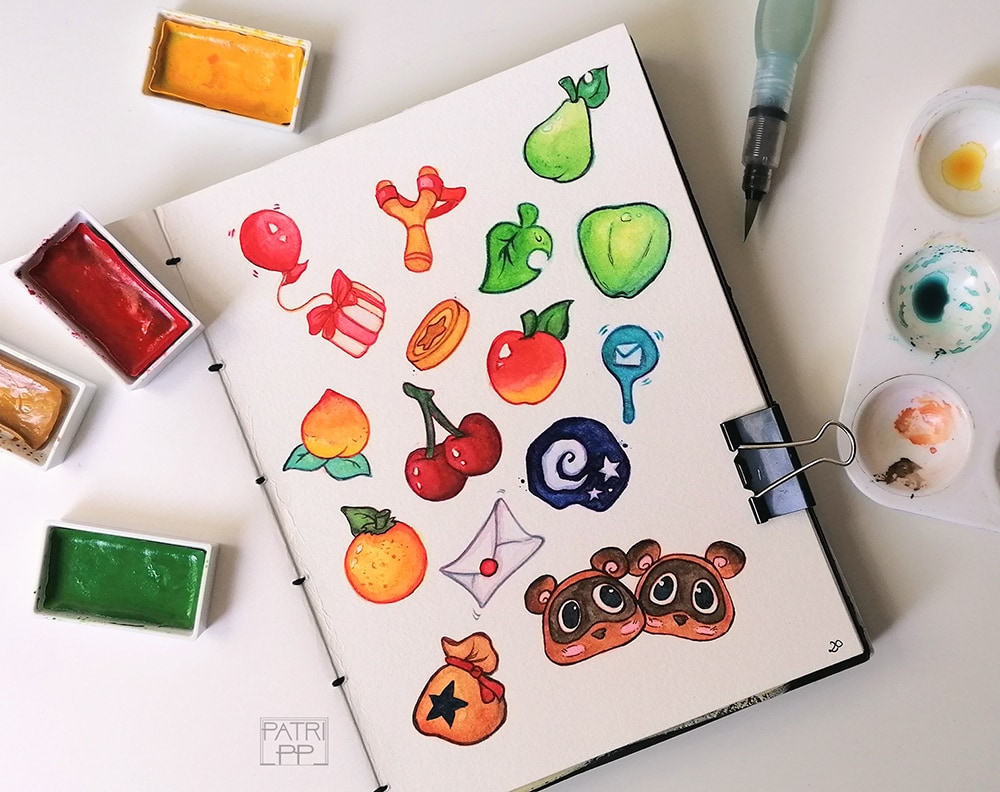 Organization Goals
Try to take weekends off. ✅
Start batching tasks and get work done ahead both on youtube & the blog. ❌
The first I actually achieved by the end of the year! It took me a bit but I was getting burned out and that has made all the difference. I still work a couple of hours here and there sometimes, but I take it easy.
The second obviously didn't work as I completely abandoned both in May for the reasons I stated before. But I have been working since November to try to do it this year!
Projects
I had a bunch of projects that I wanted to finish, like my colouring book & more.
Most of them I've completely discarded, they were temporary projects that I wanted to finish (challenges & such) and it's just not worth it to do it a year later. Not relevant anymore!
Others, like my colouring book I'm not giving up completely but I'm not too keen on doing it this year either as I have other priorities in mind.
It's completely fine to pause some things, sometimes even indefinitely, when you feel like they're holding you back.
Products
Skillshare course – finish & publish. ❌
Ebook on watercolours. ❌
Get a printer. ✅
Make new products. ✅
The first two were on the making, slowly but surely, until the children's book came along. They obviously got dropped but they are both pending, maybe the one I'm gonna focus on the most is on the Skillshare course as soon as I have some time.
"Getting a printer" wasn't exactly a goal for this year but a general goal in my business. I used my first payment from the book to invest in a cheap printer (around 150$/140€), I decided I wanted to try that first instead of investing a lot of money.
And it was my best purchase this year!
I'll review my printer in a later post but I couldn't be happier; the prints turn out gorgeous and they have a pretty affordable monthly payment ink service that sends you the cartridges automatically as they run out (with a little wiggle room).
Not to mention the freedom it gives me. I've been searching forever for a nice local printer that satisfied my needs but I couldn't seem to find one, this way, I have all the control I need.
So obviously, I could make a bunch of products that I hadn't made before on my own, which came in really handy for the convention as I bought it just in time!
The year before I ordered stickers and 1 batch of enamel pins both for the first time, and the stickers did really well, so I really wanted to try my hand at making more!
Comissions & Freelance work
I had a bit of a monetary goal this year so it was easier to get by, but I didn't reach it.
Now, I'm not complaining, cause I made more this year than in any previous years and I hope that it keeps improving. I calculated an average of about 260€/300$ a month. It's not a lot I know, and obviously, that's an average, so there's definitely months that I made much less than that.
With our current living situation & as my boyfriend has a regular job, it makes do.
Also:
I had a bunch of comissions this year. Not enough but good to get by.
I got hired in a big project: illustrating a childrens book! (did I mention that already? 🙈)
So it's still a pretty big step and I just want to celebrate every small win.
Lastly, Personal & health (also for 2022)
I'm gonna make these quick cause they are pretty basic and I didn't get any of them done.
Do regular yoga. (did the 30 days of yoga in January & then from time to time but stoped by the second half of the year)
Go on walks more.
Eat better; well, eat less quantity & avoid too many deserts. – Again no, my boyfriend stopped smoking and he was always famished, seeing him eating sweets made me want to eat them too 😅
Finish my Final Degree project & finally graduate (officially). Nope again, did advance in it's reseach but I didn't get to finish it yet.
Just so I don't repeat myself later, these goals & resolutions are still there for this year.
I'm such a stay-at-home person that I've let myself become really sedentary, and it can't go on. I've already gained some weight cause there's such a contrast with my previous routine, I'm not much for exercise but I was really busy and moved a lot.
Also, I don't want to keep the unhealthy eating habits, I've never denied myself an indulgence sesh from time to time but not as much as now – it has basically become a routine!
We always cook homemade meals, (except for occasional weekend takeout) and we eat a lot of veggies but we realised we eat too much of everything (and move too little), so it's a matter to reduce the quantities.
Goals & Resolutions for 2022
Okay! Time to finally move along to the goals & resolutions of 2022.
I feel it's important to reflect over the previous year for these things and that's why I always include that section.
So, I must say that I have another convention this February and I'm planning to get my final degree project done by March, so this means that these first couple of months my goals & resolutions are gonna be "paused" till that's over.
That doesn't mean I'm not gonna set them, tho!
Drawing Goals
With what I've said before, I realised that the goals I set myself weren't the best, so I'm gonna try to be more general this year.
I'll keep the "100 drawings thing" to continue counting them just for fun, I'll start from the 54 and see if this year I can pass the 100 mark and do even more!
I want to try to do more original art this year.
I've been so focused on doing fan arts for the conventions I've barely made my own pieces this year. And the truth is that I feel really uninspired on that front.
I feel that the longer it passes between making original art you somehow "unlearn" a bit of your creative process for it and feels harder to come up with ideas. It's not the end of the world, you can always get back on it!
Luckily for me, I have a bit of a list I keep for every time I have ideas for future pieces, so I can start with that if I feel really uninspired.
Oh, and redrawing some old pieces can be a really good start too!
Of course, I'll have to keep doing fan art if I keep going to conventions, but I want to see if I can squeeze in more of my own work.
Organization
In a few months, I want to be back consistenly on youtube and the blog.
I want to have a backlog of 2-3 videos/posts for whatever that might happen.
Youtube is already on the go and all that I have to do is keep editing ahead of time to stay on track!
With the blog, I've barely started, so I'm giving myself some more time (even if this post is gonna go up now) to catch up with youtube first.
I'm hoping that this way I can have a bit of wiggle room if I get another big project so I don't fully abandon any of them.
Website, Shop & more
My Etsy shop got closed in November, so I need to focus my energies on developing my website shop here, it's harder to bring in the traffic yourself, but it needs to get done and it's more reliable.
Give a big update to my shop & start bringing more traffic. (Maybe even try adds on insta? – we'll see)
Keep my website up to date. Both my portfolio & my shop.
Keep going to conventions. I'd like to improve my product range, my earnings (barely made the cost of the table last time) & my set up.
Eventually this year, I'd like to set up a patreon. Sort of a snail mail, rewards based, type of Patreon. I don't have many followers but I'd like to try, so I need to do some research.
Producs/Projects Goals & resolutions
Some of these I already said, but here goes the digested version:
Publish my own children's book, "Pumpky's Adventures" for Halloween. (I already have the bulk of the illustrations done, as it was an Inktober project from a few years ago)
Finish the skillshare course I mentioned. I'd like to set up an extra stream of revenue by trying to make a few courses and also for the experience.
Maybe later this year, I'd like to keep working on my watercolour ebook. I'm not sure if this will be a priority, but maybe if I get a bunch of the projects done I can focus on it.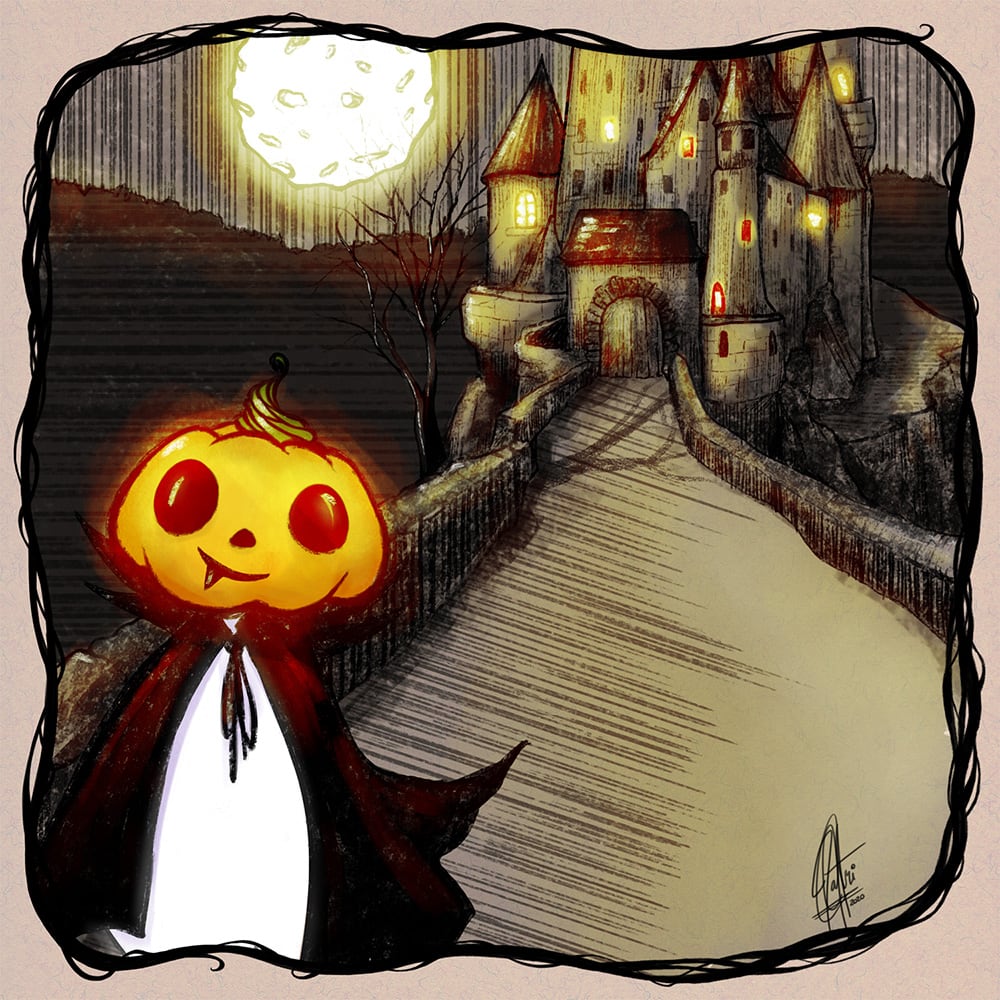 Freelancing & work
For this, I'd just like for my freelance work to be a bit more regular.
That's a hard thing to ask for as an illustrator, I know.
But I basically want to start searching more actively so I get to a point where I'm a bit more comfortable money-wise and not always cutting it short.
Social media Goals & Resolutions
These ones are simple but I hope we get there. Social media is a tricky thing and I spend so much time trying to make it work, so I'm just gonna try to set these goals:
Get over 1000 subscribers on youtube! – We just hit the 500 today as I'm writting this, hopefully with more consistency we get there this year.
Get over 1500 followers on Tiktok.
After debating myself for a long time, I joined Tiktok. (click the link if you want to follow)
And I've come to like it! (Now, I must say the dancing videos aren't for me) Especially cause I do see some progress, unlike with Instagram or Twitter. It's slow but is there, since May, I've got almost 500 followers, which is not a lot but it motivates me because I keep growing with each month.
Final words
That's all my friends! It's good to write a post after all this time, and honestly, I'm glad I waited till now cause it feels like the right post to start again.
Not only feels appropriate to get back with a new year and fresh goals & resolutions, but also it was the perfect post to catch you up with what has been going on!
Leave me a comment with your goals & resolutions so I'm not the only one talking here! 😉