Is that time of the year again!
Autumn comes and it brings with it its cosy sweaters, orange & brown leaves, carved pumpkins, the Halloween spirit – and of course, Halloweeen itself – but…
For us artists, it's also time for Inktober or Drawlloween!!
Or whatever challenge you partake in on October, if you do.
Now, there's always been something about this season that makes me happy. Maybe it's nature turning to warm tones or maybe it's the horrible Spanish heat going away in turn for rain & sweater weather.
Call me weird if you want…
But! I've always been a fan of the creepy stuff, the Halloween vibes, a good and long Stephen King book… And when I first came across #mabsdrawlloween club 6 years ago now, my little black-covered-heart felt really warm and fuzzy!
So, if you're anything like me, you might want to indulge into reading this post to know more about what I'm gonna be doing on my 6th year taking part in these October challenges! – Inktober and Mabs Drawlloween club in my case.
On this Drawlloween 2020 themed post, I'm gonna try to give you an overview of my plans, how I plan things & get ready for it. And I'll give you some tips about what I learned along the way!
Update: my results of the challenge at the end!
It might inspire you too!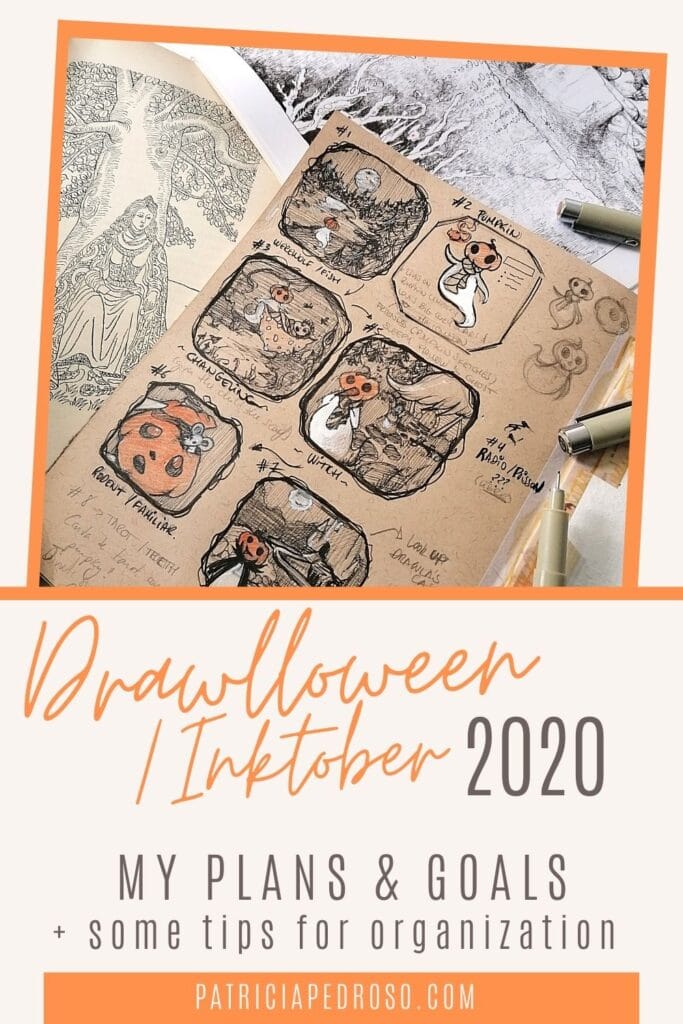 INTRO
So, on these posts, I'd usually go ahead and give you an intro to what Inktober or Drawlloween it's about… – long story short: monthly drawing challenge often paired with ink or Halloween related stuff.
But you see, on the last Inktober season I already indulged in creating posts talking about all things that could possibly interest anyone about it, like:
Last but not least – and mostly cause I like to hold myself accountable, even if maybe no one else really cares – there's a recount of my work for Inktober, 2019 here with a little more on why it was the first time I gave it up about halfway through it.
Also, because I kinda love writing this more informal sort of updates (like this very post) – let me know in the comments if you enjoy reading them too!
MY PLANNING PROCESS
So, I usually get pumped up about the challenge in August. Maybe it's because I'm on vacation and usually creating more art and dedicating more time to art projects.
I don't really know.
What I know it's that I'm a bit odd on this… – I know there's more people that start planning early but it's not too common.
Now, you don't have to do this, especially if you feel like it would put too much pressure on you or give you anxiety. However, if you're planning on going big – a big project like a Kickstarter, making a book, zine or really elaborated illustrations – then I would recommend start preparing at least 2-3 weeks early.
It would save you time and stress lately.
Somewhere around August, I start thinking about it and try to come up with an idea for that year, no pressure on, I just take a note of ideas when they come to me. And there's usually a time when that big idea hits, the one that you immediately know it's perfect.
Still, I try to give it a few days till I settle on it. – if my excitement allows it, cause usually when it happens my head starts going crazy with ideas to execute it.
Once that excitement settles slightly, and if it still seems like a good idea, I start actually planning how to do it.
This includes; trying to decide on a medium, aesthetic (if it fits), constrains, … – all I can think of.
MY IDEA FOR THIS YEAR'S DRAWLLOWEEN
This August, while re-editing my Inktober 2018 illustration book (digital version available here & peek up there), I came across this one illustration I did.
Oddly enough, I never really paid that much attention to it after painting it & upload it but somehow, then and there the idea hit me.
A pumpkin ghost!
I've been considering doing more story-related illustrations or even give a try to illustrate children's books, so when I say that I didn't see that illustration but a story forming behind it.
Now, it might be a bad story – it's not like I have much experience with that – but I really wanted to give it a try.
The initial idea that came to mind when I saw this pumpkin ghost – now he's called Pumpky, I know, very original… – on a pumpkin cemetery was that maybe these creatures only "come to life" as ghosts for the month of October, just to disappear again after Halloween.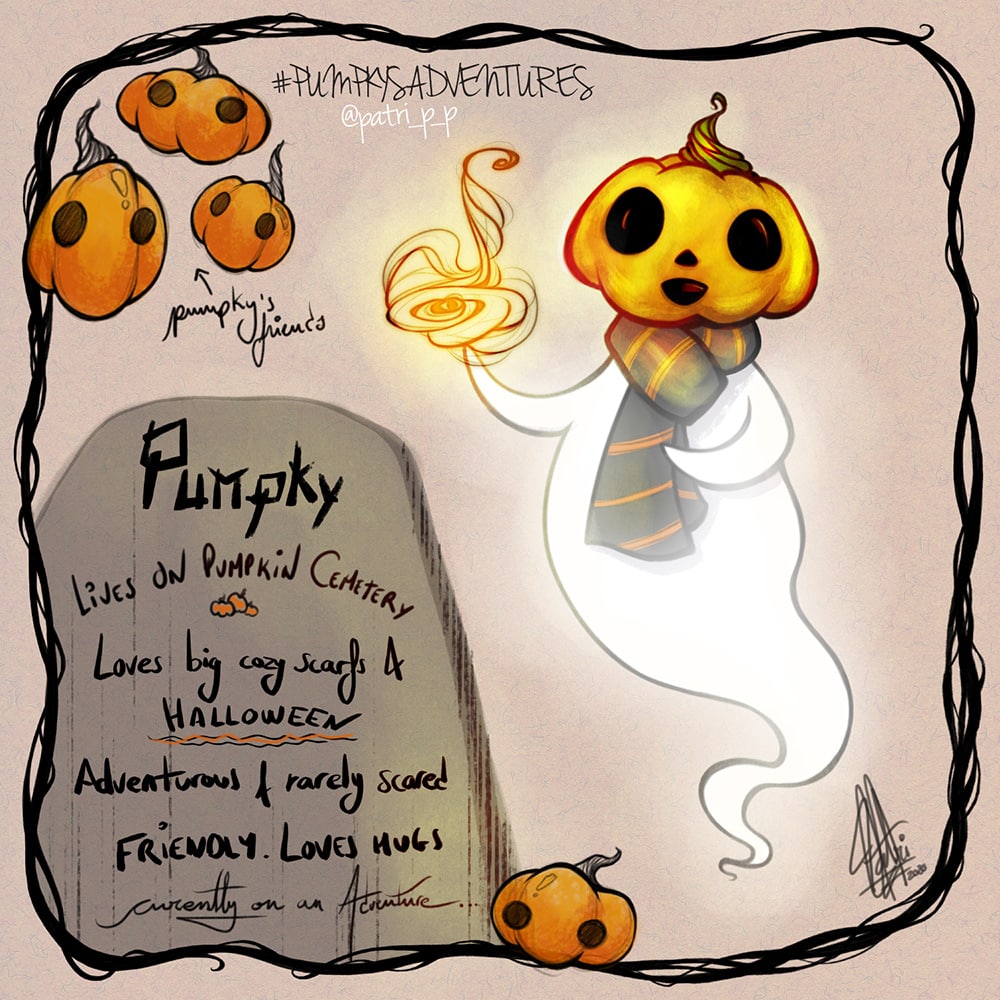 So, these illustrations will relate how Pumpky decides to go explore and enjoy that month outside the cemetery – unlike his friends that always stay there – with the different prompts of the lists.
I decided then to do it in digital, I'm gonna create a "format" of sorts that I'll use for all of them.
About the style, I wanted to do something a bit different from my usual. I took some inspiration from artists like @behemot_crta_stvari, – casually, he has a lovely series of pumpkin-person characters, but I drew this ghost originally before I even found him on ig – @mabgraves (and I'm sure I'm missing some others) & some old-style storybook illustrations to come up with a certain style it.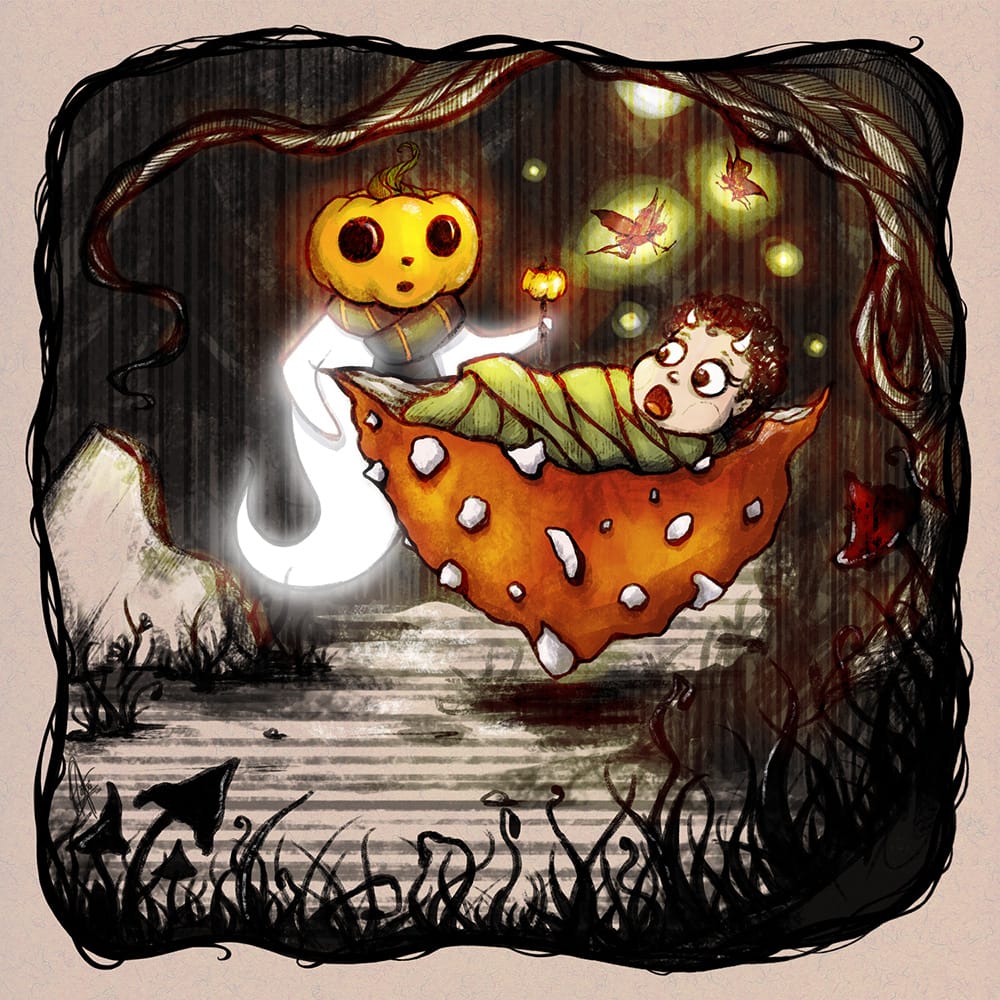 THE PROMPT LIST
By the time I have the idea a bit settled it's usually the beginning of September and people start publishing their prompt lists.
I could go without one, but honestly, I get uninspired really quickly that way.
I check out most of the lists the artists I follow post and screenshot any that seems interesting. Although I mostly keep an eye on Mab Graves' Drawlloween club and the official Inktober list.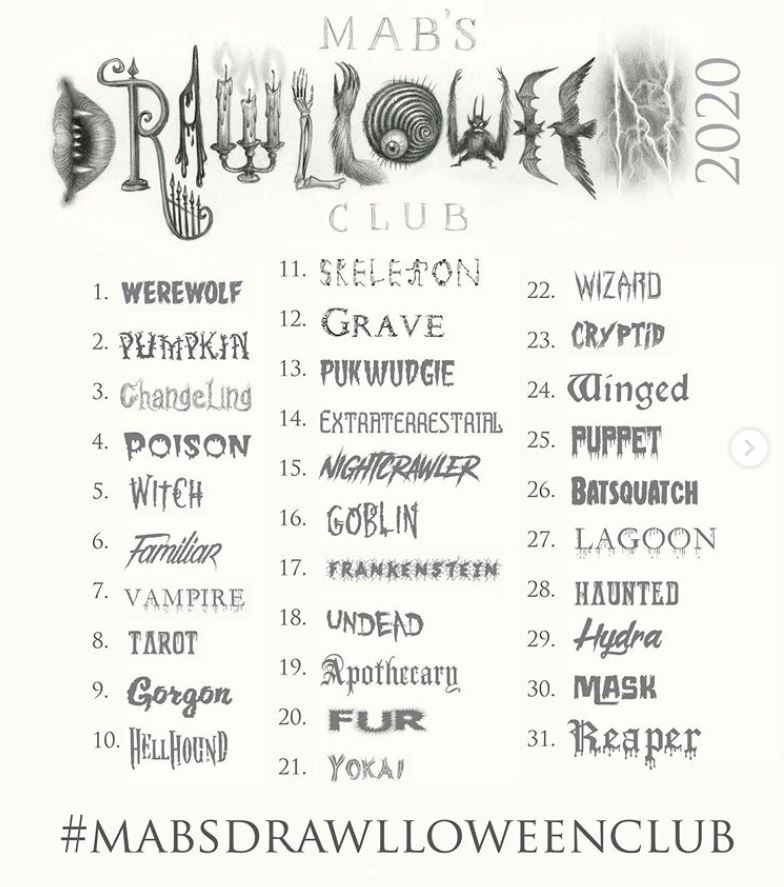 This year, I barely bothered with others because I was already thinking about trying Mab's Drawlloween club again (I love the community, but it's quite similar every year, so I haven't done it in a couple to vary a bit) & maybe combine it with the official Inktober one cause it's more random.
The reason for this was because these past 2-3 years I've seen so many lists that I loved that I ended up trying to combine prompts from more than 3 lists. And trying to decide between them.
This was a mess to organize & come up with ideas I actually liked – mostly to end up just using 1 prompt from the same list.
So, this year I took note side-by-side of the prompts of these two lists and choose one, or if I had an idea where I could fit both in the same illustration then I combined the two. But that's depending on the day.
SKETCHING
So, between picking lists – or waiting for them – & prompts to work on, the first 1-2 weeks of September usually go by.
This, as I said is also because I'm not really rushing to do anything, whenever I feel like it, I sit down and work a bit on it. Well, unless I've taken it waay to slow then I might have to rush a bit.
With all of this, I start sketching thumbnails on my sketchbook for all the prompts I plan to do. My idea is always to have all the thumbnails before October starts, but every year I only end up having around 10.
Well, it's something….
This year I'm doing a bit better though.
I've decided I'm going to take a day off every few days – with some prompts that weren't inspiring me too much or I couldn't come with ideas for – so I probably will end up with around 20-25 illustrations.
If I was working traditionally, this would be the time I would use to test supplies, buy the paper or sketchbook, cut it to a certain size if necessary, etc…
Last year I even did my own handmade sketchbook! Read how I did it here.
THEN: ON TO DRAWLLOWEEN!
Of course, then its time to draw and get ready!
If I have time, sometimes I'll start a few days early and do the first couple of illustrations. I know people will call it cheating but I use it to get warmed up, be able to take pictures and post on time and help me get a little head start so I start less stressed out.
Keep in mind, that I'll have to draw the drawings the day before anyway to be able to take pictures in natural light & post it in the afternoon. – or prep the files and such if I'm working digitally.
And even then, by day 10 it's quite common to be struggling for time.
If I actually pressured myself to work more on it I'll probably would be able to get more thumbnails & sketches done on time – I've done it before – but it ends up being more stressing and takes up the fun of the planning stages.
I'll try to only start working "harder" on the last week or so before October to get that little jumpstart.
Now, this is all for this post, for now. But I'll probably will update it later with my progress with the challenge!
However, if you want to keep track of what I do as I go, where I'll be updating the most is on Instagram. So if you want to see more, follow me here!
What are your plans for this Drawlloween or Inktober this year? Which prompt list or project are you going for? Let's chat about it in the comments! 🎃
INKTOBER/DRAWLLOWEEN UPDATE (after the challenge)
I'm writting this after completing the challenge for this 2020.
I already updated the post with a few peeks at my work for this year, but as always, I wanted to include the full collection here just so you can see it all together.
Overall, this year was quite great. I had a bad week at the middle-end of it – low energy, getting into a bit of burnout/tiredness – but I got over it and drew the finish pieces. – And then took a week off of drawing after it to recharge.
I'm all good now!
I feel it was essential for me that I didn't feel as pressured as other years and took quite a few free days. Overall, I got 20 pieces!
And I'm thinking about collecting them in a "sort of" children's book cause I really enjoy most of the pieces.
Most of my favourite pieces were from the first 2 weeks but I still had fun with 90% of the pieces. You can find prints of all of them on my Inprt shop here & linked in each image!
The details of the story behind each illustration are on my instagram's posts.
PUMPKY's ADVENTURES