Hi there!
Well then, it's been over a year since I've written for the blog. And I'm coming back today to review the Gaomon PD1320 Drawing Tablet that I'm really excited to test!
Where have I been? (Feel free to skip if you're not here for this!)
Well, it's not that I don't miss writing for the blog, thanks to this blog I realised I quite like writing.
But it was a lot of work to keep up with…
As you might know, as an artist you have to balance many things and my life circumstances have changed a bit: I'm not doing art full-time, which cuts my time considerably. I have a full-time job (not art related) now, and while I hope it would be a temporary thing while I find my footing in art it's a big relief monetary-ly speaking.
This started just about 6 months ago, but I wasn't writing since before that.
Why?
Because the whole blog needs a review and revamp.
I changed my hosting service and had to move my website. I took advantage of it and bought a proper theme and while it was great, most of the posts needed reviewing, images or links are not working on some, the whole shebang. This mixed with a little low energy/art block time for me and I stopped keeping up with the blog.
Then when I regained my energy I took on a couple of Children's Book projects, which took 99% of my time and energy.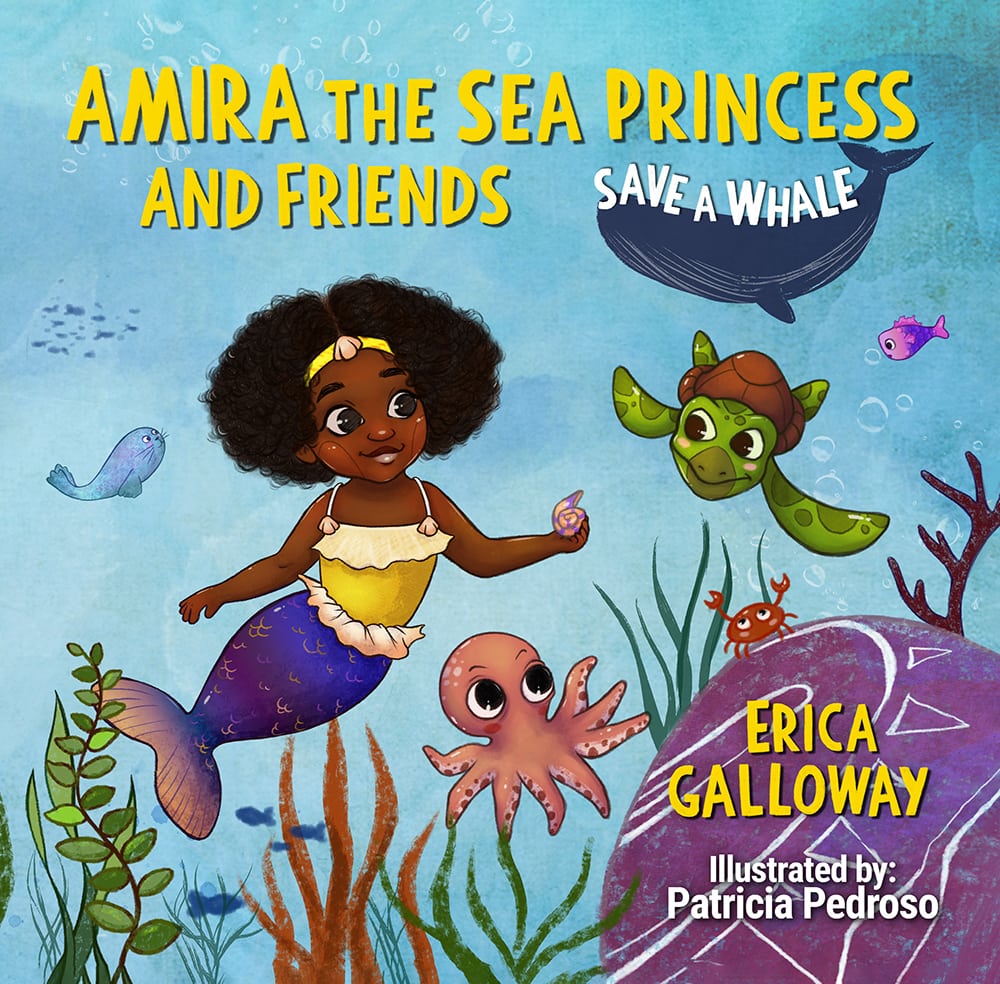 You might know from experience how hard is to pick up something you've been neglecting for a while.
So, well, I focused on youtube for a while instead.
Will I be abandoning this blog?
Don't worry, I plan to get back to the blog eventually and this is why I took this opportunity to do a review as a little check-in.
I enjoy doing reviews and makes me feel like I'm helping the community. (As I do seek out reviews by artists when buying these things)
But I think it will need to be a gradual thing, I need to slowly tackle the revamp of AAALLL the blog posts before I start again. It will be a good amount of tedious work.
However, I know I will never be able to push blog posts out like a machine, as other bloggers do, cause art is my main priority and I need to focus on that for a little, especially while I have limited time with my other job.
That's all for the little catch-up, remember that you can catch up with me on Instagram, that even though I take a break here and there, it's always much more updated for the simplicity of it all.
Thank you for reading and for those that keep coming back to the blog ❤
Moving on! Let's talk about the tablet
Gaomon reached out to me so I could review their Gaomon PD1320 13.3 inches display tablet and I was happy to do so!
If you haven't been here before or haven't read any of my previous reviews, I feel the need to clarify that although I was gifted this tablet I'm not being paid nor I will say anything I don't believe.
I did sign up for their affiliate program, so if you want to support me, you can follow this link to their official store to do so!
Let's start in chronological order, shall we?
Unboxing: Content of the Box
As usual, feel free to watch this in video format for the best ✨experience✨
On the box we can find a good amount of the basics I've found in previous tablet unboxings, let's recount:
Obviously and most importantly, the Gaomon PD1320 Tablet.
Drawing pen.
Pen holder – that also serves as a container of the extra nibs & a nib remover.
Drawing stand/screen protector.
Black drawing glove.
Cleaning cloth.
Cables: HDMI, connection, etc.
I feel like I should mention a couple of things from my first observations.
The look and initial feel of the tablet were great, I instantly liked how it looked with the anti-glare and its simple design. I must admit that from experience, I haven't used shortcut buttons much, so I'd rather have this design without them.
Also, I was a bit confused at first about how the screen protector/stand worked. Silly me thought it was magnetic and tested it out several positions till I realised the "magnetic looking part" actually had a plastic that you removed to stick to the tablet.
I'll admit I have mixed feelings about it…
I call it a screen protector cause that's what I feel it's its better use. It looks like a tablet/Ipad case that you can curl around to get a bit of height, problem is, it's not too strong and gives about 20º inclination to your tablet that, at least for me, it's not a practical angle to work with. However, as a screen protector, I really like it, cause most tablets don't include a thing to protect their most sensitive part if you're moving it, storing it, or simply protecting it from dust.
Small Hiccups
This has not been as smooth sailing as other tablets I've tested. And I take my own blame for a good part of it, not gonna lie.
I'm including this part, first because I want to be honest with my experience and second because it might help you solve the problems if you happen to encounter any of them.
I had an initial problem with the cables that I thought had to do with the drivers. After many tests and tries, the problem was that I set them out wrong, thankfully, the nice team from Gaomon that I was in touch with was quick to point out my mistake.
And simply to avoid you going through the same (not saying you're as dumb as me), I'll leave these instructions here: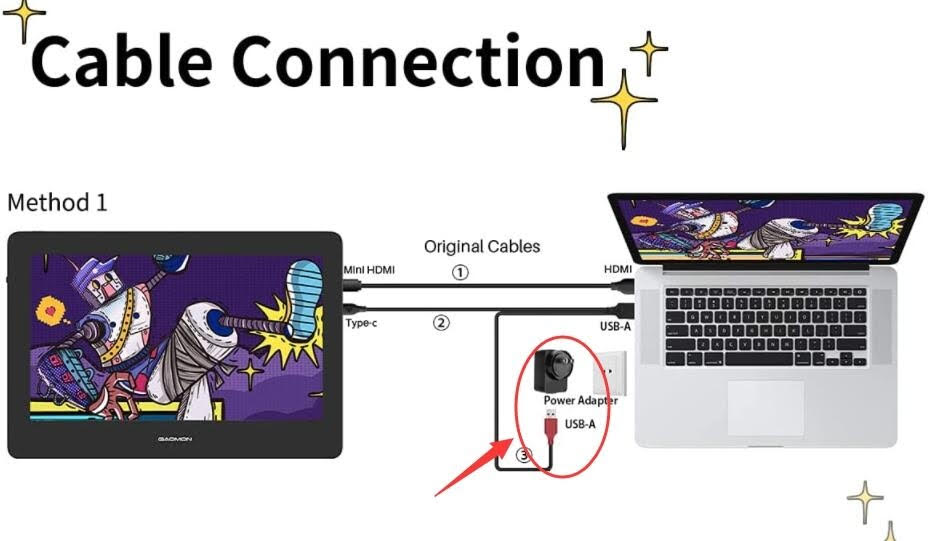 When I finally was able to work with it, I was ready to test it out and then…
The offset of the pen went crazy when on drawing programs, both on Krita and Photoshop – funny thing too, it was only on the canvas, on the program's tools/layers and such it worked well. While on windows it looked okay. After calibrating again and again with no improvements, I asked for help again.
How did we fix it?
I was instructed to try Mirror mode on the screens (Windows +P & choose duplicate / MacOS- System Preference> Choose "Displays">Click "Arrangement">Click the "Mirror Displays")
If this didn't help, I had to uninstall the driver cleanly and try with no driver on to test if the issue persisted.
Mirror mode helped a lot with fixing the issues, I noticed sometimes it got solved and as I got back to extend the screen the error came back again.
Then I had issue #2, the pressure sensitivity didn't work, it was as if I was drawing with my mouse on Krita, while on Photoshop the pen didn't work at all.
This got fixed by uninstalling the driver and resetting my computer.
Before installing again, I uninstalled any other tablet drivers (in my case Wacom), turn off the antivirus temporarily & made sure I didn't have any drawing program open.
After this, it worked normally with no issues at all.
(but in mirror mode, I didn't want to risk it)
Technical Details of the Gaomon PD1320
Let's get to the nitty-gritty of the tablet before I share with you how my experience with it went.
ABOUT THE SCREEN:
The screen has a size of 13.3 inches, a pretty nice medium-sized screen for drawing, it's a fully laminated HD Screen designed to reduce the reflections on it when working on it.
It also comes with an anti-glare protective film that prevents scratches, dust or just your average wear when using it. The feel of it is more textured so it improves the drawing experience on it.
It has a 178º viewing angle with 86% NTSC, which basically means that you should see the screen clearly and vibrantly from a wide range of angles, as I'm sure many of you have experienced these kinds of screens that get dark when you're not right in front of them.
The decision to leave out the shortcuts gives the design more space for the screen.
ABOUT THE PEN:
The pen has 8192 levels of pressure sensitivity, an average I've seen in many tablets that seems like more than enough for anyone's drawing needs. It's battery-free, of course, and supports a 60º tilt.
Comes with rubber around the grabbing zone to prevent slipping and 2 buttons on the side. It's really lightweight and its shape and size pretty comfortable.
OTHER NOTES:
The Gaomon PD1320 is lightweight, making it a huge pro if you want to move it around or simply draw on the couch without carrying too much weight. It's about 0.88 kg (1,7 Pounds) and only 14mm (0.55 Inches) thin – which honestly, I think it's less than what my iPad weighs.
As usual, it's compatible with Windows7/8/10 or above & Mac OS 10.12 or above. It also supports Android 6.0 and above as it can be plugged into your phone/tablet.
It's compatible too with the majority of painting/designing software.
There are three different connection methods and it comes with a type-C cable for a faster connection.
The Gaomon PD1320 drawing tablet could be easily powered by a Dual USB-A two-in-one cable and an HDMI cable.
It also supports one full-featured Type-C cable (not included) that could connect to the computer/Android tablet/Android phone with a Type-C port.
Pros & Cons of the Gaomon PD1320
I know this is a little more visual in bullet points as I usually do, however, I have comments about the pros & cons of certain things, so we're doing it differently today.
The Stand:
For me it's a con and a pro. I know, confusing.
I already mentioned that I liked the fact that it protects the screen, no tablet I tried till now came with something like that and if you store it or move it I feel it's helpful to avoid scratches.
However, as a stand itself, I don't see it.
The angle it gives to the tablet is almost nothing and I've never been comfortable drawing with a tablet so close to being completely horizontal.
The Pen:
Aesthetically, I thought it looked plasticky and the buttons as well. It's also super light, which is not bad but also adds to the feeling of it looking as if it was of cheaper quality.
Again, this is not exactly a con, because the important thing about the pen is that it works well and is comfortable to use, and this one meets the requirements, it truly is comfortable to use.
The Screen:
The con would be that the colours look a tad saturated, not sure if to the point of it being too much, but a little. I didn't find a way to adjust it, but maybe there is!
Other than that, I love the screen, it has a really nice, almost paper-like feeling to it. I enjoyed working on it and it felt really comfortable.
My real Con:
Lastly, the only one that actually was a little uncomfortable was the fact that the wires are short.
My workspace is not too complicated, I have my computer & plugs right below where I set the tablet and still, it was a little tight to work with. Obviously, it's nothing you can't fix but it is a little bothersome, if they only were slightly longer, it would be much better.
Final Conclusions & Thoughts
Okay, let's talk about the most important part when it comes to a drawing tablet: the drawing experience.
I have absolutely nothing bad to say about the drawing experience with the Gaomon PD1320.
In fact, I was super surprised at how smooth it was to get used to the new screen feel, the pen and the pressure sensitivity. It's not that with other tablets I hadn't gotten used to them fast, but with this one, I barely noticed the change in the drawing feel from my usual Wacom Cintiq 16.
And no, I barely had to change any of the settings of the pen, tablet or anything on the drivers to get it to work nicely. (minus the hiccups from the beginning, I mean)
I particularly enjoyed the feeling of the screen when drawing and I think it's important to guide yourself with how you feel drawing in things like this, after all, that's the important part!
So, that's my two cents on the Gaomon PD1320, again, thank you so much to Gaomon's team for providing me with it to test it out, it was a pleasure.
Where to get it:
If you want yours, take a look at these links to see which one is the best for you:
You like this blog post? Maybe you'd like as well: