In this post, I will be talking about the Artist 12 Pro digital screen tablet by XP-Pen.
They kindly sent me the tablet so I can review it for you and I've been trying it this past month so I can give you my full, honest review.
I have a YouTube video with the unboxing and review up. It also shows me working on little something fun so you can see the performance of the tablet.
Disclaimer: The XP-Pen team sent me this tablet for free in exchange for both of these reviews, but everything I said both on the video and is my honest opinion and the real characteristics of the tablet – and I tested the ones I could – as I would never recommend something I don't like myself.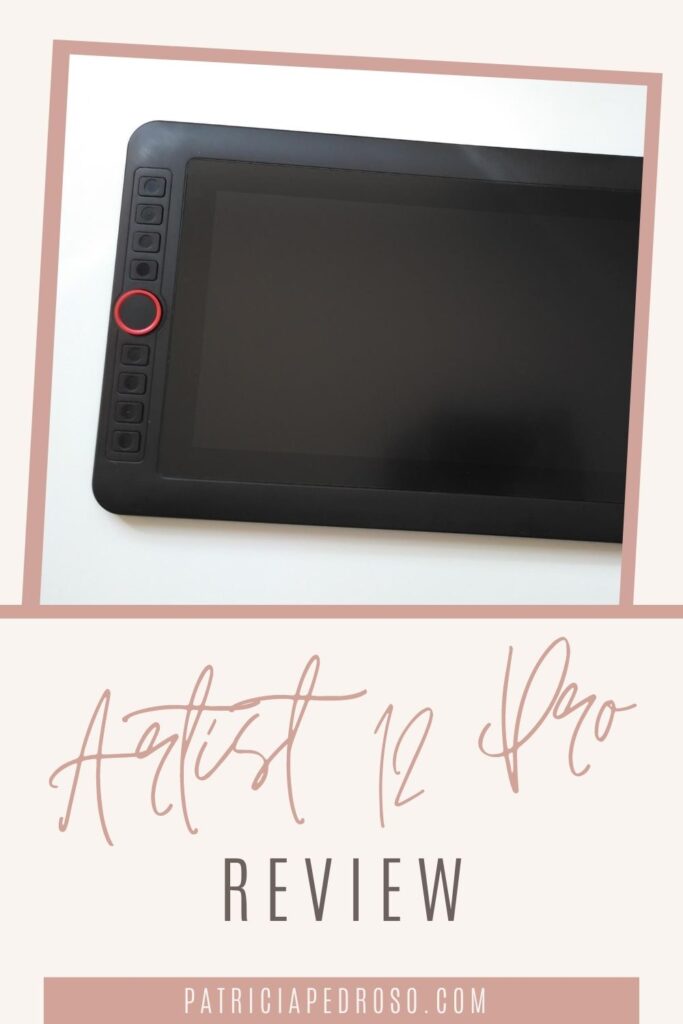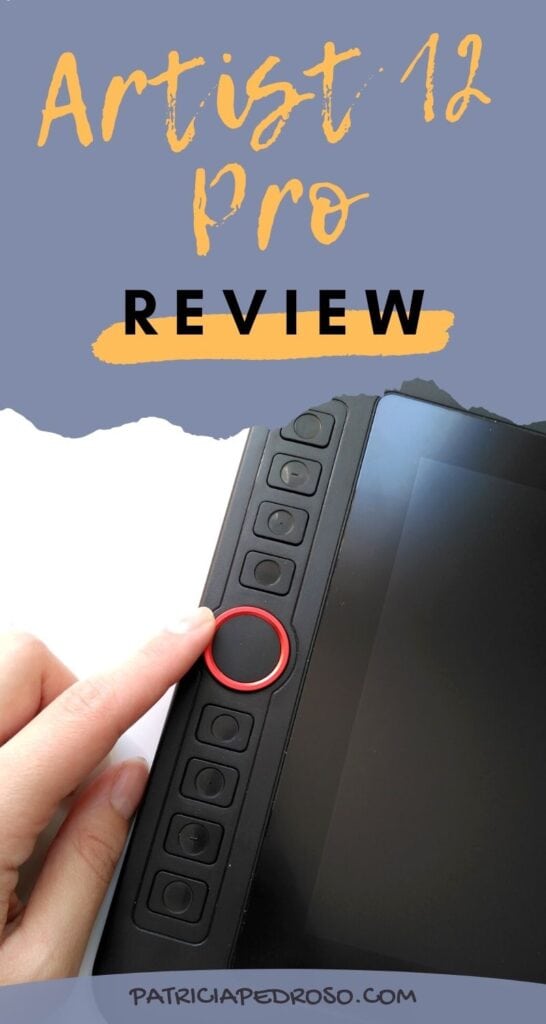 *Reminder that this post contains some affiliate links. This means I might get a small commission when you click and buy something with that link with no additional cost to you. However, my reviews and recommended products are not influenced by this, I'll only recommend what I use and what I believe is good. Click here to read the disclaimer if you want more information*
ABOUT THE PACKAGING
Let's start by talking about the packaging of this tablet and all that you can find inside.
Unboxing this tablet was a really pleasant experience, everything was packed beautifully and carefully and it felt like opening a present.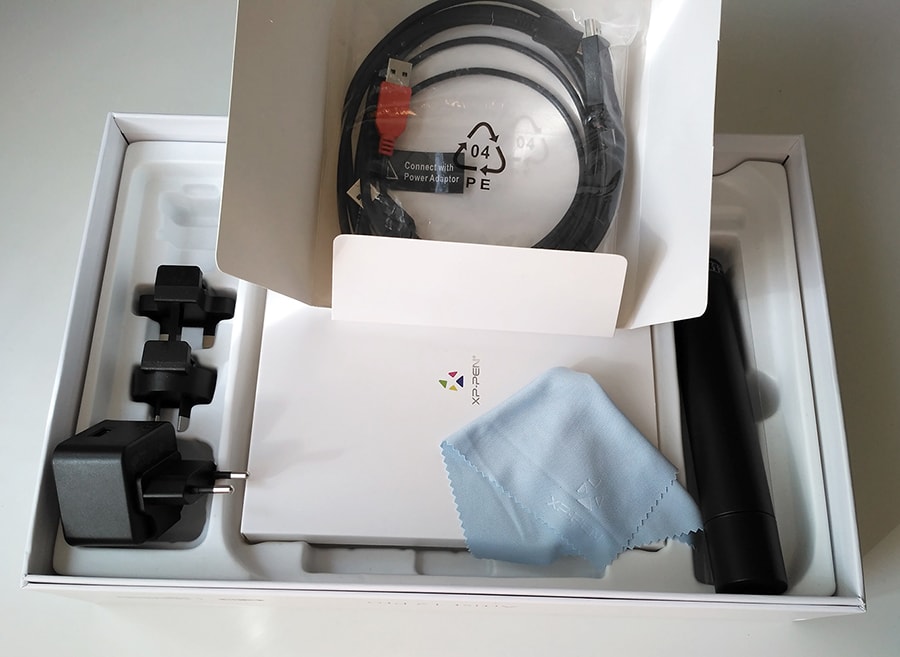 A little plus of the Artist 12 Pro is that it comes with a few extra goodies, that, for some other tablets you might have to buy aside from the tablet; the stand and a black drawing glove.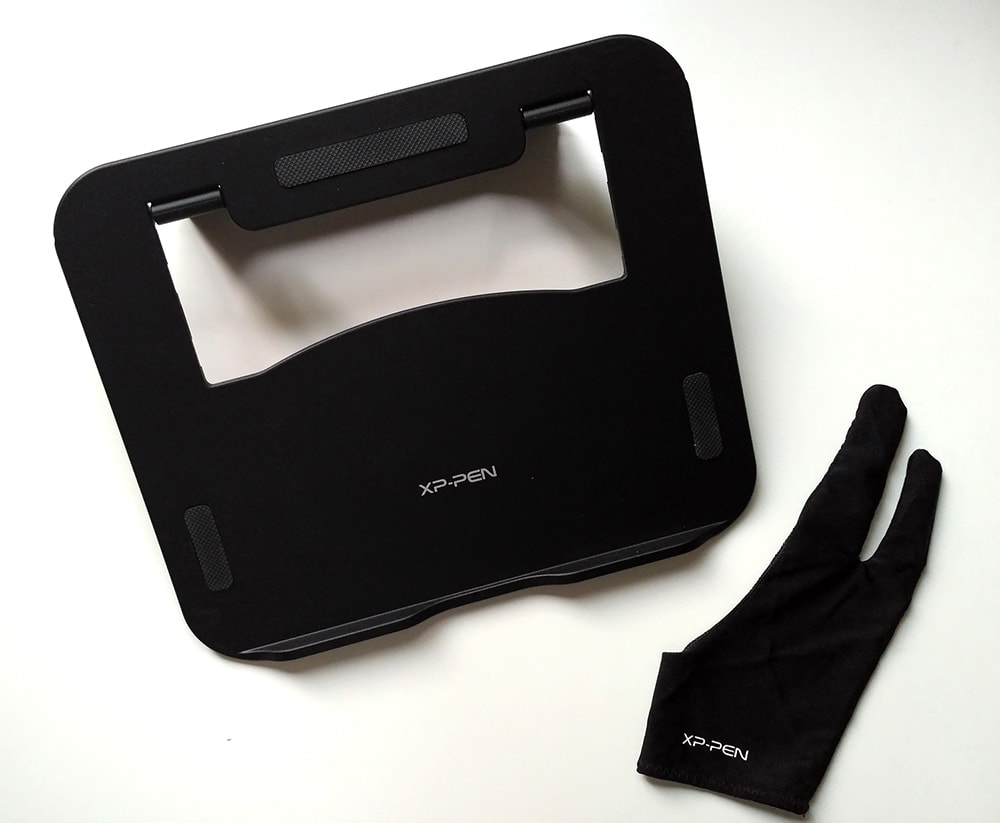 The stand puts the tablet at an approximated 20º angle for working, which is quite a nice drawing angle for the size of this tablet.
The pen also comes in a beautiful sleek black case, that serves both to place it inside, to hold the 8 extra nibs and you can also use one side as a pen holder! – a thing that I only discovered a week after I started using it, silly me!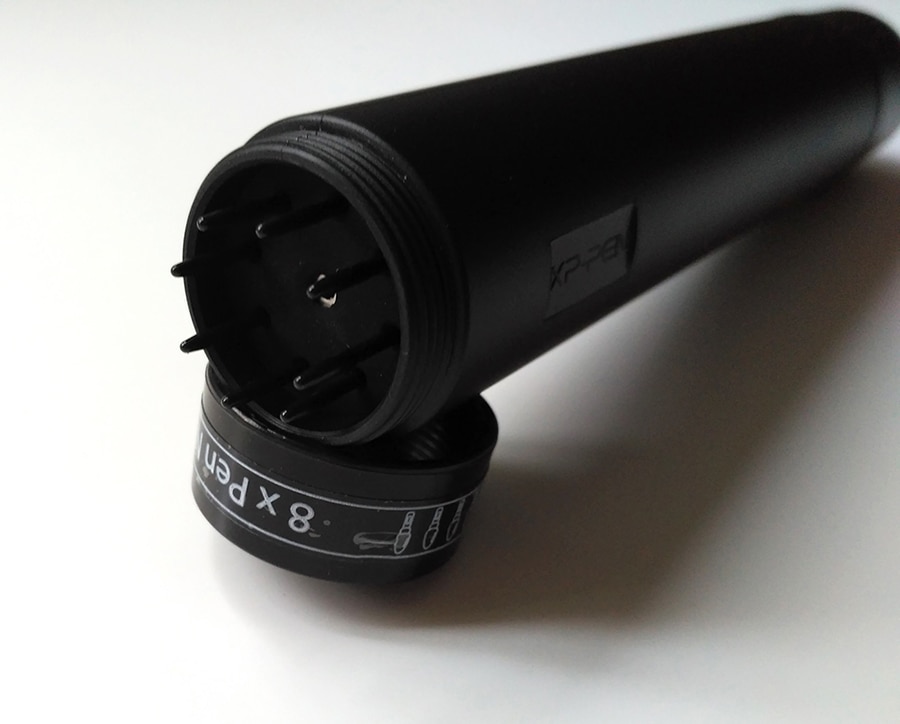 As for the tablet itself, it has a lovely finish and the size is very manageable.
CHARACTERISTICS OF THE TABLET
Now, let's get a bit more into the specifics of the Artist 12 Pro.
The screen is an 11.6-inch display that comes with a replaceable anti-glare film, this keeps the screen from being scratched and avoids glare.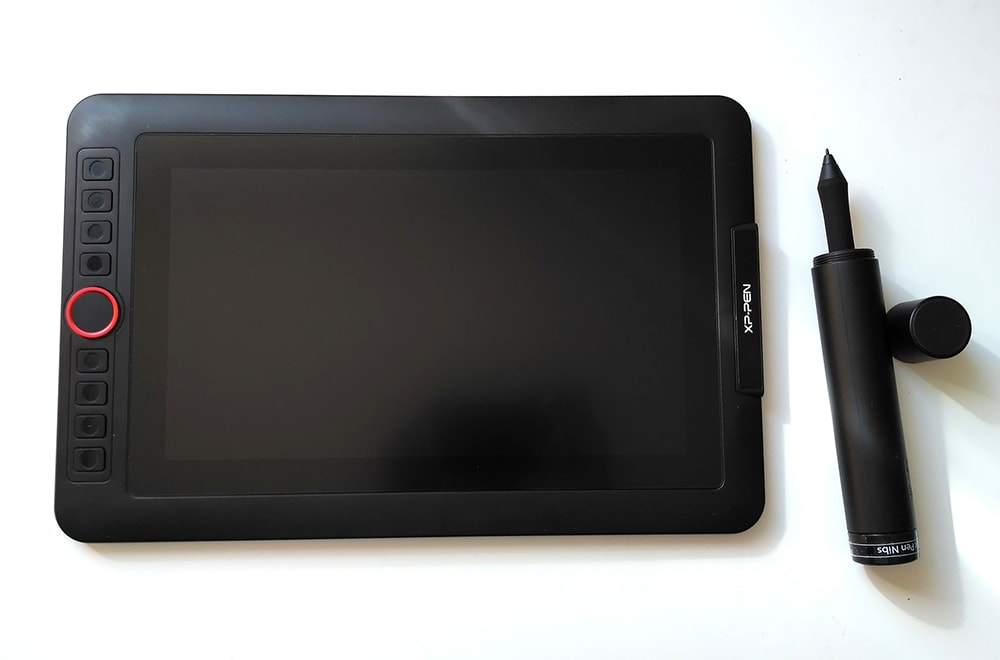 This tablet is supposed to have nearly no parallax, so I tested it (refer to the video at the beginning)
In case you don't know what parallax means, this is when the brush in the screen moves at a slower pace than the brush in your hand. It's used to test the performance of the tablet as it can be very annoying when painting.
The results of my test were that this tablet has nearly no parallax. As this also depends on the brush and your computer, I tested different brushes and sizes on Photoshop.
It has 8192 levels of pressure sensitivity, which makes it quite precise to draw lines with different weight.
Again, you'll see me testing all that in the YouTube video up there.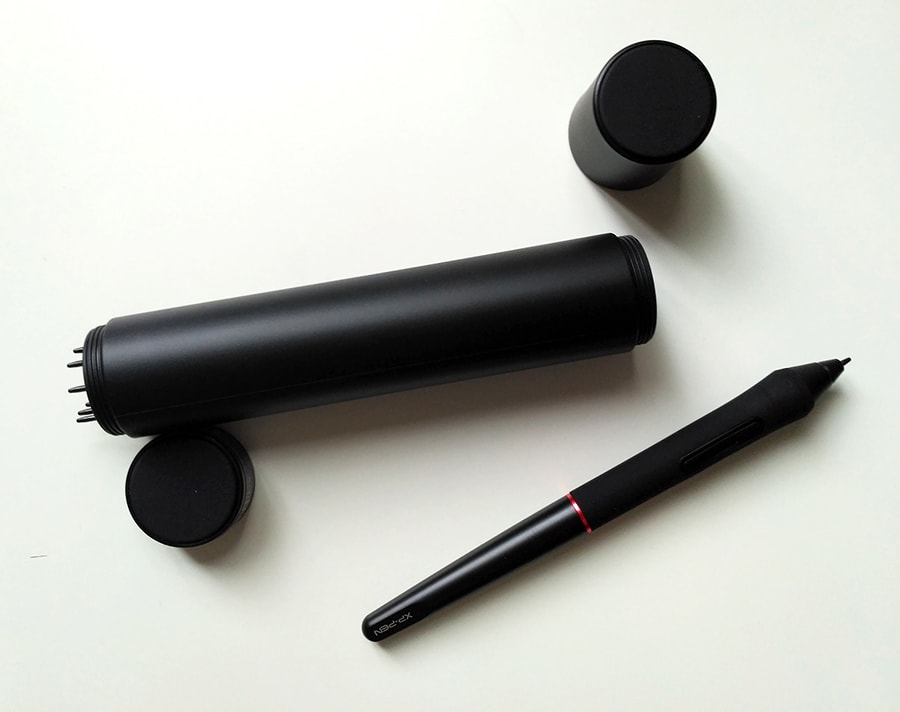 The pen – that is battery-free by the way – also supports tilt in photoshop, Krita, painter and Gimp (that I know of).
The Artist 12 Pro comes also with 8 buttons and the red wheel to enhance your workflow.
TECHNICAL SIDE
The installation part it's quite intuitive actually.
The drivers you'll need are really easy to find on the website but there's also a little link on one of the booklets that come in the pack to make it easier for you. I'll link them here too just in case.
Once you do that it's practically ready to go, you just need to plug it in!
One plus that I found really original it's that it has two ways to plug it:
The first, straight to your computer where you'll need 2 USB plugs and an HDMI plug, no need to plug it to the wall or use any adapter.
This is really practical if travelling!
I actually forgot the wall plug adapter the other day but I was able to use it anyway thanks to this, I was pleasantly surprised!
The second option is the traditional plug to the adaptor to wall plug with one of the USBs you were using on the computer before.
INSTALLATION
As it is with all the drawing tablets you will have to go over the settings just to make sure everything is good or configured properly after installing the drivers.
For this one, the main thing you need to do is check the settings of the buttons on the tablet settings.
But actually, the first time I opened Photoshop with my computer the default settings were – mostly – to my taste, I just had to adjust a few buttons.
As in this tablet you have 8 buttons and the red wheel, you'll need to set your favourite, most used shortcuts so you'll be working smoothly.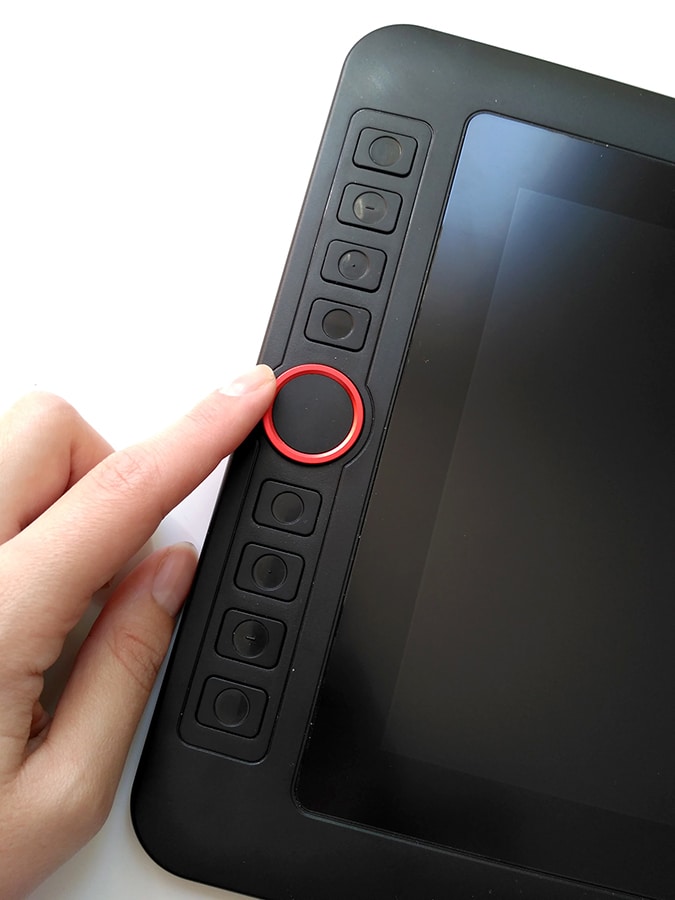 Some ideas and basics for me are Ctrl+Z, alt + click (colour picker), the size of the brush…
I let the default on the top for the settings of the tablet because it can come in handy too. As for the wheel, for me, it seems really practical to use to zoom in and out, but that's just an idea!
You will have to set your settings for the different drawing programs you use, in my case it's only photoshop but if I used more I'll add it and personalize the settings to each one so I can work easily.
I will also recommend you check also the other different settings – side buttons of the pen, pressure sensitivity – before start working.
SOME OBSERVATIONS
I haven't been using the Artist 12 Pro for that long but I do have some observations I want to add to this article.
I will update it if I find anything else that might be useful.
Also, you might want to consider that I have worked with other tablets before – both a non-screen tablet and a screen display tablet that I'm very used to – so that, of course, affects the way I use this one for good things and bad.
For me, it's taking me a bit to get used to the buttons.
But it's a matter of getting used to it. The wheel for the zoom, for example, it's really intuitive and much more practical.
Another thing that I'm still getting used to is not having the eraser on the back of the pen.
Gosh, it's surprising how much time it really takes to get out of that habit!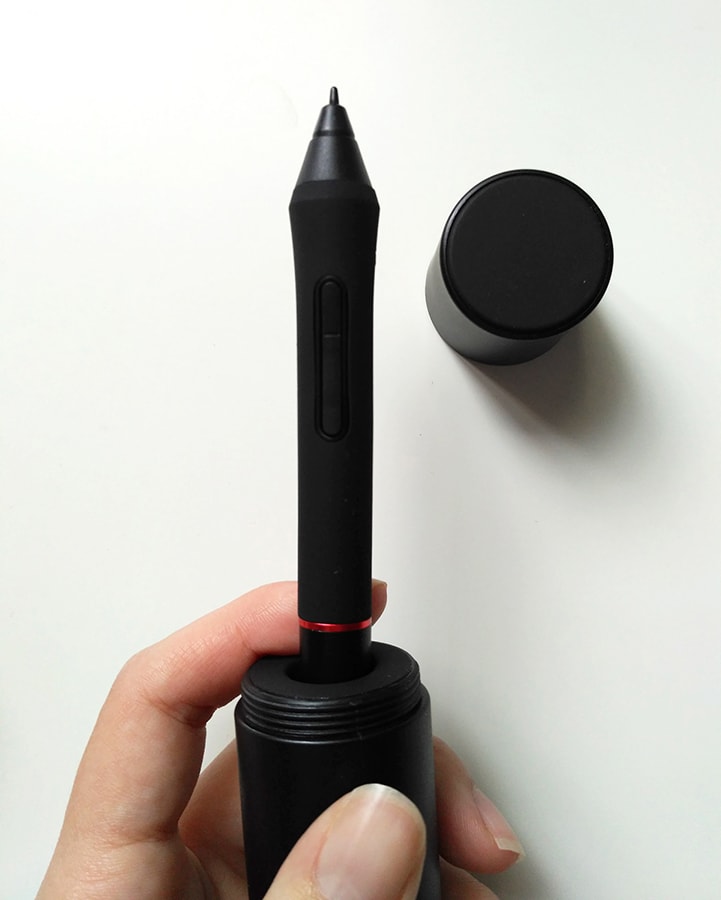 Instead, this pen has the switch to the eraser on the top side button, which is practical too actually, but it's taking me a while to remember not to flip the pen as it seems quite intuitive.
A while after, I still haven't got out of the habit of turning the pen…
So if there was something I would change about the pen, it would be to add the eraser button at the top.
On another note, some other things I've noticed are that the feeling of the screen is really nice as you draw.
And the precision of the pen, too.
The pen has good size, weight and shape, and it's really comfortable to work with.
The size of this tablet makes it the kind of tablet that is easy to carry around.
CONCLUSIONS &… NEGATIVES?
As of now, I haven't found any negatives to this tablet until this moment.
Maybe, I do have a few things I need to get used to, but that comes with time. And it happens every time you switch tablets or drawing mediums.
The only thing that I can find an inconvenient – and just for some people – is the size, as it is quite a small tablet.
The screen display is a bit smaller than the average laptop screens.
For me, that's perfectly alright, as I travel a lot and this one is perfect to carry around, as it doesn't weight too much and fits easily in a bag or a backpack. And it's also really practical if you want to draw in bed, or you couch or wherever!
Of course, XP-Pen has also similar bigger alternatives to this tablet on their shop, in here, if you're looking for that.
And if you're looking to update to the next, bigger size, I have a review of the Artist 13.3 Pro here – a special Christmas Edition! – and I compare their sizes at the end!
NA web-store / UK web-store  / AU web-store / ES web-store
The Artist 12 Pro it's quite affordable and good quality, perfect for those starting to dip their toes on digital art – for pros too actually, as it is maybe more travel-friendly than others.
Also perfect if you're looking for a gift!
And while we're talking about gifts, if you're looking to get a gift to an artsy partner or friend and are struggling to come up with ideas check my post on it here!
Update after almost a year: The tablet still holds it's own perfectly. I kept the tablet for using it with my laptop while I travel.
The only issue I had so far was a bit of trouble with compatibility installing Krita. However, I'm not sure it's because of the tablet or my laptop that's starting to get a bit old.
More like this: