Want to gift something special this Christmas? Take a peek at this Christmas Edition by XP-Pen!
Christmas is coming and with it, a lot of people are worried about gifts. So when XP-Pen asked me if I wanted to have a look at this lovely Artist 13.3 Pro special Christmas Edition I couldn't say no!
Psst!! You're looking for Christmas gift ideas for those artist friends? Check out my guide here!
This edition comes with some extra goodies that are exclusive to this special package!
But I'll show you all of it in a jiffy with a lot of pictures!
Additionally, you can go watch my YouTube video where I also show you the unboxing experience & a clip of me testing it!
Let's get on with the review!
Disclaimer: The XP-Pen team sent me this tablet for free in exchange for this review, but everything I said both on the video and is my honest opinion and the real characteristics of the tablet – and I tested the ones I could – as I would never recommend something I don't like myself.
*Reminder that this post contains some affiliate links. This means I might get a small commission when you click and buy something with that link with no additional cost to you. However, my reviews and recommended products are not influenced by this, I'll only recommend what I use and what I believe is good. Click here to read the disclaimer if you want more information*
PACKAGING DETAILS + Christmas Edition goodies!
The Christmas Edition only costs about 20$ extra and it's much lovelier as a gift & the goodies are always a plus!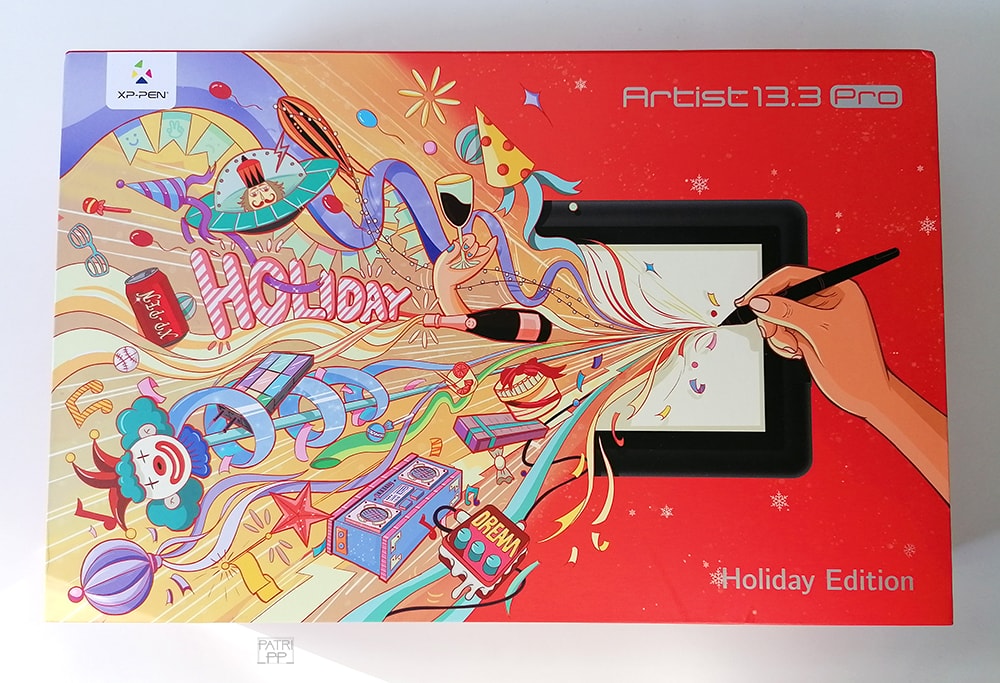 So, as you can see, the Christmas Edition packaging is lovely!
In the next few points, I'm gonna show you more pictures & description of both the regular content of this box – the one that would come also on the common edition of the Artist 13.3 Pro – and of the goodies!
Now, here are the links to the Artist 13.3 Pro in the different XP-Pen stores in case you want to check them out before I continue.
Get the Artist 13.3 Pro Christmas Edition here! – NA | UK | DE | EU | AUS
BASICS – What would be on a regular Artist 13.3 Pro package
So, already on the normal edition, you have a few extra cool goodies that don't always come with drawing tablets: like the stand, a black drawing glove, a cleaning cloth & a sleek black case for the pen.
The case is really cool because it serves both as storage for the pen, – for when you're not using it – contains the 8 replacement nibs and you can use the opening piece as a pen holder.
The stand puts the tablet at an approximated 20º angle for working, which is quite a nice drawing angle for the size of this tablet.
These next pics are actually from when I reviewed the Artist 12 Pro – same model in a different size. I believe I talk about these a bit more there in case you want to check it out.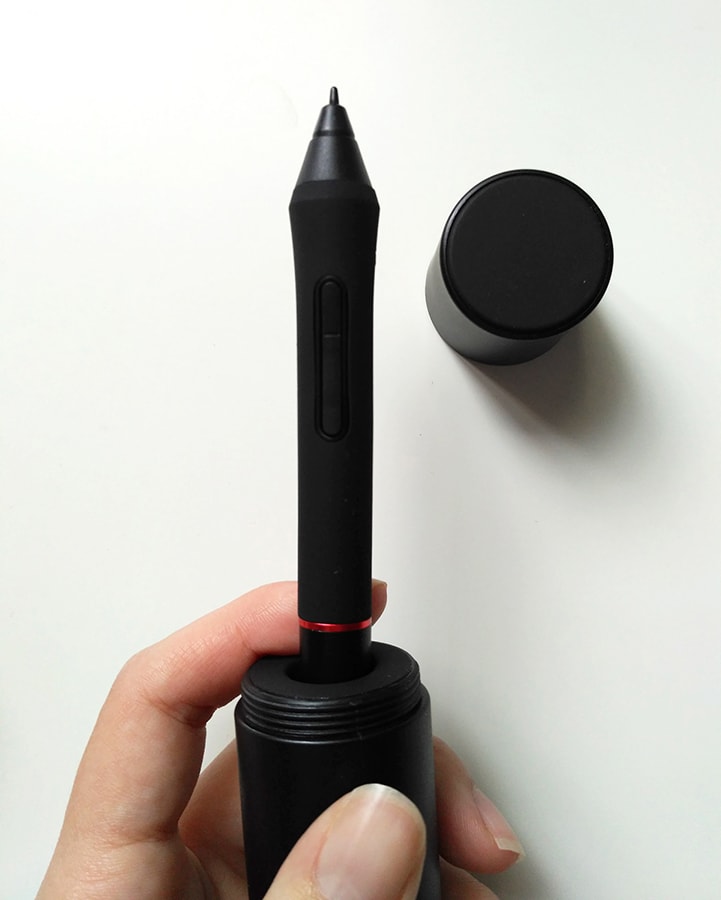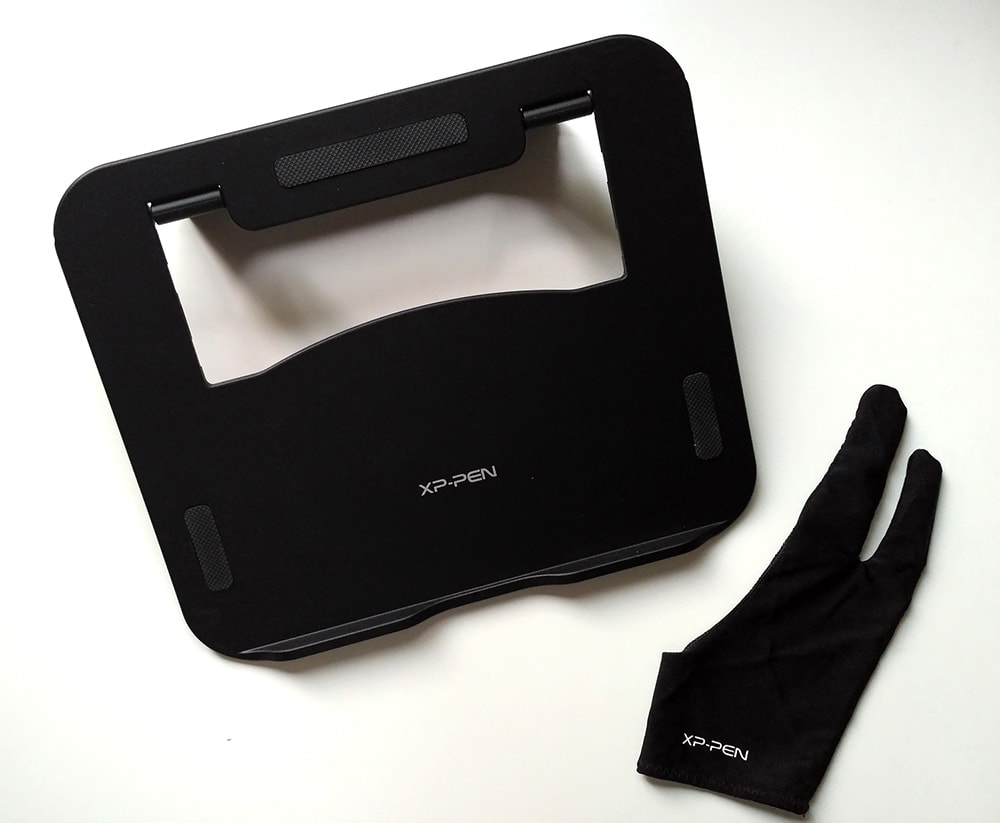 GOODIES OF THE CHRISTMAS EDITION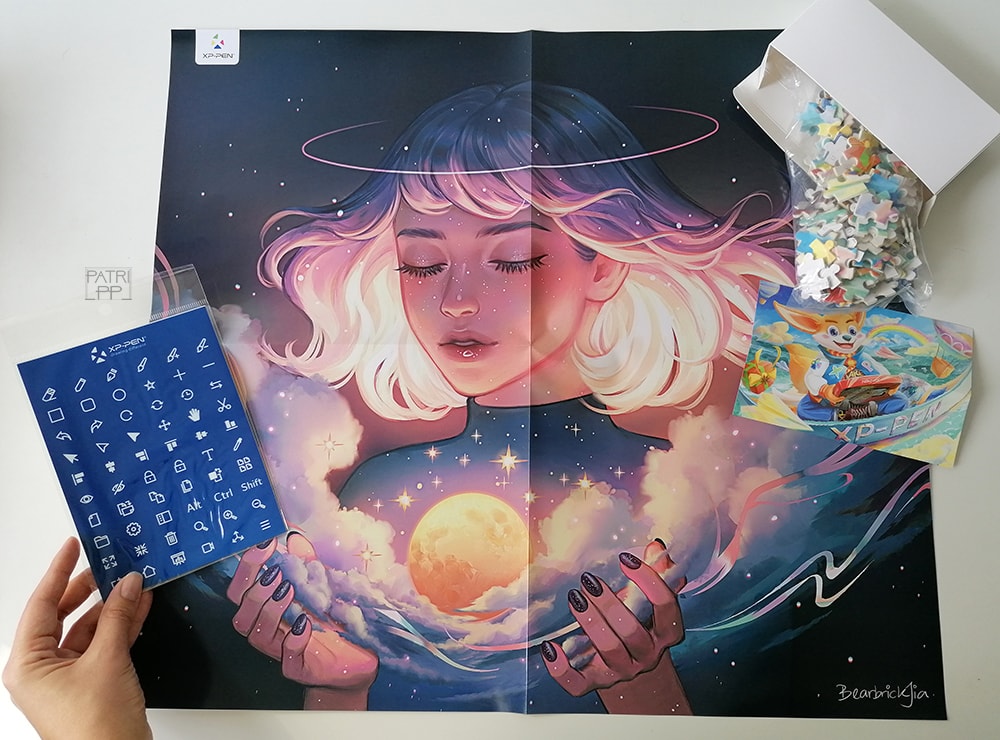 We got to the goodies of this package!
Let me give you a list of the goodies that come inside this box:
First, you get a huge poster from @Bearbrickjia – I didn't know her before but the poster is lovely!
A couple of shortcut sticker sheets – one it's black so you can write your own.
Cute Fenix puzzle!
Also, you get access to a bunch of linework sketches from popular digital artists that you can download & colour yourself! – This doesn't come in the box, you have to go to the website and download them after you register your tablet.
Now, I'll show you a few more peeks at the lovely goodies in the upcoming pictures.
Look at that big beautiful poster! – it's already on my wall, btw.
The puzzle's really cool & colourful, I still have to get my hands on it cause I love puzzles! – just had to get this review out to you first hehe
About the stickers, I was actually pretty happy when I saw them cause I always forget the buttons I put my shortcuts on!
They fit perfectly and look great when you put them on the buttons. It was actually the first thing I did as I was setting up my shortcuts and it's definitely making my workflow better already!
The other sheet it's filled with white labels that you can write on, in case you don't find one that works on the blue sheet.
CHARACTERISTICS OF THE TABLET
Shall we get a bit more into the specifics of the Artist 13.3 Pro?
The exact measures of the tablet are 15.37 x 9.84 x 0.5 inches, with a working area (screen) of is 11.56 X 6.5 inches. The display has a resolution of 1920×1080 pixels and it comes with a replaceable anti-glare film, this keeps the screen from being scratched and avoids glare.
The colour gamut of the tablet are: 88% NTSC, Adobe® RGB≧91%,sRGB≧123% – for those like me, this basically means it has a really high colour coverage.
After testing it again – I did the same with the Artist 12 Pro – the tablet has nearly no parallax.
The pen supports tilt in most of the popular drawing programs; Photoshop, Krita, Painter, Gimp, etc. And it has 8192 levels of pressure sensitivity – (a lot!)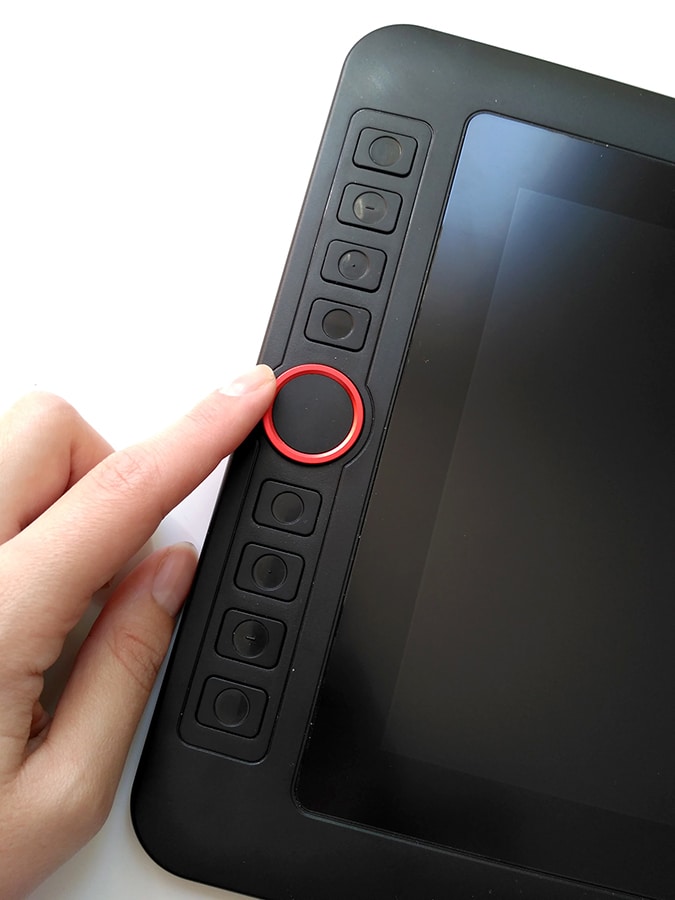 This tablet comes with 8 express keys plus the red wheel. These buttons can be used to have your favourite shortcuts at hand while you work and helps streamline your workflow. I feel this is especially true for the red wheel, that makes it really comfortable to zoom in and out of your drawing!
POSITIVES & NEGATIVES OF THE ARTIST 13.3 PRO
Alright, to finish up this review let me give you a sum-up of the positives & negatives I found. This is gonna be both of the Christmas Edition itself and about the tablet.
Please remember that this is all relative as it's mostly my opinion, based on my experience & habits, that might differ from yours.
POSITIVES
The Christmas Edition is lovely & definitely worth it if you're buying it as a gift! I feel it will look better & fit with the season spirit much more.
About the goodies, I personally loved all of them! I really feel there's something for everyone. I felt the poster was a nice touch and the stickers very useful!
The colours on the display look really crisp and vivid, definitely something important on a tablet!
The goodies that already come with the tablet – stand & drawing glove – are a pro itself cause most times you'll spend a bit extra on getting those separately!
About the installation, I feel it's really easy & intuitive. Just quickly download & instal the drivers and then set up the shortcuts and other presets to your preference!
Both the Artist 13.3 Pro & 12 Pro (not sure if this is something in every XP-Pen tablet) come with two ways to plug the tablet. One it's the traditional plug to the wall + HDMI + USB, and the other one allows you to skip the wall plug and uses 2 USB connections instead of one. This one is practical for example, if you're using it in bed, a couch or something! – or if you're out of wall plugs!
The screen feels nice when drawing & the pen has a nice shape & weight.
MIDDLE POINTS
I decided to add this little section cause I feel like there are a couple of things that will depend on the user.
The size: I feel the size is a good "middle point", not too big but not too small to work on either.
Nevertheless, if you're a more experienced digital artist you probably are looking forward to drawing on a slightly bigger surface. Again, this is personal preferences as I'm sure a lot of artists prefer sizes like this one.
If you're starting out then I would encourage you to go for a size like this one to test the waters. Mainly cause it will be cheaper and good enough to test out if you'll like it. And if you do, it's still a good size to keep working on till you feel like you need an update.
About the stand: so I'm not gonna complain much here cause this is an extra freebie and actually I find it great that they include it in the package!
However, I must say the angle of it isn't the best for drawing long periods of time. 20º is much better than drawing with the tablet flat on the desk but a bigger angle it's still slightly more comfortable & better for our backs!
A solution I found to this – if my back is hurting – is getting a few books and put them on the back of the stand. It's more comfortable and still really reliable to draw on!
Or if you're using it a lot, just try and look for a proper stand.
NEGATIVES
Even after trying I still don't get used to having the eraser button on the side. – Yes, I know this isn't really a "negative" but for me it's slightly uncomfortable, as I keep rotating the pen to use the eraser on the back.
Maybe this is me being picky, but even though the pen is really nice and works perfectly when I work for long periods of time I find myself clutching the pen. – I know this is also an issue of mine sometimes, but – I feel that for some brushes you have to apply a bit too much pressure and it ends up trying your wrist. I've tried changing the pressure sensitivity of the pen but I still haven't found a sweet spot!
About the last issue; I don't think this is a major thing, just something I noticed that's slightly different from other tablets.
And probably it's personal, as for example, the pen/screen experience with the Deco Mini 7 (by Xp-Pen as well) – review here – felt a bit smoother.
CONCLUSION
Overall, I find this tablet to be a really good option to beginner to intermediate digital artists.
The price range it's really affordable for the quality of this tablet!
And if you're getting it as a gift, then this Christmas Edition is definitely a must, as it makes the unboxing much more pleasant!
ARTIST 12 PRO vs. ARTIST 13.3 PRO – What's the difference?
About a year ago, I reviewed the Artist 12 Pro both on this blog & my Youtube channel. You can go check these reviews out if you want, cause in this section I want to compare them a bit.
Now, according to XP-Pen, both tablets are the same edition and with the same characteristics, the only thing that changes it's the size. The Artist 13.3 Pro is the medium size in the XP-Pen Artist's series and the difference in price is about 70€/$.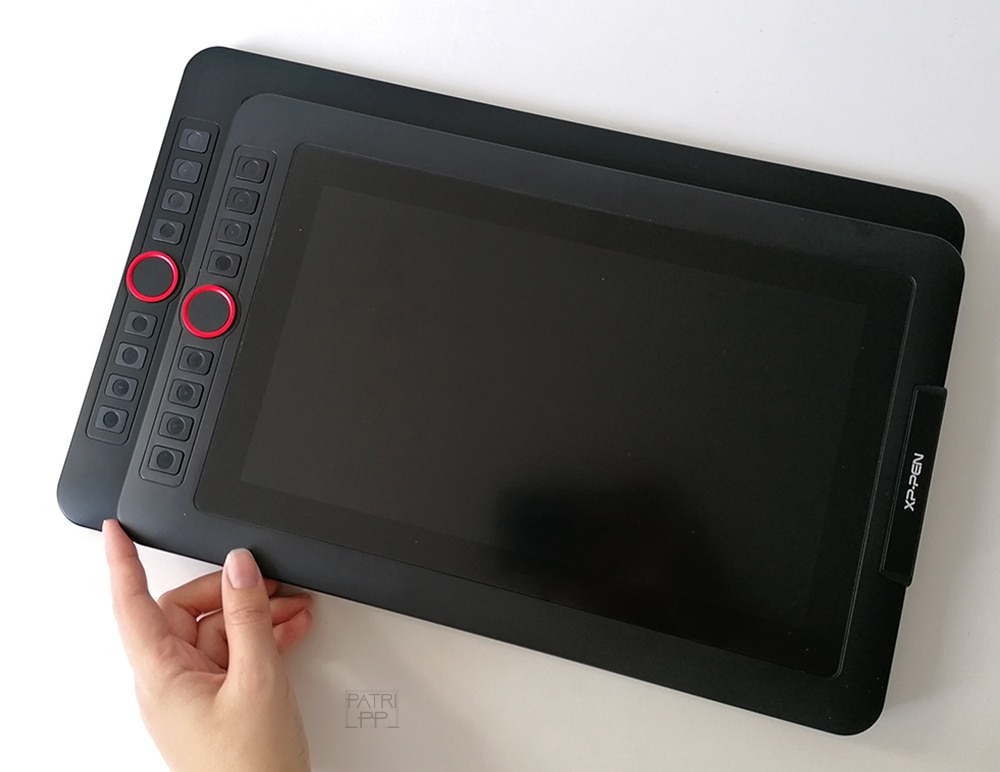 But is it worth it?
As I always say, it comes down to personal preferences.
If you've used a drawing tablet before, maybe you have an idea of what you prefer. If not, I would consider mobility.
For example, not long ago, I moved around a lot and I had to keep working, so the Artist 12 Pro was comfortable in that it's easy enough to carry around due to its smaller but still comfortable size. – it fits easily in a backpack, so it was comfortable to carry!
I mean, if we want a tablet just for when travelling, maybe considering something like the Deco Mini 7 I talk about here it's better suited: much lighter, less cable mess & smaller – tho it's non-screen.
Now, the size of the Artist 13.3 Pro is still portable enough – kind of a middle point – but not as much as the previous. So this is more one to stay in your studio.
For me, I do like this size better than the Artist 12 Pro – especially now that I'm travelling less. And if I was going to get it for myself I might even consider going a bit bigger, depending on my budget, of course – but that's my personal preference.