Part II of the Ultimate gift guide for artists with new ideas!
It's that moment of the year again when everyone starts getting crazy about Christmas gifts. – or any other festivity you might celebrate.
Everyone wants to stay on top of it; buy gifts ahead of time and choose the perfect holiday gift for that artist in our list. – and if not, Amazon Prime & express shipping exist for a reason, am I right?
This guide is to help you make that process easier, cause I know it can be a pain to choose the perfect presents.
Well, as long as you have an artist friend or partner you're looking up gifts for, of course…
My gift ideas for any artist; digital, traditional, painter,…
If you've been in my blog before – and if you haven't now you know – I already had a gift guide for artists. The thing is, that one was written for Valentine's day gifts initially, and then revamped, (because the gift ideas were still good for other occasions) so I recently changed it to "The ultimate artist gift guide when on a budget" – cause most of them were gifts under 40$.
If you're interested in that, go ahead and read that one here! Keep in mind that I might repeat certain ideas here, simply cause it's hard not to.
I'll also list promotions and other new deals here and I'll try to keep it up to date!
Now, let's start!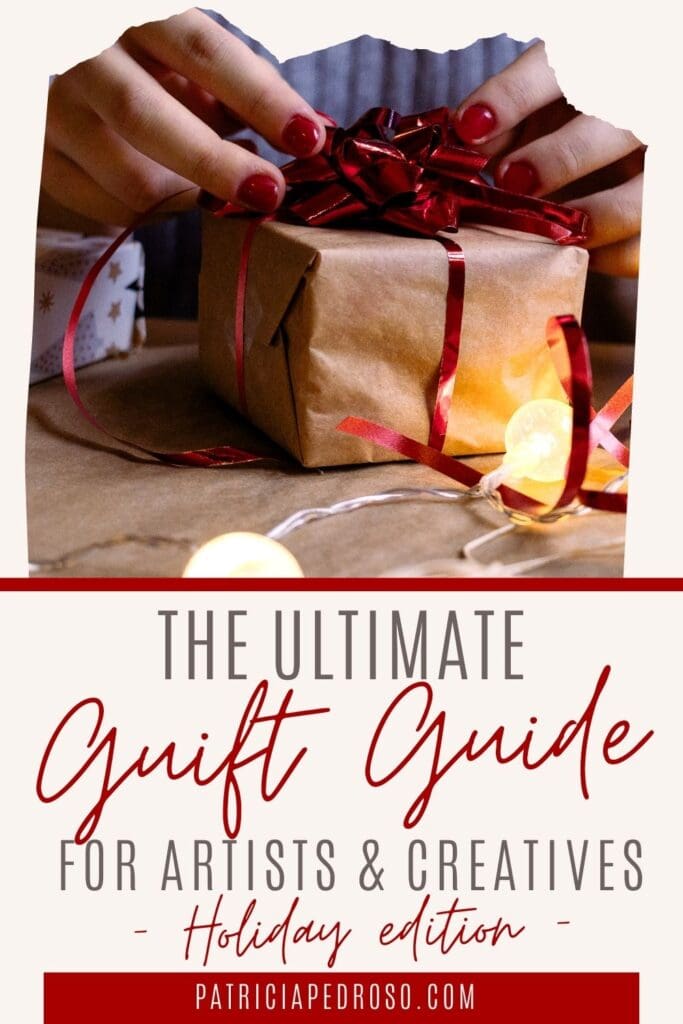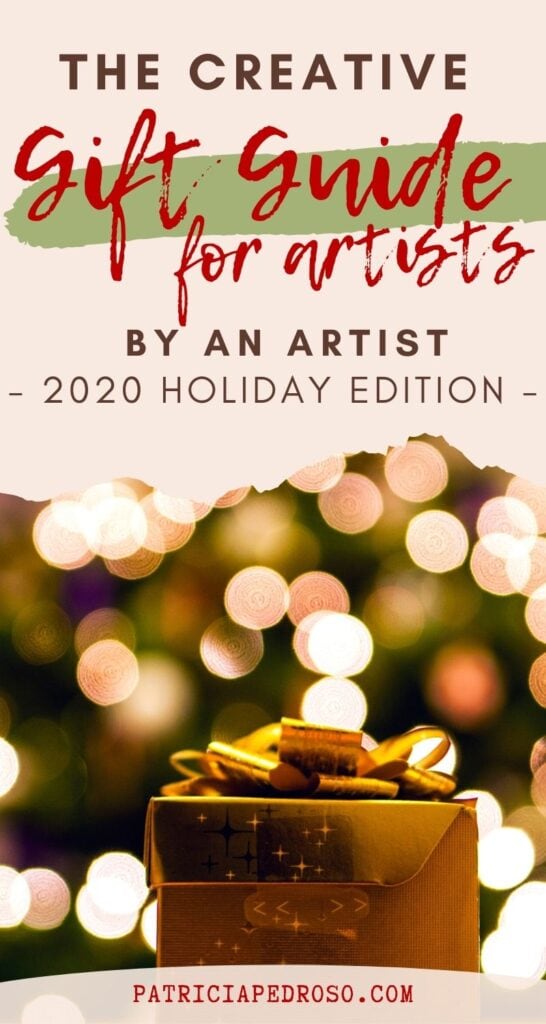 Quick intro: Who am I to recommend you anything?
I quickly want to say, that I consider *most* gift guides I find around pretty bad. This is because you can clearly see the people that put them together have no idea about art supplies or artists tastes.
They just take clever or popular supplies and put them together in a post…
I wanted to provide more value and insight, as I'm an artist myself and being in the artist community I'm familiar with what artists get excited about.
I'm not going to throw 100 item ideas at you and leave it at that. I want you to really get something they would love!
So this gift guide for artists is a bit more chatty, trying to give you a variety of ideas from several more creative & original concepts than simply art supplies.
If you don't have the time for long & chatty right now but you're curious, bookmark this for later!
But if this is not what you're looking for, that's alright too!
*Reminder that this post contains some affiliate links. This means I might get a small commission when you click and buy something with that link with no additional cost to you. However, my reviews and recommended products are not influenced by this, I'll only recommend what I use and what I believe is good. Click here to read the disclaimer if you want more information*
1 – GIFT THEM SOMETHING FROM THEIR FAVOURITE ARTIST
It's no secret that artists love art.
And if we can, we love to support our favourite artists and have things that were done by them.
Now, hopefully, your artist friend or partner has mentioned some of her/his favourite artists to you or has some work, prints or books from them so you can check out their names & websites or social media.
Maybe you have to be a bit sneakier about it and try to get it out of them on a conversation – or check who they follow on social media, though it's a bit broad…
Once you have that, here are some varied ideas of what you can get from them:
COMISSION THEM
Get them a special piece made just for your artist!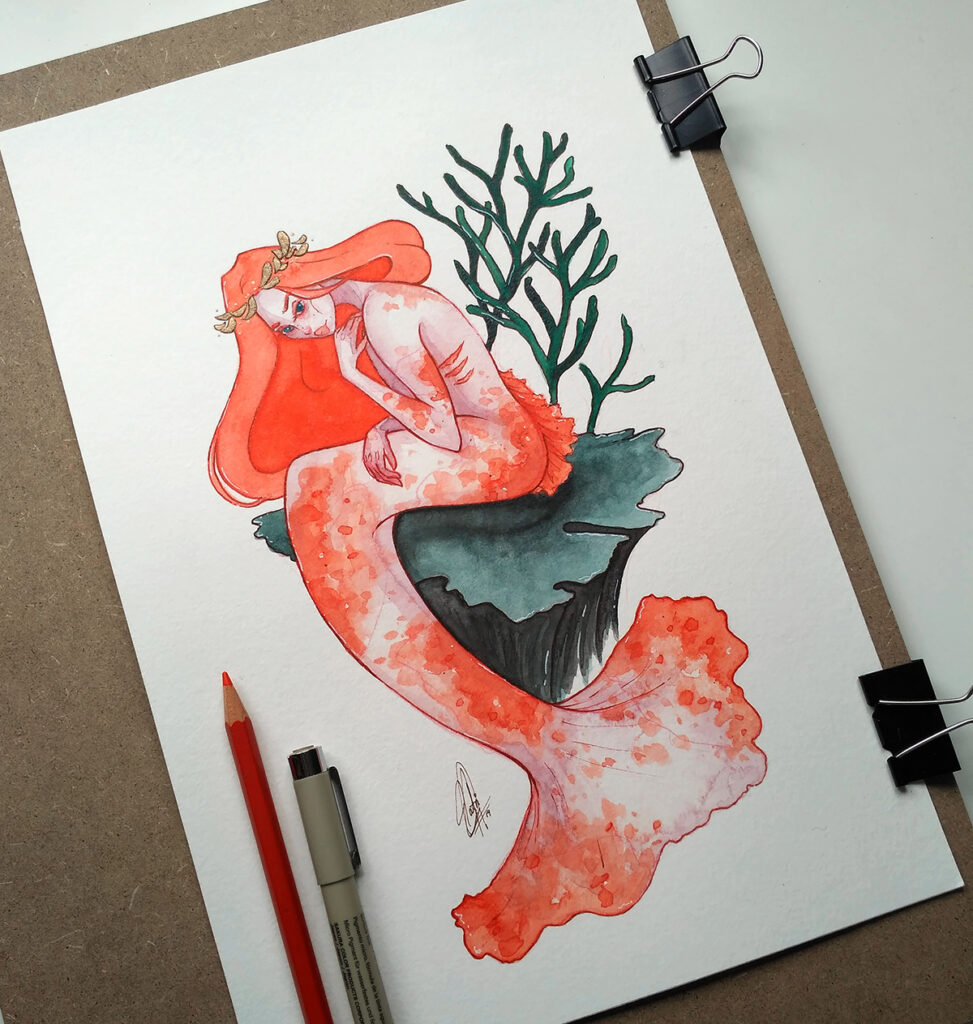 This is something you'll have to plan a bit ahead and it might not even be possible as some artists close commissions if they have a lot of work. – or don't do them at all.
You can find all of this info usually on their websites or on their social media.
If not, write them an email, it's usually the best way to get in touch with them (dms & comments over on social media tend to over saturate them or get lost)
Some advice about how to go with commissioning an artist:
Respect their prices & their methods of payment. Pressuring creators to get discounted or free art it's disrespectful and would probably put them in a bad mood. Which would lead them to ignore or even refuse your request.
Let them do their thing. Even if you have an idea in mind and you give them some pointers, it's always better to give certain creative freedom to an artist, it leads to better results!
If you're in a hurry and they can't provide it in time, you can politely offer to pay a bit more to see if they could rush it or give it priority. However, if they say they can't please be comprehensive and don't be pushy, we're only human.
And if your artist loves their work, I promise they would love it even more if you gave them as much creative freedom as you can.
GET PRODUCTS FROM THEIR SHOPS
This can be anything from an original drawing/painting or a print, merchandise or such.
Or get a bundle with a few different things. (aka prints, stickers, enamel pins, zines,…)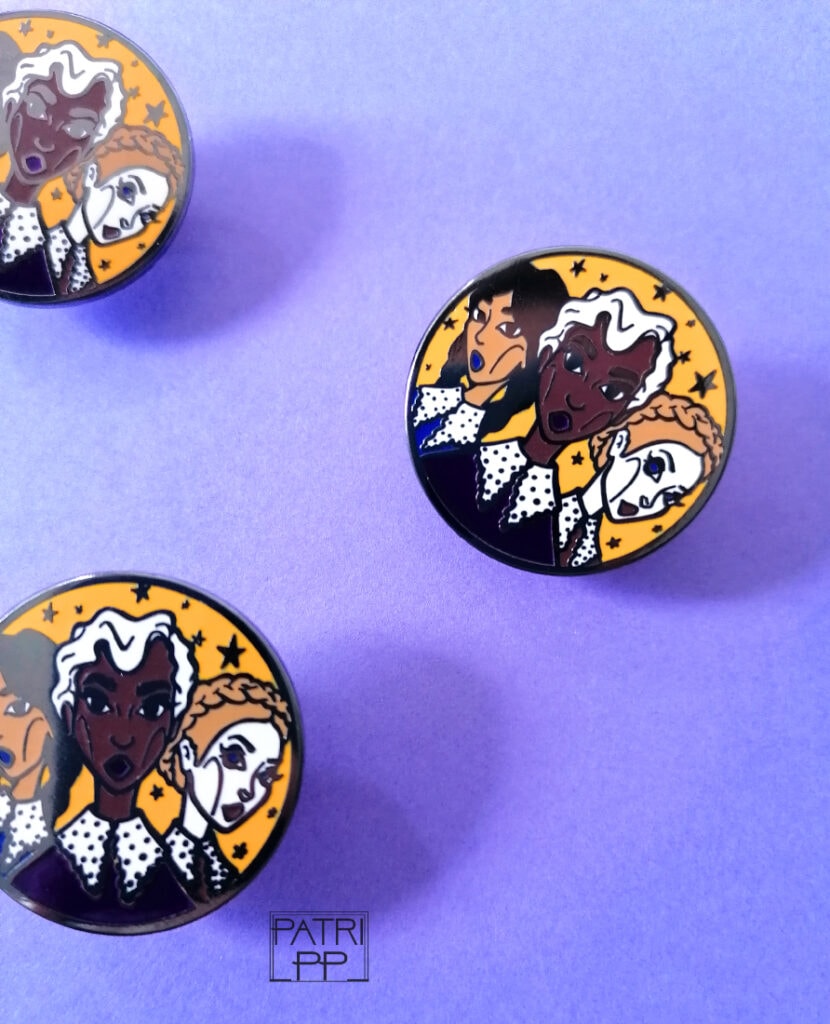 Some artists might not have a website with their art but you'll always be able to find links to other platforms on their social media.
Examples of some of those could be Etsy or BigCartel – platforms where they can have a shop with handmade items – or print on demand sites like Society6, Redbubble, Inprnt & more. – these last ones are external sites that print the artwork and send it while giving a % to the artists.
A good thing about print on demand sites is that you can get stuff from various artists they like with the same shipping and sometimes on merch we wouldn't produce otherwise. Oh, and they run a ton of promotions on this time of the year. – Specially Society6 & Redbubble.
Inprnt, apart from their own shop, is the one that pays higher rates to artists – that I know of – if you want to support the artist a bit more. The only problem is that they offer a smaller range of products.
BUY THEIR ARTBOOKS OR ZINES
If the artist is quite well-known they might have their own artbook out.
In the case your artist doesn't have it yet, it might be a great gift!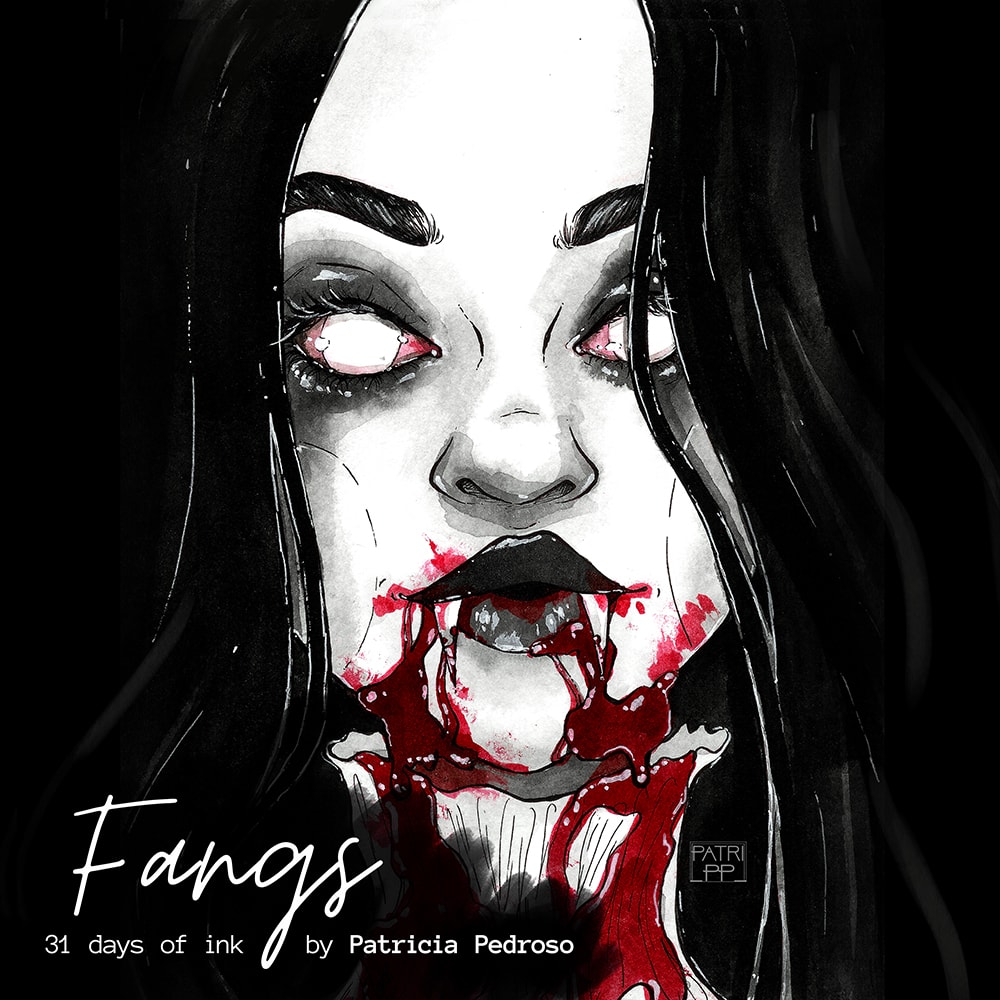 A good place to search (apart from good-old Amazon) is 3dTotal, they have helped a good number of artists get their own professional books out.
Most of the books will also be on Amazon, some times cheaper, but in 3dTotal sometimes they run promotions or have signed bookplates coming with the book.
Here are some examples of quite well-known artists and the links to the books, just in case it helps:
Some others, might have their own printed zines on their own shops.
2 – HELP THEM LEARN!
Every artist I've seen so far loves to learn and experiment with new things. So, I felt this was an esential point in this gift guide for artists.
Anyway, no one will say no to education for free, but especially if you hit right in the spot where they might need help.
You hit two birds with one stone as you'll be making them feel accomplished they learned something new and also give their art career a boost! – if that's something they're pursuing.
So, how should you go about this?
If you happen to know about something specific they would like to learn, then go on and research about good courses & books about that.
Let's say that you know they've been looking into starting with watercolours. It's much easier to hit exactly on what they want this way & start your reaseach.
Let's say you have no idea about what they might be interested whatsoever or just a slight idea (maybe about the area of art they want to focus on). Here are a few options about this:
Skillshare is one of the best options if you have absolutely no idea about what they might want to learn or if you know they're interested in a wide range of topics.
In this platform, there's courses basically about everything, general & specific; from business, to creative topics, programming, cooking, marketing, drawing, painting… Anything you can think of, really.
You can take the courses at your own pace, do the assignments and get feedback from the instructors. It's just an amazing thing to have at the tip of your fingers for whenever you need to learn more about a topic.
I'm a Skillshare affiliate, so if you register with this link you can get a FREE two week trial at Skillshare so your artist can decide if they like it!
After that, you can get the annual subscription for 96€ (about 110$) – about 8€ a month – or the monthly subscription for 14€ (16$).
This is actually a really cheap price to pay for all the content you can get. As long as you use it, of course!
To get slightly more specific, though still broad, I want to tell you a bit about Society of Visual Storytelling (SVS).
This is a platform for artists that's a bit more focused on preparing them to be a children's book illustrator. It does have courses on the basics on illustration too, so it works for a bit of a broader spectrum. Most artist say that platforms like this one and the next I'm mentioning are better & much cheaper than college
Not sponsored in any way, I've simply followed the creators for a while over on their Youtube & podcast and they taught me a lot even when I'm not so interested in the children's publishing world.
If you think this is something that aligns with the tastes of your artist, here's the info about how it works:
There's of course the subscription method, that's the best if you have zero idea about what they might want. They can have a free trial of 30 of the subscription, with access to all the courses and after that it's 198$ annually (about 17$ a month) or a 25$ monthly subscription.
The other way, is that you can buy the access to courses individually. It does get more expensive, but it might be worth it if you're convinced of what you're getting.
Here's the collection of courses for you to check out.
So, this might easily be one of the most well-known learning platforms for artists. It has now over 40 courses on different subjects by professionals of the industry.
Now, I don't want to go into full detail in this post because I have a detailed review of it and how it was for me to get the annual subscription here.
So, really quick; just the same as the previous you can get an annual subscription for 300$. (they have a sale twice a year where you save 100$) And a monthly subscription for 30$. With both of these, you can access all courses and do everything at your own pace.
The other option is to wait for the critiqued sessions and pay for that, where the teacher goes in and checks every assignment, for around 1000$.
OTHERS
Lastly, on this "learning section" of the gift guide for artists, I wanted to mention platforms like Gumroad or Cubebrush that have courses too.
A very well-known and complete course on CubeBrush is Marc Brunet's Art School for digital artists. Cheaper than a year of college, this course will leave your artist with more art knowledge than a full college course. – you can also buy it in terms to test it.
Sometimes, if an artist is well-known they might even have courses on their websites or a platform for that.
So, if you know your artist loves certain specific artists you can try search for them in these platforms or on their websites to see if they have courses you can get them.
Or, you can get their instruction books too.
Here are a few that are highly recommended around for artists by artists, just to give you a few different examples on different topics if you'd rather go with instruction books.
FRAMED INK (I & II)– The best book on composition, every artist that has it recommends it.
Drawing the Head and Hands – by one of the old masters; Andrew Loomis
Books on animal anatomy & creating creatures by Terryl Whitlatch, the expert creator behind some of the designs of the Star Wars creatures.
A basic on artist's collection: Drawing on the right side of the brain.
How to Draw Comics the Marvel Way – A crash course in comics from gurus.
3 – THERE ISN'T AN ARTIST THAT WILL EVER SAY NO TO ART SUPPLIES!
I just had to mention this, because it's an obvious basic on a gift guide for artists….
But pretty please, avoid the really cheap ones.
I'll explain myself: I see a lot of gift guides with a list of supplies, simply quickly grabbing links from amazon where they actually recommend really bad art supplies.
I don't have anything against cheap art supplies, sometimes they're great! But these lists usually have zero idea about what they're recommending, so before going ahead and buying something your artist won't use or won't enjoy, research a tiny bit.
For example, Arteza is a great brand with affordable art supplies with a decent quality.
So, you already know that the supplies are medium quality, but they're affordable and great to try and practice. And by the way, I'm an Arteza affiliate, so here's my little discount code if you decide to purchase something (or a bundle) from their website!
I'll also list their seasonal promos here as they notify me of them! So, keep an eye out!
Till November 9th: ARTEZANS – 20% off purchases of $79 or more sitewide. Or SWEET – 25% off purchases of $100 or more sitewide. Go check it out here!
Related: Arteza gouache 60 set review.
For example, I've heard some of the cheap watercolour sketchbooks from Arteza aren't that great, so I would avoid that if I were you. – See? I don't recommend anything that I think it's bad for you, even if I'm an affiliate.
But they do have better watercolour papers, so here's a video where Arleesha tests the different watercolour papers if you're interested in that:
SKETCHBOOKS
Sketchbooks are great, we all love them! – just another basic I had to mention in a gift guide for artists…
But, I have been gifted bad sketchbooks before or sketchbooks that don't fit with my style of drawing/painting. And that's always a disappointment.
Cause it's sad, so you try to use them not to waste them, but in reality, you don't enjoy them. Or they just end up catching dust in our shelves.
So, to avoid that, here's my Ultimate Guide to choose a Sketchbook! Even if you have no idea of what they want, I also added a few recommendations with different parameters that might help you choose!
OTHER IDEAS
For other art supplies ideas – with actually sensible recommendations from an artist – it might be better you check my first "Gift guide for artists on a budget" that was more focused on that!
Or, you might want to get them a gift card of a big Art Supply store! So they choose their own favourite tools.
4 – EXPLOIT THEIR TASTES!
So, everyone has their own tastes and obsessions, right?
Favourite videogames, movies, tv shows or series, music, …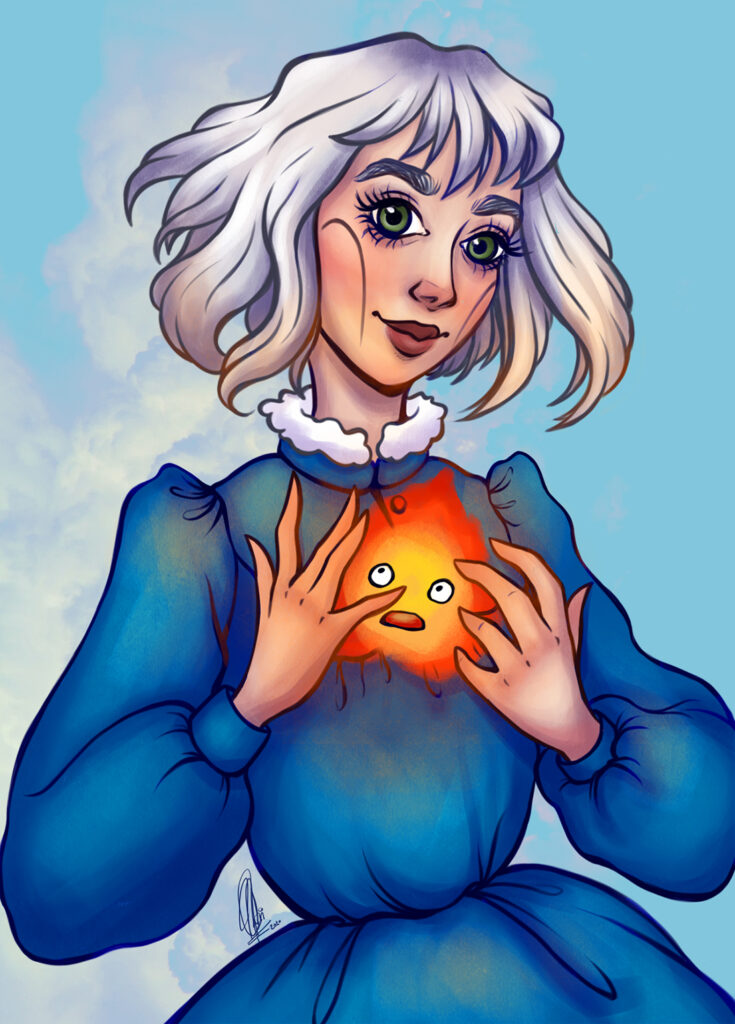 That's probably something you already know, so let's use that!
How cool would it be if you got them an artbook from their favourite movie or videogame? Yes, there is such a thing. I actually love them!
I have a review of the Spirited Away Artbook here, in case you want to see how they look on the inside!
Here are some examples just so you can see what I'm talking about:
Another really cool thing would be to get them a pack of stuff from their favourite "insert name of movie/game/…". Some examples could be merchandise, the artbook as I already mentioned, a special edition, enamel pins, prints of fan art from artists they like, etc.
Or maybe even commission an artist to get something done from them, themed with their favourite "whatever it is".
Some artists don't like doing with doing fan art, but a lot do.
I, myself love doing fan art and I'm open for commissions this time of year! – shameless plug. You can find my work and more info about commissions on the portfolio & hire me tab.
5 – A DIGITAL DRAWING TABLET
Getting a drawing tablet as a gift would definitely leave your artist in awe.
Mainly because it's such a big investment that we put it off as much as we can or we get a cheaper tablet to get us through it for a while.
So, this makes it the perfect gift! – as long as your artist friend/partner is into digital art or edits their artwork on the computer or something similar.
I'm gonna give you a few options at different price points, mainly of the ones I've tried myself. But I'll also mention a few others that might work even if your artist has a tablet already.
Let's call this next section the "digital tablet mini gift guide for artists"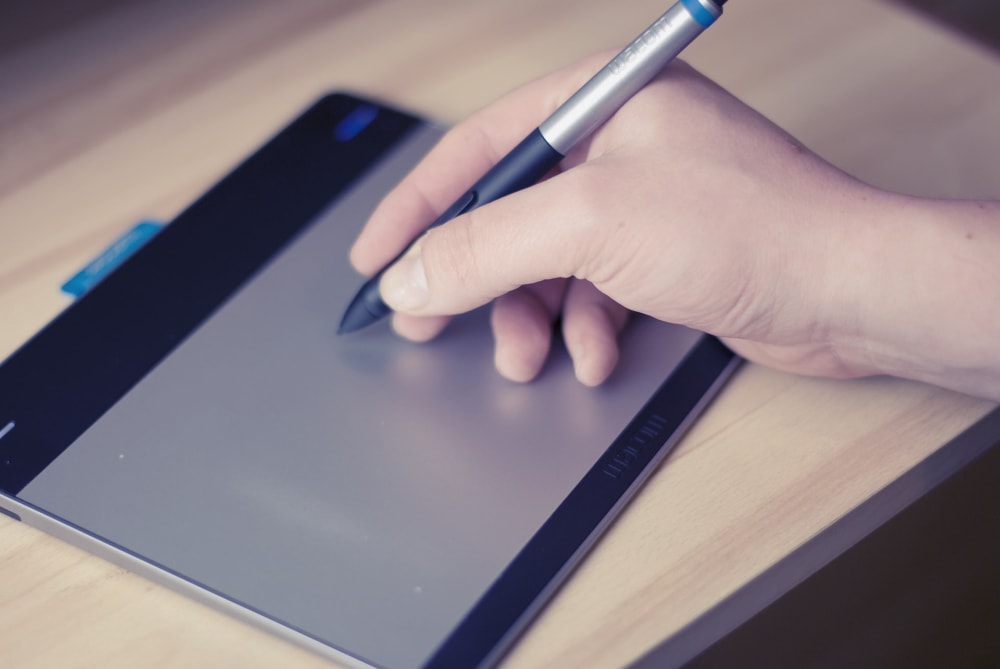 This Wacom Intous was my first tablet. It's a non-screen tablet that's very affordable, ideal if they're starting out in the digital world but don't want to make a big initial investment.
You know, just to test out the waters!
Mine is still working perfectly after a good 6-7 years. I don't use it much anymore but it's still holds up its own.
The only downside is, it's non-screen, so you have to look away from the tablet – to your screen – while you draw on it. This isn't a big deal for most artists but it can be an issue, so I thought I would mention it.
The Deco Mini 7 is another non-screen tablet. With the same issue as addressed before.
Again, very affordable and a good fit for beginners.
Also, XP-Pen has let me know that they're having a huge sale all this November – up to 30% off! Go take a look here.
But I have a full – very detailed – review here and on youtube, so I link you to it instead of keep writing!
Alright, so now we move to screen tablets. This means, you actually draw on the screen.
This one is a good affordable option for beginners, as it's not too pricy but good enough to get started as well, with the change that it is a screen tablet so the price does go a bit up compared to the previous.
XP-Pen sent me the Artist 12 Pro some time ago to try out, so I have a video and written review if you want to know more!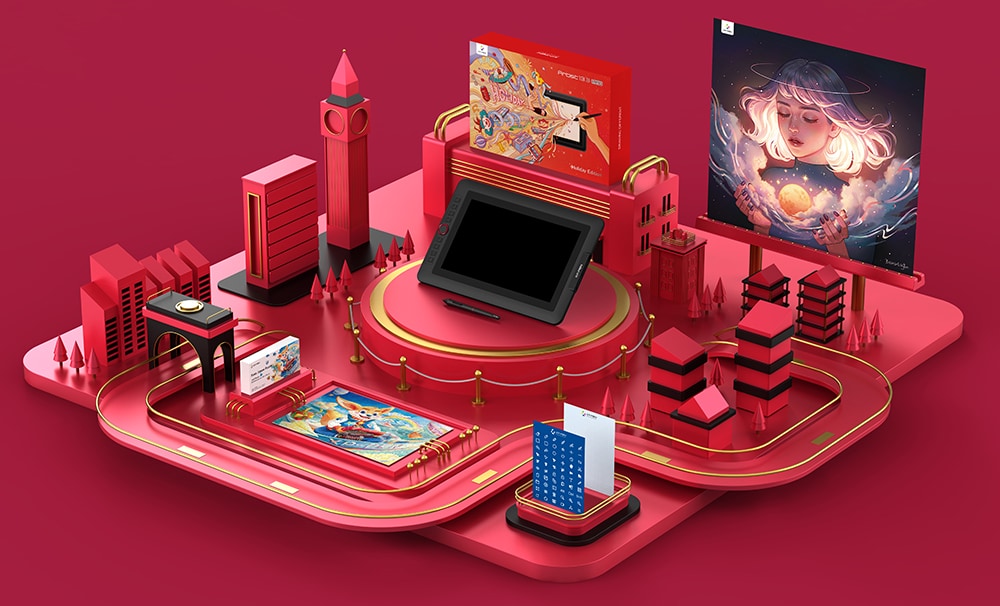 Read my review here! I also have a little section comparing it with the Artist 12 Pro.
Who doesn't want some extra goodies with their tablets in a special packaging? That's why these Christmas editions from XP-Pen make for such a great gift!
Here is a peek at what this Christmas edition looks like (and the goodies!) but I have more info and an unboxing for you in my review.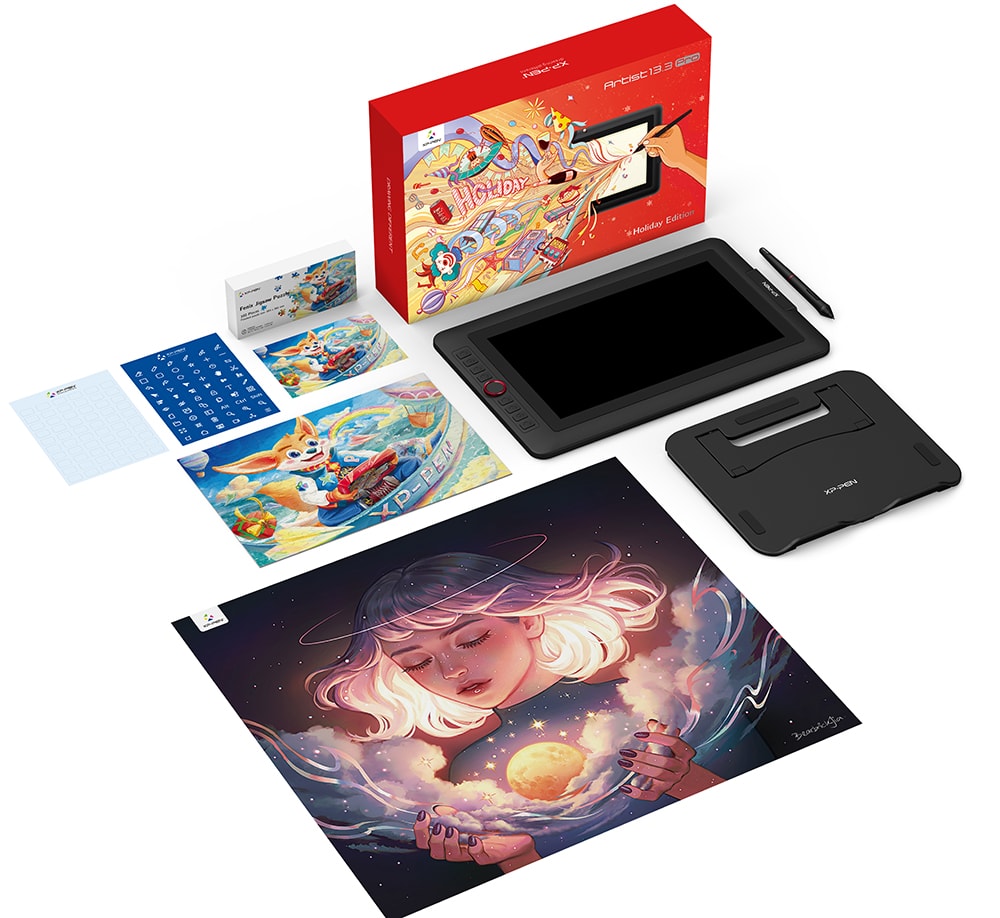 The tablet's really similar to the Artist 12 Pro, I've been also told that the characteristics are similar too. The main difference it's the size, as the Artist 13.3 Pro is slightly bigger.
My trusted Wacom Cintic 16 is my current most used tablet that I use for work & personal work.
It's on a bit more expensive than the previous but the size it's also bigger. It's also one of the cheaper models of screen tablets Wacom has out – one of the most prestigious tablet brands.
So, no it's not the best on their range but it's definitely a very strong model. I give it extensive use, it has more than 2 years now and it works like new.
But if you want to know more, cause I feel that you should before investing on a tablet, again I have a dedicated review on it here!
IPADS & OTHER OPTIONS
I think most of the tablets I covered are in the "giftable" spectrum of things. Because I know not everyone is going to spend more than 500$ on a gift.
However, I wanted to mention that are other higher quality tablets by XP-Pen & Wacom. – there's a bunch of other brands out there too, like Huion, but I don't want to recommend them cause I haven't tried any of them.
So, if you really have the money and want to, getting a bigger more professional screen tablet might be good if your artist already has some experience with digital art and you know they like it.
Here I wanted to mention also the case of the iPad + the apple pen + Procreate (the best painting software for iPad so far).
A lot of artists want the iPad, myself included. But if you're considering it I want to give you a peek of what I've seen artists say about it.
Basically, is it worth it?
So, yes, the iPad it's really great and practical for when traveling or just sketching and doodling on the couch or in bed.
However, most artists will agree that if they're doing professional work, or products out of it, they would first invest in a screen tablet.
Because, to be realistic, the price of a decent screen tablet nowadays is cheaper than the iPad and it's definitely a more flexible tool.
Conclusion: if your artist already has a digital tablet and they're happy with it, yes, getting them an iPad would be a good idea. If not, investing in a tablet is the consensus of the better option.
6 – SUPPORT A PATREON/KICKSTARTER FOR THEM
We're in the digital era now so a lot of stuff it's being self-published and there isn't a shortage of projects or creators to support.
Consider offering to support a creator your artist likes on Patron for a few months (or however long you want, maybe depending on the pledge). In the case of artists, a lot offer tutorials, private critiques, goodies and stuff that will be almost like a mentorship for your artist that I'm sure they'll appreciate.
This is the one of the parts of the gift guide for artists that I consider slightly more out of the box than most I see…
Another option is to support a Kickstarter/Indiegogo project of an artist they like. There's a ton happening all the time!
Or, jumping back to the point I mentioned before, sometimes indie game companies make Kickstarter with special projects like a board game or special editions, artbooks and stuff.
Just a quick example, 11 Bit Studios, the studio that made the game "Frostpunk" just launched an amazing Kickstarter for a board game inspired by the game. I found this out actually cause my boyfriend loves this game and it gave me this gift idea.
7 – EXPENSIVE "RELATED" SUPPLIES – Tech & more
If your artist works somehow professional or does sell products of their work, there's no shortage of other stuff we need that could be a life saver if you get for us.
In this one I'm actually going to run with examples, just so you have an idea of what you can get.
Things like a Lightbox could be really useful – only if you've seen your artist transfer work between digital & traditional.
If he/she is into recording for YouTube, Twitch or simply Instagram: tripods, cameras, softboxes (light), a microphone, …
I don't have many recommendations yet for this stuff – as I record mostly with my phone. But I did purchase a tripod a few months ago that was quite affordable and has been a lifesaver ever since. (works both for phone & cameras)
If you know he/she scans their stuff & prints (or wants to), printers & scanners are another amazing gift.
Going a bit further into that, if they already have one, maybe a tag printer, a cutting machine (if they want to make their own stickers), … And honestly, if you think about things they might have mentioned maybe you can even recall other options to add to this.
8 – SUBSCRIPTION BOXES OR MAGAZINE SUBSCRIPTIONS
Have you heard of art subscription boxes?
There's a few out there that are quite recognised and some artists really enjoy the thought of getting an art-supply box on their mails every month with random content. Helps them experiment with new stuff!
The one that comes to mind right now it's Art Snacks! It's quite well-known among artists and the art supplies are usually high quality!
And you can get 10% OFF your first month if you buy through this link here!
I have yet to try it, but if I do I'll add my thoughts about it here.
Then the second option I thought about was art magazine subscriptions! There're magazines out there like Beautiful Bizarre Magazine that are a work of art. Could almost be considered as a collector piece if you're into magazines!
Actually, I could say any creative sort of magazine might apply. – But my main examples are always drawing/illustration related cause this is, after all, a gift guide for artists…
9 – HELP THEM BEING MORE PRODUCTIVE!
As we get to the last point of this gift guide for artists, I thought I'll add this option to try and help your artist to be more productive & organised.
And save time, remember; "work smarter, not harder!"
And which artist doesn't love stationary? I promise I haven't heard of one yet…
So far, I think the consensus it's that journaling and bullet journaling are powerful tools to help you get better at organising yourself and being more productive, achieving your goals and all that stuff.
I know there's other methods of organization, but this is what I use so it's the only I can actually talk about.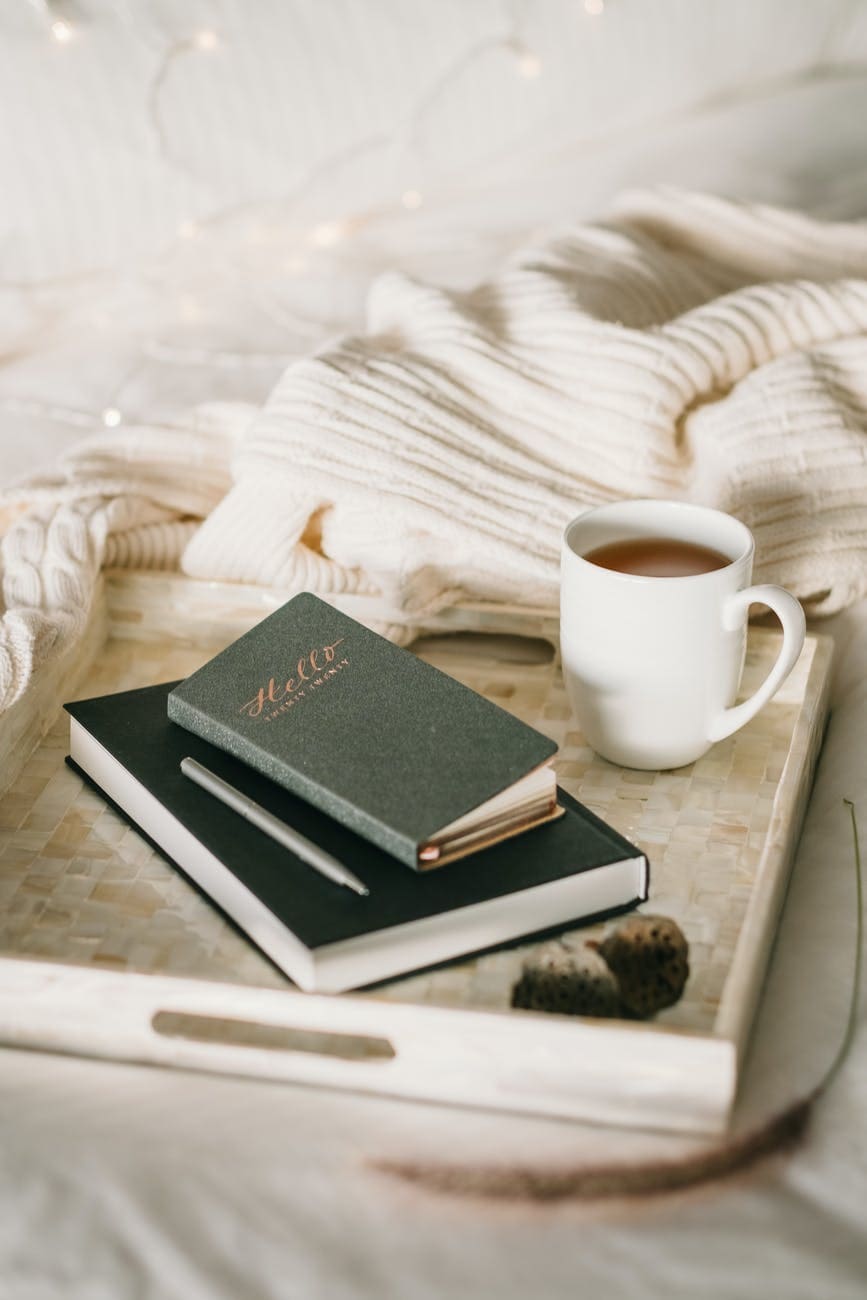 One of the best & most satisfying things about a bullet journal is having some of those cute supplies that make your life easier and your planner cuter.
Shops like Stationary Pal will make your life easier if you want to get them a cute starting bundle – or some extra supplies – as they have a ton of stuff, really affordable and good quality! – I found this page as a much cheaper alternative of some supplies on Amazon and the quality seems to be quite good!
They're now offering bundles like the one in the image – available in other colours too like the blue linked here – that are bullet journal starting bundles that are perfect as a gift!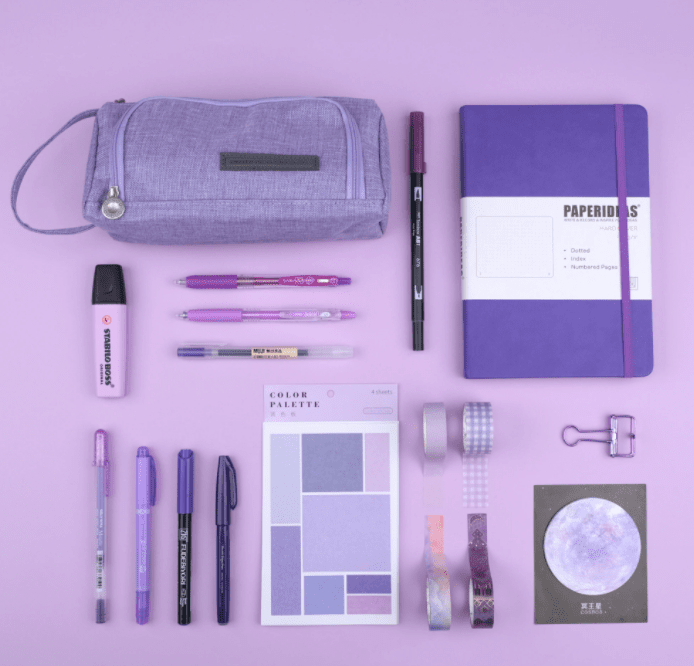 Now you can get 10% off on your purchase with this link! Or simply use the code PATRICIA849 at checkout!
I have a post here about the reasons Bullet Journal has helped me being way more organised in just a short period of time, just in case you're not convinced yet.
---
Final comment about this Gift Guide for Artists:
And that's all! Phew, that was a long post to write…
Let me know what you thought of these ideas in the comments!
I wanted this "gift guide for artists" to be really useful and with – hopefully – some ideas you don't see everywhere more than trying to be sales-ly.
However, if you do buy anything with one of my links (not all are affiliate), I do appreciate it a lot, as you help me earn a bit that helps the work I do on here!
And I tried to offer you coupons on anything I could find or I was an affiliate from 😊
I'll keep my newsletter updated with all the special sale offers I might receive from the companies I'm an affiliate, so if you want to receive that, sign up here!