Overview & review of the special 15th Anniversary edition
Today I bring you another tablet review! In this case, is a very special one as this was a limited-edition package of the Deco mini 7, with some extra goodies to celebrate XP-Pen's 15th Anniversary!
But I'll show you all of that in a jiffy with a lot of pictures.
Or, you can go watch my YouTube video where I also show you the unboxing experience! – I know we all are suckers for that, or is it just me?
As this is the special Anniversary Edition, I'm wasn't really sure if it's a time-limited offer, so you can also get the non-anniversary edition here in case it's no longer available when you're reading this.
Still the same tablet, it just adds the goodies!
Do you know XP-Pen just launched a new Wireless version of this tablet? Check out my review here.
Now, let's start reviewing the Deco mini 7.
The XP-Pen team sent me this tablet for free in exchange for both of these reviews, but everything I said both on the video and is my honest opinion and the real characteristics of the tablet – and I tested the ones I could – as I would never recommend something I don't like myself.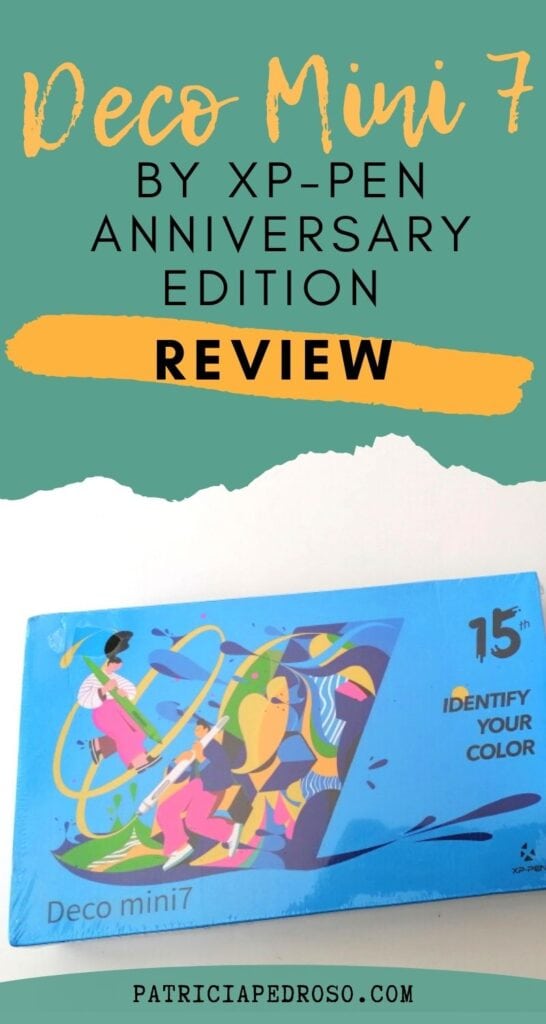 *Reminder that this post contains some affiliate links. This means I might get a small commission when you click and buy something with that link with no additional cost to you. However, my reviews and recommended products are not influenced by this, I'll only recommend what I use and what I believe is good. Click here to read the disclaimer if you want more information*
PACKAGING DETAILS + Anniversary Edition
As I said before, one of the best ways to see what this package offers is just to watch my unboxing, where I show it to you.
But I'm gonna try to show it to you here too with pictures!
BASICS
I'm gonna start with the "basic package" of the Deco mini 7, and with this I mean just the things that are involved with the tablet, not the Anniversary goodies.
So, of course, first we have the tablet itself, protected with the usual plastic screen protector – the one that's so satisfying to rip off…
Then, the second basic is the pen, it's battery-free so you don't have to worry about charging it. It also comes with some replacement nibs. – 10, if I counted correctly.
And lastly, the cables that allow you to connect the tablet to your computer. In this case, just one, as non-screen tablets usually don't need to be plugged to the wall. – yay for less cable mess!
This one also adds a couple of phone/tablet adaptors (USB-C), cause this tablet is also compatible with Android! But I'll talk more about that later on the post.
Then – and this was something that left me a bit confused at first – there's a little metal ring…?
So first I had a moment of "what the hell is this for" and it lasted me for a couple of days but then I had a weird and very unplanned aha moment where I unconsciously tried to use it to take the nib off the pen.
There's always some sort of mechanism for that in tablets, I just didn't think of it until I thoughtlessly tried.
So, if you didn't know, now you do!
GOODIES OF THE ANNIVERSARY EDITION
I must say it now; the Anniversary Edition is just so cute!
It comes with 5 beautifully designed postcards of the XP-Pen's mascot, Fenix, on different locations of the world.
Also, there's a little pack of 10 adorable stickers that I'm planning to use to decorate my sketchbooks.
Now, lastly XP-Pen also sent me this amazing colourable figurine of Fenix to paint!
I think, after researching a bit, that this is not part of the Anniversary Edition of the tablet, but an extra goodie they decide to send me.
But onto more about it, I was quite amazed at how robust and solid this figure was and I'm really looking forward to try and paint him!
The colourable Fenix is made of eco-friendly UPR (unsaturated polyester resin), it's about 15cm high and weighs about 300 grams. Also, its packaging is really lovely too!
Psst! I was thinking of giving Fenix a cool looking costume (maybe Halloween themed, now that the time it's approaching?) and then display him on my new home studio!
Want to give me ideas of how to paint him? Leave it in the comments!!
I might later record the process to YouTube, as I'm a newb at painting figures and I think you might like to see me struggle… And I will share your name & any blog/social media – if you want me too – if I choose your idea!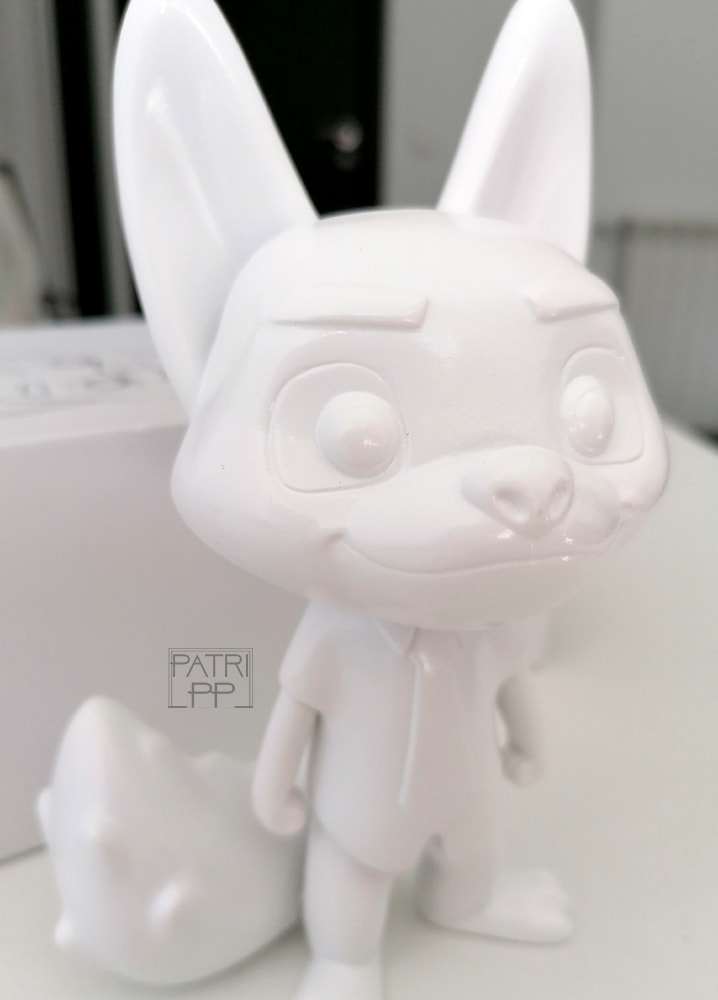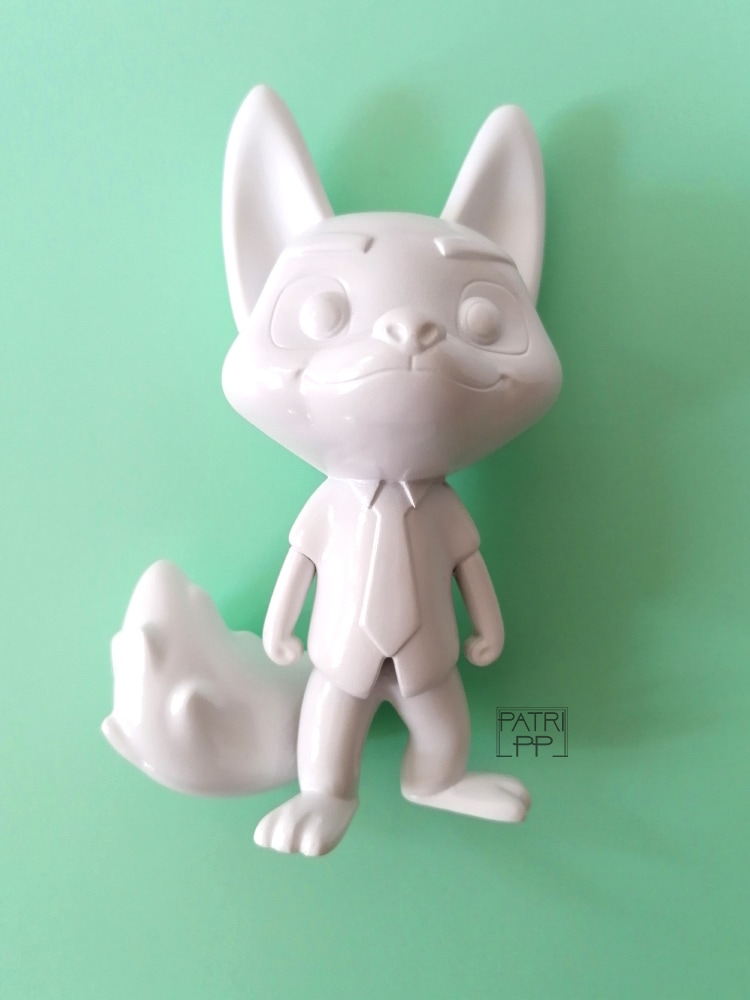 By the way, this is the link to the Fenix colourable figure if you want to get yours!
CHARACTERISTICS OF THE TABLET
So, let's get down to the nitty-gritty of the Deco Mini 7. I'm talking technical details now and I'll give my opinion after.
The tablet itself it's approximately 26×16 cm (a bit bigger than an A5 notebook or sketchbook) and the working area is about 18x11cm. Also, on the tablet we can find 8 shortcut keys on one of the sides, depending if you're right-handed or left-handed you can turn the buttons to the side you're most comfortable with.
The tablet is compatible with Windows 10/8/7, Mac OS 10.10 (and higher) and Android 6.0 (and higher) – more on this last one later. Same with most drawing programs (Photoshop®, SAI®, Painter®, Illustrator®, Clip Studio®, GIMP®, Medibang®, Krita®, Fire Alpaca®, and Blender® 3D…)
And both the pen buttons & the tablet shortcuts are easily customizable for most of the same drawing programs I just mentioned.
The pen is quite lightweight, has two buttons on the sides for a shortcut (usually right-click but customizable) and the eraser. It supports up to 60 tilt degrees allowing you to imitate brush-like effects and has 8192 levels of pressure sensitivity.
I did a quick comparison with the pen from my Artist 12 Pro, that XP-Pen sent me to review a while back (find it here), and it looks really similar to this one. Similar weight and style, except a few stylistic changes on the side buttons and the tips of the pen.
I haven't tried it for too long, but so far, I think I like the feeling of the tip of this one better.
INSTALLATION SIDE
As it is with most of the drawing tablets, the installation side is really easy. It literally takes 5 minutes – well, unless your internet connection is really slow…
Once you download the driver for the tablet (linked here just in case) you just follow the installation instructions till it's done.
Afterwards, all that's left is to check in with the default settings to see if there's something else you can change to be more to your taste. For example, I changed the button's shortcuts to my favourite, most used ones and the pressure sensitivity of the pen till it felt right with my drawing style.
ANDROID CONNECTION
So, I was really excited to try the Android connection at first but… let's say it was not to my taste. I'll give you the details bellow.
Even though I'm saying this, it's just my opinion and it might be a different user experience for you if you have a tablet or use different drawing programs.
You'll find a clip of me trying it out on my YouTube video as well.
So, let me list the pros & cons I found.
PROS:
Really easy and intuitive to set up. Just plug it in with your tablet in a vertical position and lock the screen vertical so it doesn't screw up with the tablet position.
Pen detection and pressure sensitivity seemed to work perfectly.
Comfortable to use due to the small size of the tablet and precision of the pen. Especially compared with common stylus for phones/tablets.
Really travel friendly, with very little cable mess.
CONS: (with a phone)
(I'll talk about the different programs I used bellow with my first impression on them, cause most of my opinions come from struggling with them.)
The proportions get messed up when connected to the tablet, as most phone's resolution are slightly more vertical than a screen's proportions.
This means, impossibility to create precise lines. You will be seeing me making ovals on the clip at one point, well, let's just say I was drawing circles – and they were quite round.
Overall it was relatively hard to be precise and draw details, and this is coming from someone who has used a non-screen tablet for years, so I'm used to it and I know it's not because of not drawing directly on the screen.
Then – and this one might actually be because of the program, I wasn't really sure – there was some sort of weird lag (it made dots instead of continuing the lines??) on one of the programs when I drew a bit faster.
CONCLUSIONS ABOUT ANDROID
Again, I'm pretty sure half of these things are to blame on the drawing program, as each seemed to have its own particular problem. The other half, talking proportions, can probably be solved to if working on a tablet with a better proportion conversion rate.
Cause drawing with the tablet it's still 100% more comfortable than most stylus I have tried – and believe me, I have tried a few.
Overall, I don't think I'm going to use it much, cause I don't have a tablet to try it on that might be more comfortable. I have an old iPad (with no apple pen compatibility) that I would have loved to try with this if it was compatible with Apple, especially to try procreate – I've used it before and it's sooo good!!
But I know Apple compatibility is slightly more complicated to get so I'm not complaining!
Still, it could be useful for quick sketches, jolting down quick ideas and such. For me, it just seemed impossible to do full illustrations or more complicated pieces.
Just a sketch was torture enough, thank you…
THE PROGRAMS I TRIED AND SOME FIRST IMPRESSIONS:
So, just because I blamed the programs, I wanted to let you know what I used. I went for free/freemium programs because I was just going to try it out, before I did a quick search to see which ones were worth trying.
I must say, none of them really seemed fully functional for illustrating, especially compared with Photoshop on the computer or with Procreate.
This is what I got, in the order I tried them out:
Autodesk Sketchbook
I went for this one cause I used a lot on my iPad on the old days. (I even did art for a College videogame project with it, but with no shortage of struggles)
Aaand it's much worse for the phone.
I really hated that there wasn't an undo button visible in the screen or at hand. Maybe it was a gesture shortcut but they didn't say it on the initial instructions so that was a big turn off for me.
However, there is a lot of functionality to that program but it takes some time to get used to it.
Photoshop Sketch
This one I actually didn't hate. It was my favourite overall; complete yet simple. – and with an "undo" button, was it really that hard??
A con to it might be that there's basically no brushes when you install it, just three. But no worries here, cause it seems like you can download them or load yours if you use photoshop.
Must say, that if you're planning on using it just for quick sketches the pencil brush it has is more than enough.
Medibang
Amazing first impression. Poor user experience.
This app is a big no for me, even with all the great features it seems to present for a free app. A shame because it seemed to have a lot of potential with grids, comic panels and such.
But, the fact that all the brushes are opaque and round (even when you lower the opacity or try brush pens or such) really threw me off. It just lacks some sort of a basic pencil brush.
You can confirm my bad experience by seeing the bad doodles I did on each, I think it's pretty noticeable when I'm not comfortable.
POSITIVES & NEGATIVES OF THE DECO MINI 7
The time has come to give you my opinion on the tablet!
So, let's start with the positive stuff:
Very simple intuitive installation and setting.
No big "cable mess" as it is with screen tablets. -> clear workspace.
Travel-friendly. Both due to the size and the very little components to carry with you.
Very comfortable to use.
Nice feeling of the screen.
Price/quality value is really good, especially if you're starting out and you want to dip your toes on the digital art world without spending too much.
No need for a fancy computer for it to run smoothly – unlike some more powerful screen tablets.
No apparent lag on computer.
Some negatives:
It might be too small for some artists, especially if working with a big screen.
It doesn't come with a pen holder or something to place it in on the side of the tablet.
More catered towards beginners, this could be good (as I said in the pros, very budget-friendly) but this might not be for you if you're a seasoned artist.
The android feature might not be for everyone. I don't think I would recommend beginners to use it, it will only make the digital world more complicated.
Non-screen tablets are hard for some artists, though I believe you can get used to it with some practice.
CONCLUSIONS ABOUT THE DECO MINI 7
Overall, I was pleasantly surprised with the Deco Mini 7, the feeling of drawing on it was really nice and comfortable and it was very precise pressure sensitivity-wise.
Even tough that lately I've been more used to screen tablets the adaptation to non-screen for me was quite smooth. – but maybe that has to do with me using a non-screen tablet for years till I made the upgrade. However, I know drawing while looking at the screen and not at your hand it's not for everyone.
The feeling of the pen is really nice as well, could be considered a bit too light for some but once you get used to it it's quite good. Even though a lot of people don't use them, I like to have some shortcuts on the buttons and those were alright too – even if sometimes I forget that I have them there…
Still, this tablet is more catered towards beginners. Or maybe educators that need to write on screen, or photographers for photo edition.
However, I still found it very comfortable to use as a more advanced user, maybe even as a travel-friendly alternative if you can't afford something like an iPad or are a sucker for drawing on Photoshop instead of apps – like me.
Also, the Deco Mini 7 Anniversary edition is seriously adorable!
And if you're wondering where you can get it, here are the links to the stores:
MORE LIKE THIS: