What's is Slowvember, you might be wondering?
You see, Slowvember is not a challenge that's widely known, but once I heard about it I realised that it's a really relevant and interesting challenge for artists to take on.
Actually, this October of 2020 I've seen a "Slowtober" trend that I'm sure originated from this one but without giving credit to Lee or anyone.
One piece in a month. It's different, right?
Slowvember is a challenge created by the children's book illustrator Lee White, which, alongside with Jake Parker – Inktober creator – and Will Terry, are the creators of SVS Learn, the online learning platform for aspiring illustrators.
In this post, I'll be explaining further what this challenge is, and alongside with it, some reasons why I think it's beneficial to take it – you see, I've been thinking about taking it for a while and I've come up with quite a few good ones.
And even if you're reading this when November has almost passed, or later I think it might be a good idea to take part in it anyway.
Let's dive in!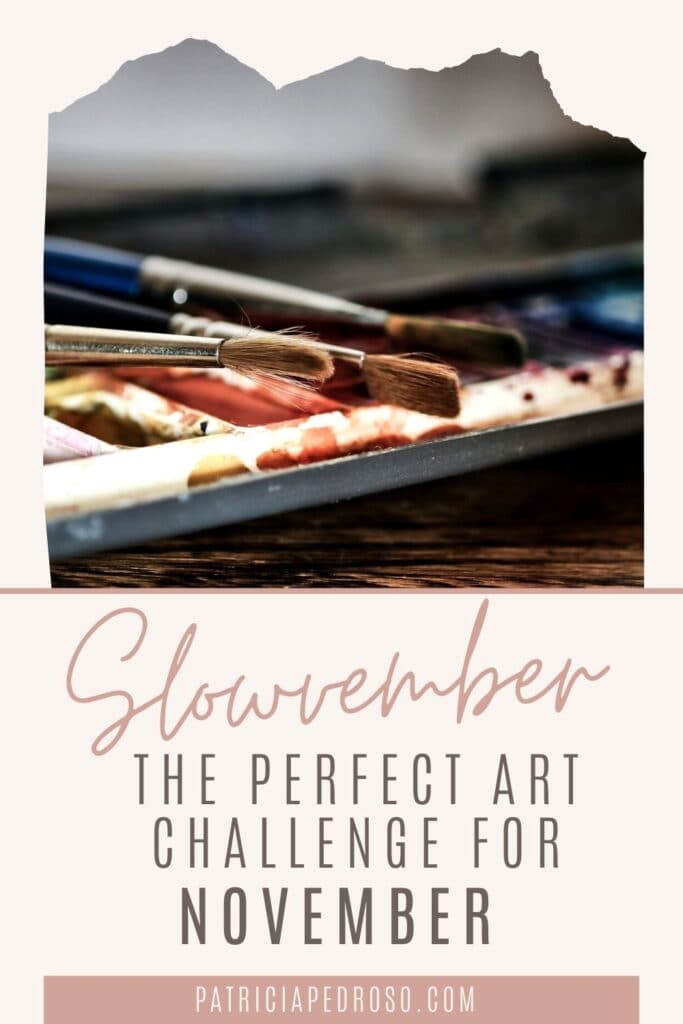 *Reminder that this post contains some affiliate links. This means I might get a small commission when you click and buy something with that link with no additional cost to you. However, my reviews and recommended products are not influenced by this, I'll only recommend what I use and what I believe is good. Click here to read the disclaimer if you want more information*
WHAT'S SLOWVEMBER?
Lee created Slowvember in response to the rush and craziness of Inktober, to slow down and focus on just one thing for the month of November.
That's it. The idea is to create just one, portfolio-level, piece during this one month.
He initially mentioned it only briefly on the SVS podcast Three Point Perspective, but later they added a little explaining post here, and then Lee also uploaded a video on his Youtube channel explaining it further.
But how will I make just one piece in all month?
Here's the idea of Slowvember in a simple break-down that I took from Lee's video:
Slowvember – 1 portfolio level image in one month.
1st Week – Research and development.
2nd Week – Thumbnails, value sketches, colour comps.
3rd & 4th Week – Paint, analyse, paint again.
I think it's a super interesting proposition, as we are so used to continuously produce content – in a rush, sometimes not even exploiting all of our potentials – that we barely take our time with pieces.
Social media might have a little something to do with that…
And all of us who took on Inktober are tired – and maybe slightly burned out – from it that this seems like the natural challenge to follow-up after it.
Lee explains the challenge further and more detailed on his video but I'll also talk more about it now.
YEAH, BUT HOW?
Well, yes, that sounds very good but now you might be wondering how the hell are you supposed to spend all month on just 1 piece.
You can do much more than that with all that time!
Technically yes, but think about it.
This could be the chance to do something you've been wanting to try out.
Or apply something you learned while doing Inktober!
On another note, I also think it's a perfect way to teach yourself some patience and along the way learn how to create a piece with a better process.
In reality, we all hear about these stages of research, development, thumbnailing, etc…
But do really most aspiring artists ever create 20 thumbnails for a piece?
Because I know I don't.
I think Lee's break down helps you understand how to organize yourself better.
For week 1, for example, you can make a new Pinterest board with all the kinds of images that inspire you, colours, subjects, textures, words… whatever!
Come up with recurring themes, concepts, styles, etc. on your images, to start to guide where you want to go with your piece.
Then really take your time with thumbnailing on week 2.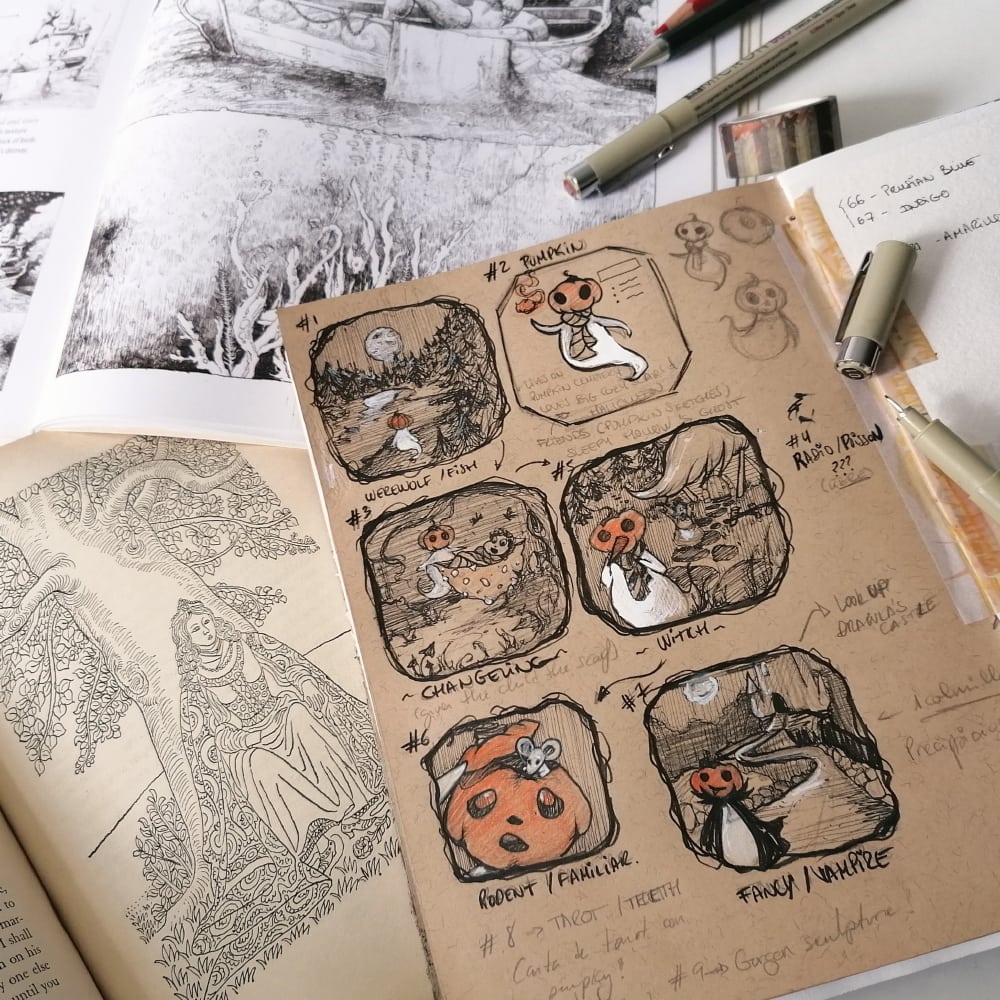 After that, try to refine them while paying attention to value & composition.
–Tip: if you're having trouble with composition, lot's of artists recomend the book "Framed Ink" by Marcos Mateu-Mestre. I still haven't got my hands on a copy but I've heard only good things and recommendations.
And try and choose some colour palettes.
This leaves you 2 weeks to create your masterpiece.
I believe that's plenty of time, even if you have to give it a couple of tries!
WHY DO IT?
There is really plenty of reasons, some of them I have already mentioned or hinted before. Even if you're not the kind of artist who usually jumps into challenges I think this one can actually fit you.
Of course, you're not obligated in any way to do it, but there are more good things to take out of it than bad ones.
It teaches you a process: the process to build a professional-looking and well-thought illustration.
Slowvember won't take a huge chunk of time out of your schedule, unlike other challenges.
You'll have a portfolio worth piece by the end of it. By now you probably already know how hard it is to actually get portfolio-level work on a daily basis, so this is a good chance to get a grasp on the process and give your portfolio a little boost!
It'll give you a chance to explore a medium, subject or technique in depth.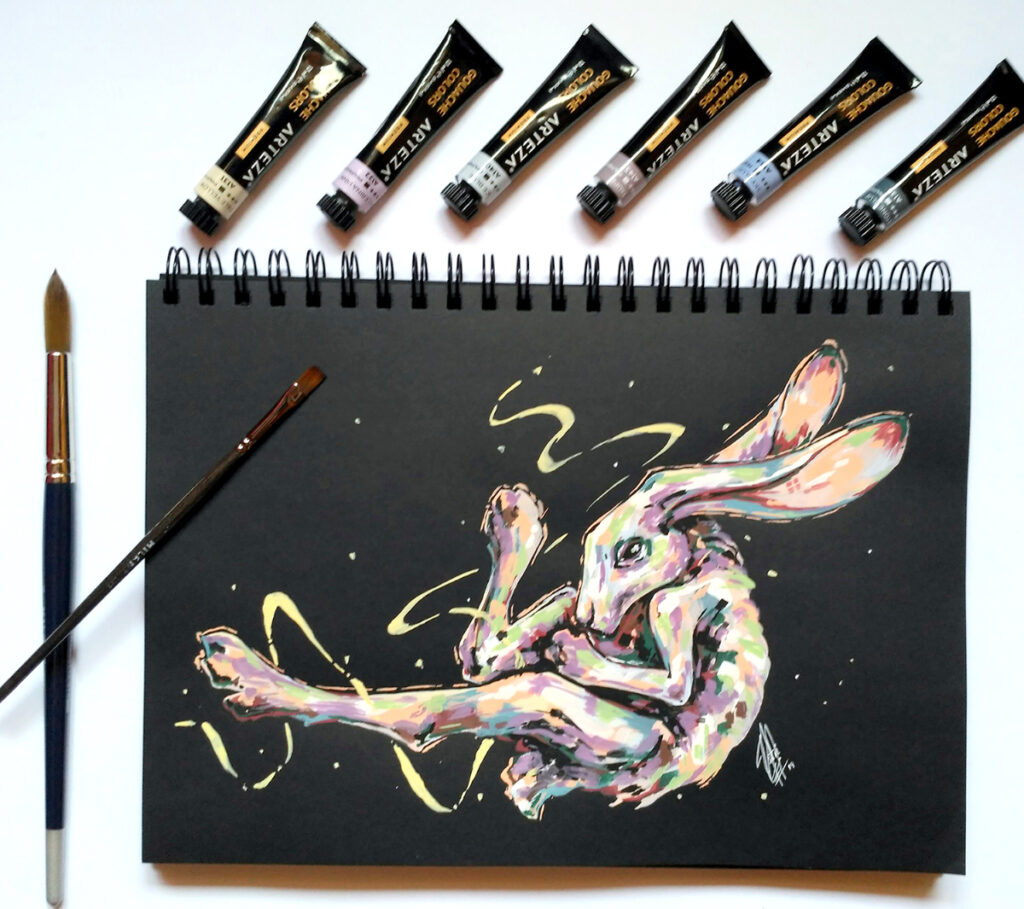 And I think, by the end of Slowvember, you probably will feel very accomplished, relaxed and maybe you've learned again how to enjoy your art because you took time to relish the process.
But I'll tell you more once I take part in it!
WHY I WANT TO DO IT
I wanted to end the post with a few of the reasons why I want to do it myself – even if it isn't right now or in November.
Of course, all that I mentioned before apply, but I have some more personal ones that might also resonate with you.
When I first heard about this challenge my first internal thought was "what? Only one piece in a whole month? I work much faster than that!"
And it is true that I work fast, I've actually become quite fast-paced when it comes to creating art.
I have a lot of patience and I used to do realistic pencil drawings that took me months – yes, months – to complete.
I'm telling you all of this because now I can't do that anymore. I get frustrated when I work on a piece more than X number of hours and I don't see it finished.
I want to work on changing that.
And I believe this all comes from the social media mentality – you know, put out as much NEW work as you can…
There are people that work faster and that's fine but I don't want to do it just because of social media.
On the other hand, I really want to work on putting more thought into my art, I'm really bad at this.
I just create, that's all. But I want to tell stories, represent certain concepts… Simply create something with more meaning, not just something beautiful.
FINAL WORDS…
Well, now that I told you all about it, I just wanted to wish you luck if you are trying it – or decide to try it.
I would highly recommend you watch Lee's video on Slowvember first and also maybe this one can help too with the process:
After I actually get down and work on it myself I'll probably update this post with maybe some more info, my take away, lessons I learned and such.
If you want to stay tuned to that you can subscribe to my mailing list where I'll notify you when it's up.
Oh, and maybe grab a few nice freebies while you're at it!
And if you're already at it or you've done it before I would love to hear about how was the experience for you, so don't hesitate on leaving a comment!