Everyone seems to love sketchbook tours, and really, what's not to love?
There's something really pleasing about seeing rough sketches and practices from other artists, it makes you see a "less polished" side of art that's still really awesome, but you can relate more.
As artists, we see everything we create ourselves, from the good to the bad, to the really bad.
Social media creates this illusion that our favourite artists do not have that rough or less polished side, but they do! And that's what sketchbook tours prove.
And probably one of the reasons why they are such a guilty pleasure to watch.
So, I wanted to make a little compilation of some of my favourite artist's sketchbook tours that I find really pleasing to watch and always inspire me to create.
I feel the urge to create this blog post as a lighter Summer read, cause who doesn't love to binge YouTube in their free time?
Before we start though, I wanted to encourage you to enjoy these videos and get inspired by them, but avoid the comparisons. It's not healthy and it's completely useless, so why bother?
Every artist approaches their sketchbook in different ways and I always encourage people to feel free in theirs, there's no need to show it to anyone if you don't want to.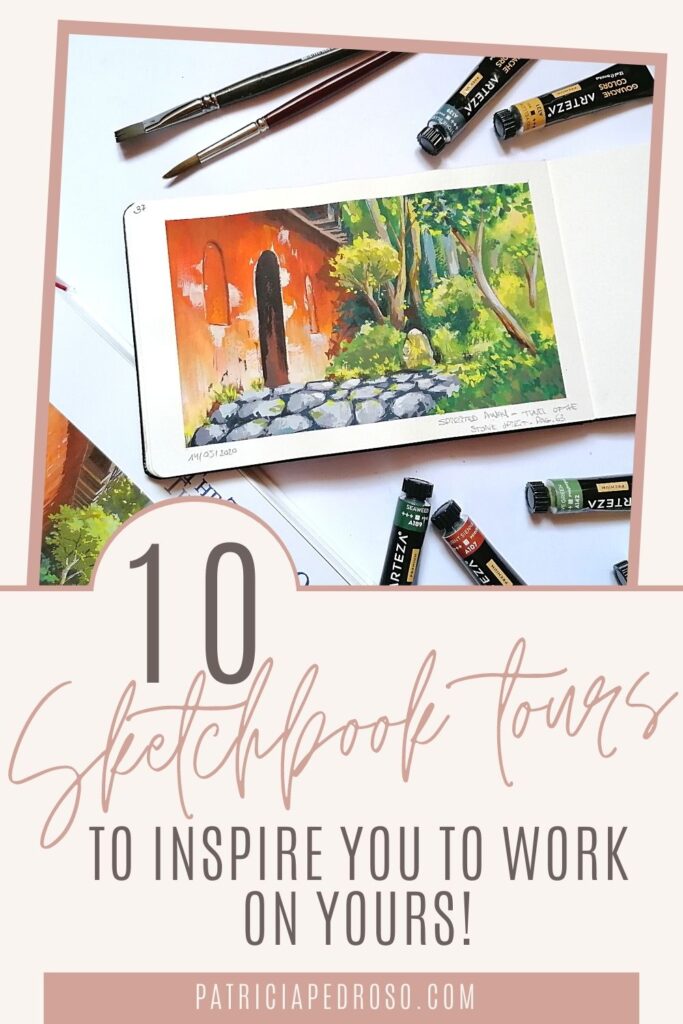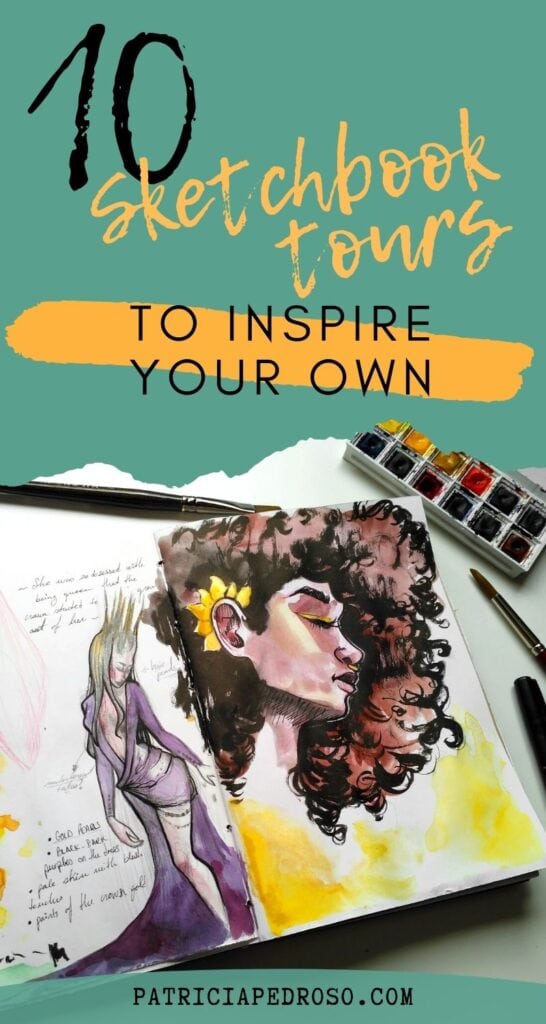 1 – AUDRA AUCLAIR
When it comes to sketchbook tours, I feel like Audra has some of the most pleasing to watch.
She has 2 up on her channel up until now, but they are both really inspiring so I'll link them both. If you like gouache, watercolours and lots of beautiful colourful art then this one's for you!
Audra has a shop with beautiful prints and her books, that are compilations of her sketches, I'll leave here a link to it for you to check it out if you liked her art.
2 – MINNIE SMALL
The first time I found Minnie's channel I probably spent hours browsing through her videos. I love the way she edits her videos and her voice is really soothing.
I feel like her videos are a really pleasing experience, and her sketchbook tours are lovely too. I'll leave here one of her latest ones for you to check out.
There's also a more recent one if you want to check that out, but it's a chattier-slower one – I still love it though.
Minnie also has a great series of videos called: 30 ways to fill a sketchbook, so if you having trouble with that, I'll recommend you check that out!
3 – KELOGSLOOPS
Are you prepared to be blown away by incredible watercolour paintings?
Hieu is master when it comes to watercolours, in this sketchbook tour, he shows a lot of finished watercolour pieces. Yeah, not so rough, but still really worth watching!
Short and sweet! He has plenty more watercolour videos on his channel if you were left wanting more.
Related: The Ultimate Watercolour Series – learn all you need to start with watercolours!
4 – ASHLEIGH IZIENICKI – Aka Missupacey
Ashleigh is not very consistent with her youtube channel but her art is amazing. She has only one sketchbook tour but she's one of my favourite artists, so she had to make the list.
Funny thing, this is a "sketchbook tours" video, as she also shows some more rough sketches in a couple more sketchbooks.
Enjoy!
5 – CHELSEA GRACIE
Chelsea's art it's really soft and delicate and seeing her sketchbook is really a pleasure!
6 – JUICY INK
Watercolour, markers, ink, pencils, … Whatever you throw at Tori she seems to master.
This sketchbook tour is a good reminder of how you can do whatever you feel like on it, as Tori uses it to try new supplies, doodle, some finished pieces,…
You must know that by now, but sometimes when you see these beautiful tours it leaves you thinking you have to be perfect in yours and that's not true!
By the way, Tori has moved to a new channel to start a new era with her videos, however, her old channel still has all her content like this lovely sketchbook tour, though it won't be updated.
I'll leave the link to her new channel here!
7 – CYNTHIA SHEPPARD
Funny thing, I didn't remember Cynthia had a sketchbook tour till I wrote this. I checked her channel thinking that if she had some it would surely be worth including and she did!
I love this sketchbook tour because it's a good reminder of all the studying and practice that goes on behind the scenes.
If you haven't seen any of Cynthia's art or videos I would highly recommend it!
8 – JAKE PARKER
I feel like I always mention Jake on my blog posts, but his art videos and advice have resonated really well with me ever since I first discovered him.
So, are you ready for a sketchbook tour filled with robots?
9 – KIRI LEONARD
Kiri creates a beautiful fantasy world in every piece she creates, so guess how amazing is taking a peek at her sketchbook?
Not only that, in this video she goes through several of them, showing us also how the finished pieces look so we can see how it all started!
10 – JACQUELIN DELEON
Last but not least I wanted to add a sketchbook tour from Jaquelin, I was really into her art a couple of years ago and I loved her videos.
So, I went and found this lovely sketchbook tour with a lot of pretty girls and quick doodles for you to enjoy!
THAT'S ALL! OR MAYBE NOT…
Last, I wanted to add that I do have some sketchbook tours uploaded in my channel too, and I'm not at the level of the artists I wanted to mention today yet, but I thought I would leave a link to one of mine, in case you want to binge-watch it too!
What do you think? Are you inspired to draw yet?
Please do tell me what are your favourite sketchbook tours in the comments, I always love to find new ones to binge-watch!
And if you're ready to jump on your own sketchbook but you still have doubts on how to choose the right one, check my guide here to pick the perfect sketchbook for you!