Are you an artist or creative looking for inspiration? Here are 6 inspiring movies to help you find it.
As artists, we need as much creative fuel as we can get, so we never run out of ideas!
For me, watching movies is another one of my hobbies and, as an artist, I love to appreciate the art in them.
This doesn't mean there has to be actual drawings & illustrations in them, sometimes we can appreciate the use of colours, the moods of the scenes, the characters, the clothing, the storytelling, …
There are so many things that inspiring movies can teach us if we're willing to look up close!
So here's a list of 6 of my favourite aesthetically pleasing movies – no spoilers included – and some of the things you might or might not notice when you see them, but it makes you appreciate the filmmaking more!
*Reminder that this post contains some affiliate links. This means I might get a small commission when you click and buy something with that link with no additional cost to you. However, my reviews and recommended products are not influenced by this, I'll only recommend what I use and what I believe is good. Click here to read the disclaimer if you want more information*
You might have heard of it, you might have seen it, but…
Have you realised the incredible colour scheme this movie has?
All through the movie, you can see the contrast between red and greens creating perfect harmony in the colours of the movie.
The simple complementary colours applied to everything, making us notice the little changes, having different meanings.
It's incredible how colour limitation can give so much personality to a film.
Actually, as a fun fact, Del Toro didn't have a huge budget for this movie.
So most of the colour tricks to get a greenish/reddish atmosphere are made with simple colour filter tricks and smoke machines, as there are very little special effects in this movie.
Even the monster's suit is real, only the eyes movement and lights are added later in post-production with CG.
When I found out about this it made me love it even more.
And the storytelling and the backgrounds are carefully crafted too, so make sure you pay attention to every detail.
---
Once again the green-red colour scheme, but this time with a different kind of movie.
This is one of those movies that leaves you with a great feeling.
This French movie is not to be missed, it's also carefully crafted colour wise and composition-wise, so it's often referenced in photography and movie related classes.
It's quite funny and really enjoyable alltogether.
It's also always listed on those 'movies you must see before you die' lists, and the soundtrack is really beautiful.
Now, you might have watched this movie, but did you take notice of the consistency of this colour scheme & beautiful photography? If you haven't, maybe consider giving it a second watch. It only get's better!
So now shush and let's watch it.
---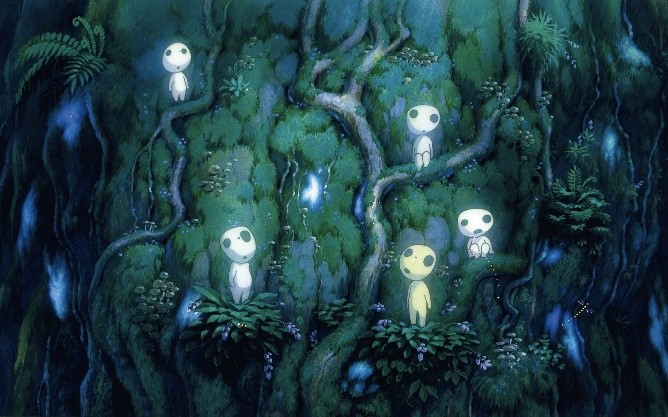 I just had to add a movie from Studio Ghibli.
It was hard to pick one, as most of them are so incredibly beautiful that every artist must watch them.
There's something magical about this movie, and no, I'm not only talking about these little guys up there.
Miyazaki makes sure his movies stay on the traditional side, so most of the work in the backgrounds are done with watercolours.
They use as little CG as they can so they stay productive but without losing the traditional feeling.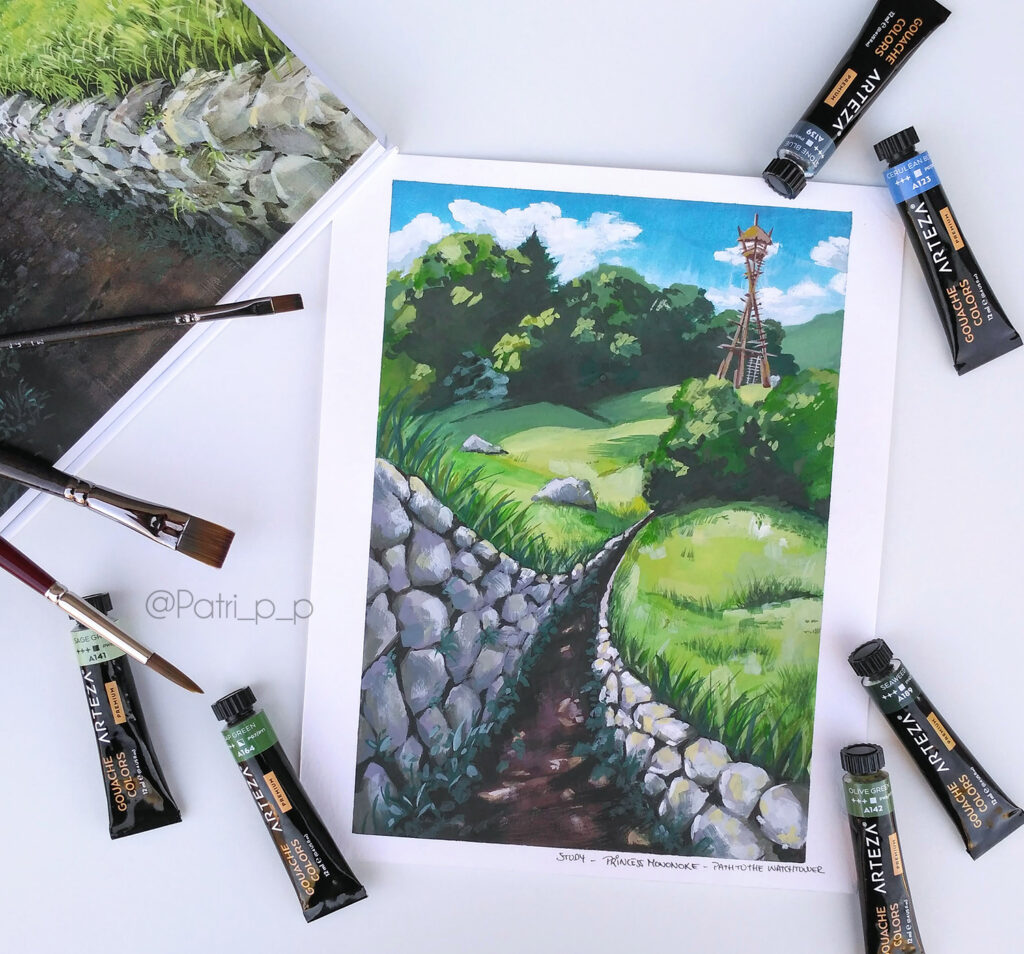 Also, the landscapes in this movie are to die for; the forest, the river, the lake,… Breath-taking.
That's why I don't miss the opportunity to get their artbooks to add to my collection. And from time to time, to do a gouache study like this one up here from some of the scenes in the artbook and movie.
And let's not forget the soundtrack.
Other inspiring movies from Ghibli that are favourites of mine are; Spirited Away (my favourite), Howl's Moving Castle, Kiki's delivery's service, Laputa (the Castle in the Sky) & My neighbour Totoro.
Totally recommended!
---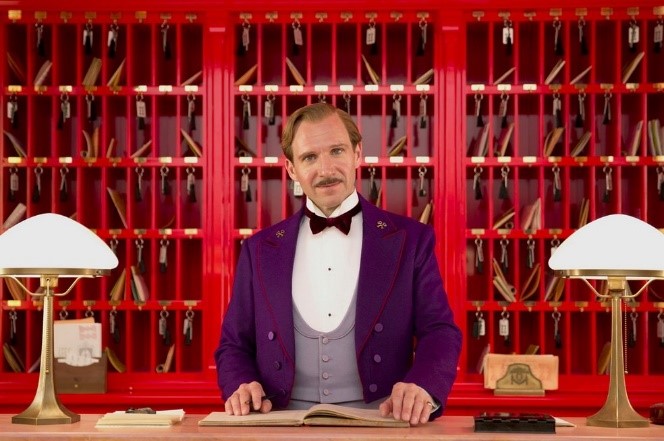 This movie is funny, random and weird.
But don't let this fool you, it is a masterpiece.
You probably haven't seen as many saturated colours together in a movie before, but it does work.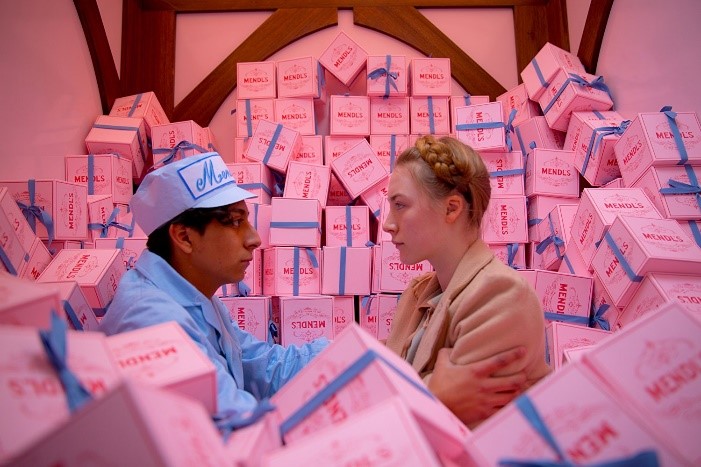 Purple, red, pink, you name it, it has a scene in this movie.
The photography director envisioned every frame carefully and made sure the execution was flawless, and you can definitely notice it.
Plus, add an amazing cast and an incredible amount of plot twists and this movie will keep you on your toes for as long as it's on.
---
This movie is gorgeous from the second one to its very last.
It's even hard to pick just a couple of screenshots to show in this post.
The Irish movie is based on Irish folktales and it has wonderful animations, the most precious story, with a beautiful soundtrack to accompany it, that will most surely make you cry.
Colour and light are very beautifully used on the frames, united with the very unique style of the studio.
Convinced yet?
---
Okay, this movie is a soft spot for me cause I absolutely love Jane Austen's books.
Besides, it does have very beautiful imagery of the British landscapes and great compositions.
Moody skies, British architecture, great scenery and a story that has conquered readers for over 200 years. Need more?
This movie gives me a feeling of peace and it always inspires me, even if I have seen it more than a few times.
So I'm a big movie freak but I think I will limit it to this.
These movies are mostly well known so you might have seen some of them, but I think they are really great for artists to get inspired.
Feel free to let me know if you want to see more of this movie lists in the blog.
I would also love to know which inspiring movies are on your lists so I can add more to my long list of "must-see movies", so let's talk in the comments!
If you're seeking some more inspiration I have a few posts that might help you also: