Doesn't go as planned…
Today I come to you with an Art Challenge of my own! – Well, maybe someone else has done it before but I wouldn't know…
A few weeks ago, it occurred to me that I should take some time off – one week sounded good enough – everything else & just make art.
Why?
Well, there are definitely a few reasons that I'll go into detail later, but the main one was that I needed to dedicate more time to art, especially to get a few projects done.
So, I dusted off my sketchbooks & paints – it really hadn't been that long – and I got into preparing to take that week off without having to worry about the blog, YouTube or anything else that wasn't art.
You've read the spoiler in the sub-title, it really didn't go as planned. But that doesn't mean I didn't get good stuff out of it or learned a few things!
Keep reading to find out what rules I set up for myself, my objectives and see what I accomplished and what I didn't!
*Reminder that this post contains some affiliate links. This means I might get a small commission when you click and buy something with that link with no additional cost to you. However, my reviews and recommended products are not influenced by this, I'll only recommend what I use and what I believe is good. Click here to read the disclaimer if you want more information*
WHAT'S THIS ART CHALLENGE ABOUT?
Really there's not much else to add than what I just wrote. You try to eliminate every other distraction or obligation you have (the ones you can) or keep them to a minimum for a period of time.
And just make art.
If you want to set up this challenge for yourself just pick whatever time frame you can or feel like you need and run with it. I would suggest taking some time to prep for it. For example, when I first thought of it I considered starting it immediately the upcoming week (I believe it was the end of the week) but realistically I knew I couldn't.
So, instead, I took that next week to prepare and get as much as I could out of the way so I would have anything to worry about that week. – yay extra working hours!
If you want to, you can also make it specifically about something, like a personal project, exploration of a medium, study…
CONDITIONS
I know I'm in a special position right now because I could afford to take some time to do this. (I'm working from home in my own, very, very small business)
And let's be honest, I don't have much freelance to keep me crazy busy at the moment, so if I organise myself well I can work with it.
So, I just organized every other obligation to be done and just kept the basic ones. Home-related ones like cooking meals, running errands, cleaning up or doing the dishes.
And I also had to keep a few business-related ones as well; social media & orders from my shop – if they came in.
But apart from those – necessary – tasks, I didn't let myself get distracted with any other tasks.
I allowed myself to take it easy. If I got tired of something, I moved on to a different thing. I tried my best not to pressure myself to be crazy productive.
At the beginning was hard, but in all honesty, the last thing I wanted was to fall back on art burnout.
I kept that in mind.
My objective was to enjoy art again, bring it back into my day-to-day.
The challenge was for a week but I allowed myself to be more forgiving during the weekend.
Lastly, of course, that anything art-related like making mood boards, search for references and such is included and allowed! If you like to browse through art books for inspiration, for example, that works too. You don't need to be crazy strict.
WHY THIS ART CHALLENGE?
Well, I had a few things in my mind when this idea came on.
I had been burned out from art for about a year. I was fine now – for a while actually – but I sort of had gotten out of the habit of drawing/painting regularly.
And I felt very unproductive art-wise. My skills seemed to have improved but I had lost some practice, and that frustrated me.
On top on that:
I had a few projects I wanted to start.
4-5 illustrations in progress to finish (that had been started for months).
I wanted to do some Christmas art (time sensitive).
Get into the habit of sketching – mostly – everyday to warm up or start the day.
Explore and get loose a little.
Included into these points, a few were important because I've been wanting to update my portfolio now that I'm actively searching for freelance work. And I've been putting it off.
The other, of the sketchbook habit, it was because I'm starting to prepare a Skillshare "Sketchbook Workshop" course.
And I wanted to record footage for that & my YT channel.
Overall, the most important thing I wanted to get out of this self-imposed art challenge was to get back in the habit of drawing mostly every day.
Of course, from that little spoiler in the title, you already know I didn't accomplish all of these.
Let's see why.
MY WEEK OF ONLY MAKING ART
I did it from Tuesday 24th of November till Tuesday 1 of December. (2020)
It already started wrong as I originally was going to start on Monday and finish that Sunday. However, I didn't manage to get everything ready, so I postponed it.
Alright, everything still fine, just starting a day later.
By the way, I did record footage and updates for YouTube and made my first – I like to call it "sort-of-vlog" but… – art vlog.
It turned out quite nice so I'm happy with the result! – though it took me tons of hours to edit.
I'll leave it here in case you want to see some footage of that week. Be warned, I ramble a lot and it's a long-formatted video, so feel free to grab a cup of coffee or tea and doodle a bit while you see it!
I actually love to do that with videos like this…
MY DAILY TASKS
I decided to keep social media during this challenge because I've been working hard at beating the IG algorithm for too long and I don't feel like abandoning it (even for a week) would help.
Especially now that I seem to be – painfully slowly – growing again after 2 years of being stuck. The IG algorithm it's not too forgiving…
You're free to take a hiatus anyway! Do it your way.
Anyhow, I tried to keep it to a minimum & scheduled everything the previous week.
I usually schedule my posts both for Pinterest & IG.
For Pinterest, I use Tailwind. Currently, I'm not using the paid version, but I still like to use the platform to upload & schedule the pins, so it just takes me like 5 minutes every day to publish 15-20 pins. (Even the free version saves me a lot of time!)
As for Instagram, I use Planoly – that actually auto publishes the posts for you if you have a business profile. Mine is "creator", so even though I plan the posts I have to publish them manually. Still, it takes me five minutes, so it also saves me some time.
After posting on IG & Twitter I usually try to interact a bit there, 10-15 minutes in total.
I also tried to post stories & some updated during the day, nothing too crazy.
So, with this, my daily business non-art-related-tasks were the minimum possible; around 30-40 minutes a day.
OVERVIEW – WHAT WENT WRONG
So, I won't beat around the bush any longer, what really went "wrong" about this art challenge was that I had to significantly lower my expectations.
And it was really, really hard at first.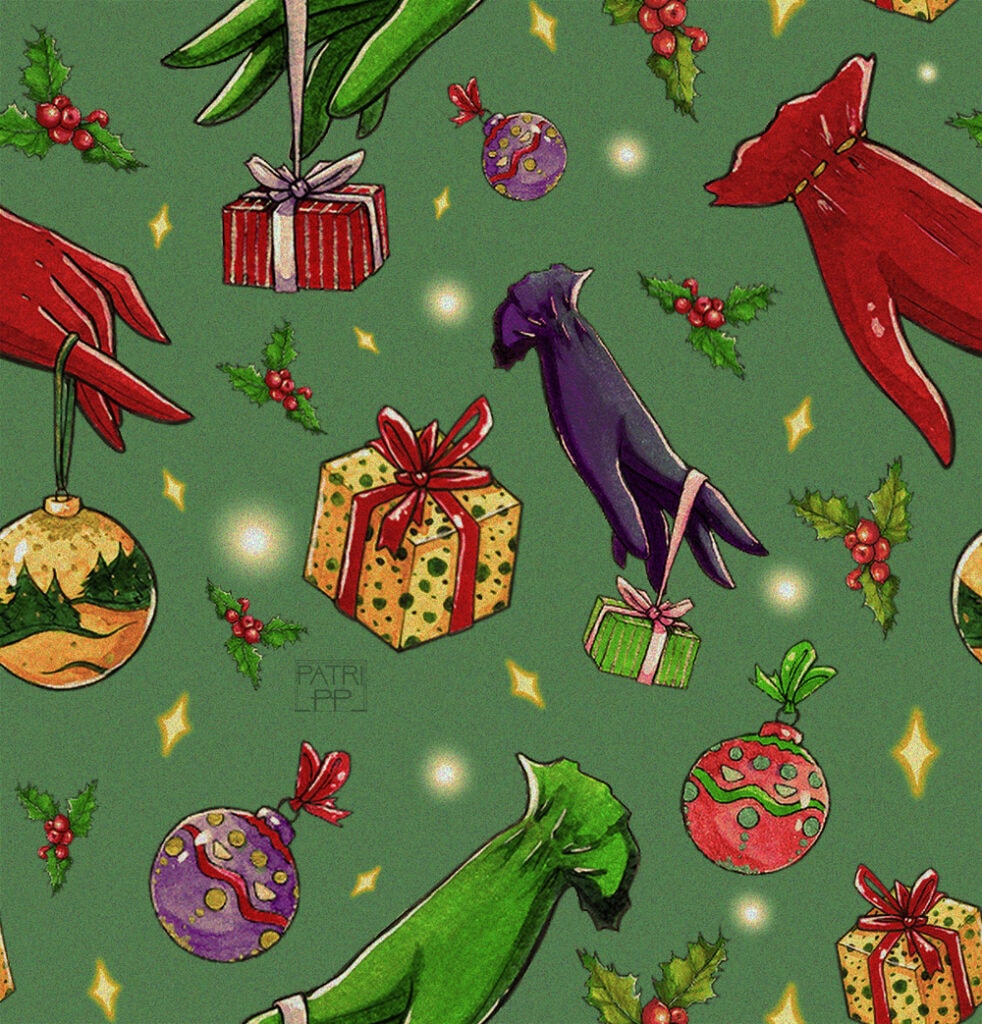 The first couple of days I barely managed to get 2-3h of painting/drawing done.
I know because I always track my time with Toggl to keep track of the time I work.
I must add, however, that those first two days I had to run errands that basically took me all morning. That lowered my amount of working time significantly. It's not the only reason though.
I did get tired quickly of working on art those first couple of days.
Mainly, I feel that this comes from not being so used to it as I was before.
So, about halfway through the week of the art challenge I was feeling really frustrated. Like I had barely accomplished anything.
That wasn't exactly true and I came to make peace with it later. But initially, it was a hard blow.
The worst thing was that there were a few things that I really needed to get done and I wasn't making progress. But at the same time, I was working really hard against those feelings to try and not pressure myself.
The goal was to bring back the habit of art to my day-to-day if I started to pressure myself I would start dreading it (and the burnout might come back). And overall, I wanted to enjoy it.
ADAPTING
It was hard. It took me a few days to make peace with it. To force my mind out of the "I have to be productive" habit. I know it's not healthy and wasn't helping.
Finally, when I wrapped my mind around it I realised that I was enjoying art more. It felt freeing, and I suddenly felt more productive.
I was slowly adapting.
At the same time, art didn't feel nearly as energy-draining as in the beginning. Which confirmed my theory that I was basically out of practice.
So, it's true that overall, I didn't manage to get through my crazy to-do list but…
I was creating and I was happy.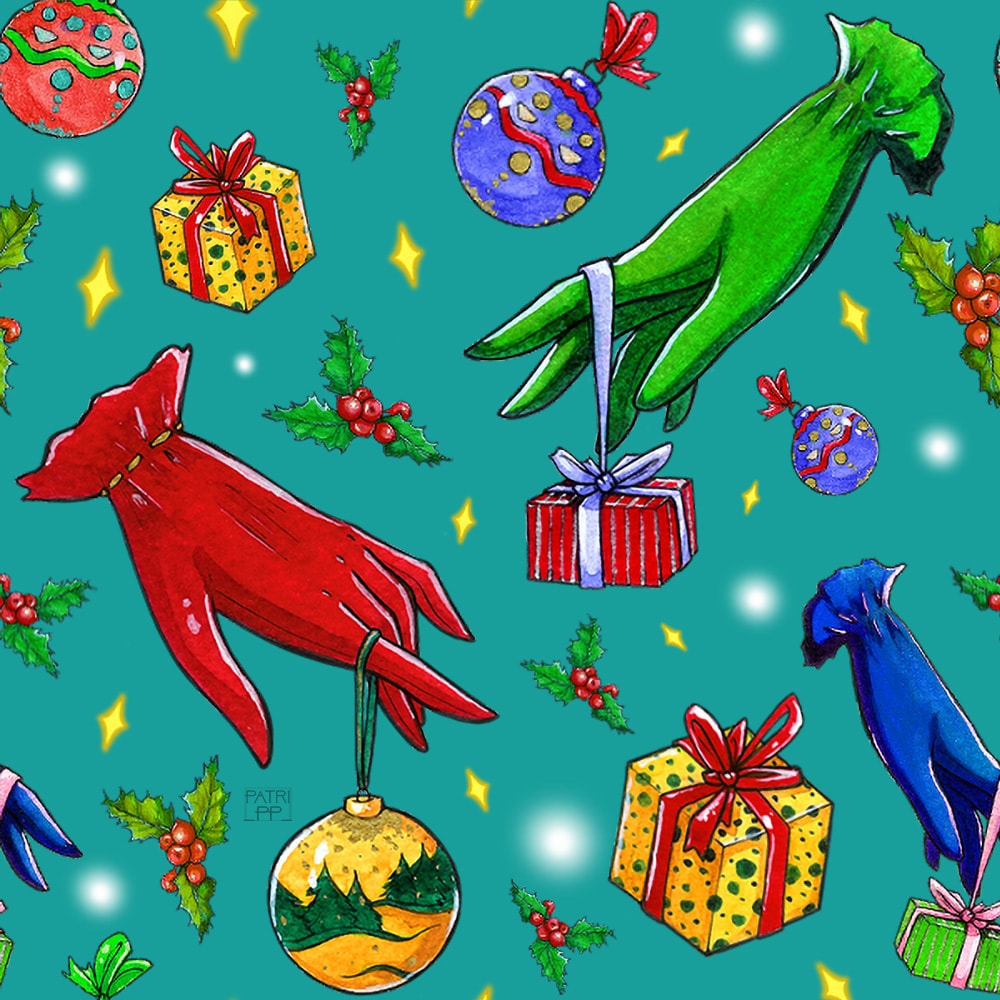 WHAT I ACCOMPLISHED
The main thing I feel that I accomplished from this art challenge was that it brought back the joy of creating to my routine.
You can't imagine how important that is for an artist that has been though an artblock, burnout stage for about a year unless you've been through that.
Then onto the actual get-art-done, I did manage to get a few things done as well! – you probably have seen the pics around the article already.
I got a couple of illustrations prepared to make stickers & ordered them. (a bit longer than 1h)
There was a tattoo commission that I had pending but wasn't urgent, so I decided to work on it with not much pressure or rush. I ended up finishing it and having quite some fun! (about 4-5h)
I managed to get do some small watercolour illustrations for the pattern I had in mind for Christmas! – I was soo out of practice with watercolours tho… (around 4h)
Then I did various tasks & more fun art stuff like spending some time in my sketchbook, paint a bit in gouache & I got a couple of illustrations finished & advanced.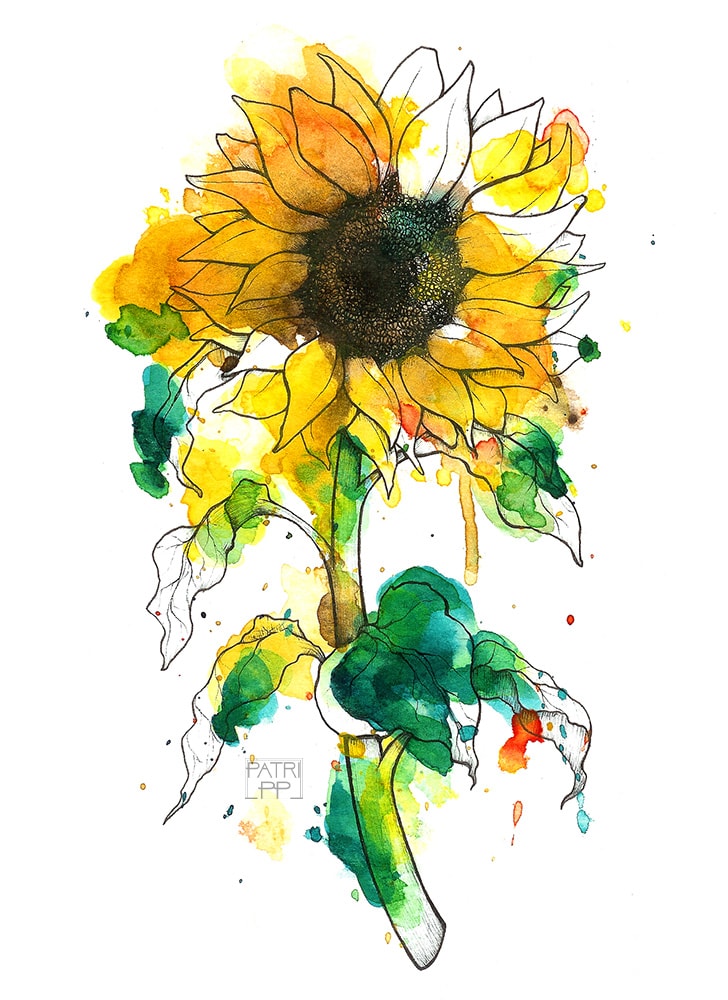 Overall, I got somewhere around the 28h of art-related work that week. Honestly, not half as bad as I initially thought!
And I got my first Ko-fi donation! – non-related but it made my week! (I have a free wallpaper & custom sketches for those who want to donate!)
But it only started getting better after those 2-3 first weird days. What I'm saying with this is, don't give up!
WHAT I DIDN'T
There was a good bunch of things I didn't do but after those first couple of days it – sort of – didn't matter. At least I decided not to focus on them.
What mattered the most were the things I got out of it, and if you put it in an imaginary balance they would weight much more. – no idea why I used that comparison, but I hope you get me…
I won't lie though, it did sting a bit not to get certain stuff done.
That was the case especially for the sketchbook workshop. I did want to have recorded at least some – drawing – footage for that because I know it's gonna be so much work later on.
And really overall seeing so many things on the list of things I wanted to do but couldn't. Because I was really excited for some of them.
Oh, well!
I considered extending the art challenge (I talk a bit more about that in the video) precisely because of this, but at the moment I don't have any work done ahead for the blog or YT. So, I wouldn't have been able to post and that would be counter-productive to all these months I've been trying to stay in schedule.
Definitelly a goal for next year to start to have work done ahead so I'm not always so stressed…
FINAL CONCLUSIONS
Art doesn't feel like an obligation anymore, I learnt to love the process again. I enjoy it immensely more than I have been in the past 1-2 years.
Honestly, it feels like after this time I've started a new stage for my art journey.
It might sound like I'm exaggerating but this was exactly what I needed at this moment.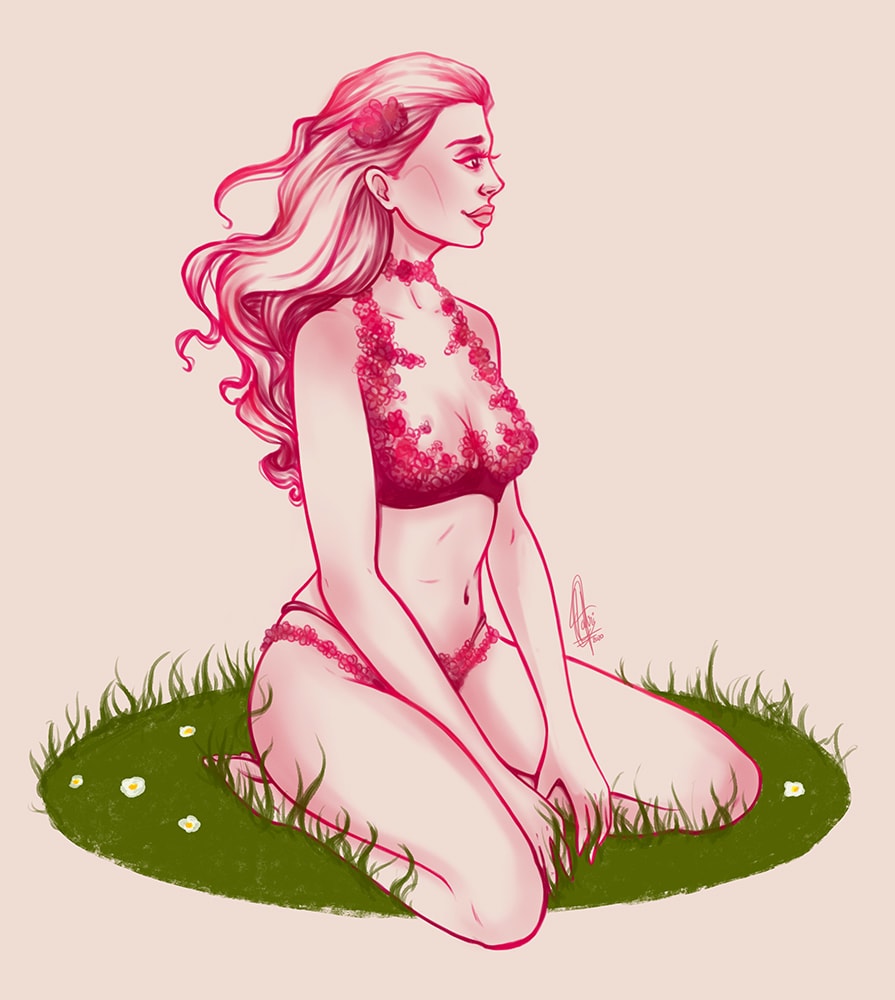 The best thing is, that even after almost a month I still feel motivated with art and I have increased significantly the time I spend creating. From 2-3h a week to a minimum of 10h.
Which, if you remember was my main goal!
So, the art challenge worked in more ways than I even expected. I even feel that the initial struggle helped me grow more!
And if you're wondering, yes, I would really recommend this to anyone struggling with art or if you feel that are in a similar situation to what I described. Remember, you make the rules, so don't get overwhelmed!
It's really hard to describe all that went through my mind that week and how I learned to deal with it, all I can say it's that it helped a lot.
In my case, I feel my growth was more personal than artistical but if I ever do this art challenge again in another moment (I probably will), I'm sure it'll probably benefit me in a different way!
Interested in art challenges? Here's some other posts that might peek your interest!